Do you need to play a WebM media file on your macOS, Windows, iOS, or Android device but cannot find a reliable app? Your search ends here! We bring you the ultimate list of the best WebM players for various devices below.
Since WebM file is a dominant video and audio container for websites and web apps, it's uncommon for desktops, laptops, and mobile devices. However, we've performed detailed research on the internet and found the following 10 WebM media players as reliable options.
We stressed upon features like the user interface (UI), user experience (UX), app security, learning curve, etc., when choosing the best apps. Not to mention, media streaming, wireless media import, subtitle support, etc., were our top priorities.
From thorough testing and our expertise in media player apps, we can say that the following WebM file format players should be your first choice when looking for one.
What Is a WebM File?
WebM is the most popular media container for websites, web, and mobile apps. It delivers high-quality visuals and audio at minimal file size. Many video production houses started delivering their TV shows, music videos, and movies in WebM format to minimize the content file size. Furthermore, WebM is an open-source video container technology.
WebM has been built on the Matroska (MKV) video container profile. It uses video codecs VP8, VP9, and AV1 to compress video in its offline or online streams. For the audio processing part, it relies on audio codecs like Vorbis and Opus.
How to Open and Play WebM Files in a Browser?
Most web browsers have a built-in WebM player since it's the most widely used audio/video delivery media. Thus, you can easily play WebM media files on your Apple Safari, Google Chrome, or Microsoft Edge web browsers.
You can follow these steps to learn how to open WebM files on any browser:
Open the Safari web browser on your MacBook.
Use the Finder app to go to the directory where you saved the WebM file.
Now, drag and drop the file on the address bar of the Safari browser.
Alternatively, press the Command + O keys together to bring up the file browsing window.
Navigate to the saved WebM file, click on it, and hit the Open button to play the video.
Though you can play this file on Safari or any other standard web browser, you don't get features like playing subtitles, controlling video, streaming online, etc. Thus, you need a standalone media player like Elmedia Player to play WebM files the way you want.
We found that the Elmedia Player is one of the best free WebM players you can use reliably on your Apple laptop. Also, you can easily play almost all popular and rarely-used media formats on this application. It supports MP4, MP3, WMA, MKV, M4A, M4V, 3GP, FLV, SWF, GIF, and numerous other file types.
Another cool thing is you can use the player to play WebM files without using any file conversion app, on which most other media players rely. Elmedia is fast and lightweight and easily plays media files with or without hardware acceleration, GPU, etc. Plus, you can import or download subtitle files for your favorite foreign or English movies in one app. Moreover, you can stream content from your Mac computer to other compatible Apple devices, Roku, Chromecast, etc., using Elmedia Player.
Features:
Customized playlist for audio and video
Basic and advanced playback controls
Customizable subtitles
Multi-monitor support
Tune video quality parameters like brightness, saturation, gamma, hue, sharpness, etc.
Tune audio quality using a built-in equalizer
Pros
Conversion-less playback of most audio and video formats
Take screenshots in high definition (HD)
Add or download subtitles
Stream content using Apple AirPlay
Lightweight and easy to install
Built-in support for DTS, Dolby Digital, hardware decoders, etc.
Cons
Only available for macOS
Certain features aren't available on the freeware version
Developer's Name: Electronic Team, Inc
Download the App: Mac
Supported macOS Versions: macOS 10.12 and later (like Puma, Lion, Mojave, Monterey, and Ventura)
Supported Media Formats: WebM, SWF, WMV, MP3, FLAC, M4V, DivX, MP4, DVR-MS, OGV, FLV, etc.
Pricing Information: The freeware license offers most features; the Pro version costs $19.99
How to Play WebM Video Files on Mac With Elmedia Player?
Find below a quick and simple guide on how to play WebM files on Elmedia Player:
2. Run the application from Launchpad and choose a WebM file that you want to play.
Here's how it's done: 
Click the File menu on the toolbar and select Open and navigate to the folder where the WebM file is available. Select the content and click Open to playback WebM on Elmedia.
Drag and drop the WebM file directly on the blank screen of Elmedia Player.
Select and right-click the file; hover the cursor on Open With and choose Elmedia from the context menu that opens.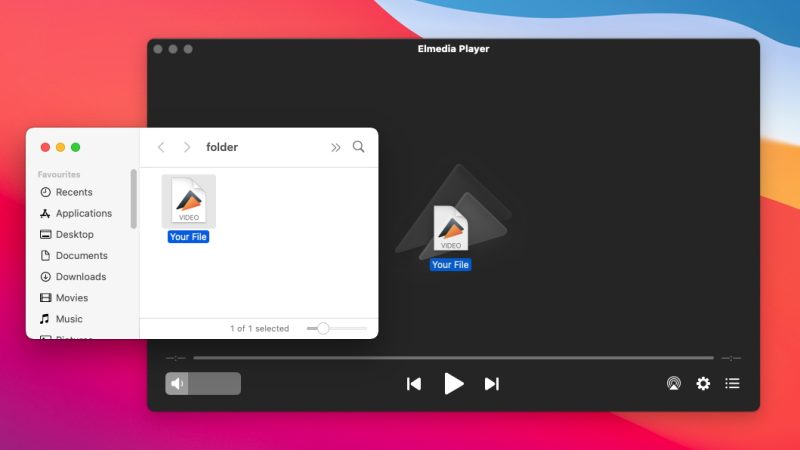 3. Sit back, relax, and enjoy watching TV shows, movies, etc., in WebM format on Elmedia.
Choosing the Best WebM player for Mac
2. Windows Media Player (WMP)
Another potential app to run WebM files on your Win 11/10/8/7/Vista/XP is using the WMP. You may ask, "Can Windows Media Player play WebM files?" If there are the right video and audio codecs installed on your PC, the answer is yes.
You must install WebM DirectShow filters or WebM Media Foundation codecs to play this file type on your PC. Apart from this setback, this is the native media player for millions of PCs worldwide. Moreover, it lets you play CDs, DVDs, etc., without buying any separate app.
Features:
Disc ripping, burning, and playback
Sync portable devices
Shell integration for the Now Playing panel
Pros
Native media player for PCs
Available for free
Skin customizations
Cons
There's a challenging process of playing subtitles
Dated user interface
Developer's Name: Microsoft
Download the App: Get WMP here 
Supported Operating Systems: Win 7, 8, 10, etc. 
Supported Media Formats: FLAC, WMV, WMA, HEVC, MP4, AVCHD, etc.  
Pricing Information: Free
VLC Media Player is yet another leading name among popular WebM file players. It's a cross-platform app because you can get it for Mac, Windows, Linux, iOS, and Android. This multimedia player is available for the end users for free. Just download and start watching the movies and TV shows you want. The player lets you download subtitles from online sources directly on the app without opening other tools.
Features:
Built-in video editor
Offers streaming service
Compatible with music CDs and DVDs
Pros
Supports various keyboard hotkeys
Compatible with trackpad and mouse gestures
Lets you customize video and audio qualities
Cons
It's hard to locate advanced features
The user interface is dated
Yet another cross-platform and multi-device WebM video player is RealPlayer. It's also a popular online video-downloading app. However, you must read its instruction manual and license agreement to understand proper content downloading policies. Because online content comes with copyright protection.
The tool lets you stream your videos live to social media platforms like Facebook, YouTube, Vimeo, etc. If you love dark mode UI for PC or mobile apps, you go it in this multimedia player. Moreover, RealPlayer lets you burn HDD or mobile storage content on CDs and DVDs.
Features:
Play Now feature for theatre experience on streaming sites
Priority updates with Premium subscriptions
Pros
Play online WebM files in full-screen
Download online videos or audio of different qualities
Cons
Not available for macOS devices
Content downloading and pro features aren't free
Developer's Name: RealNetworks, Inc.
Download the App: Win | iOS | Android
Supported Operating Systems: Win 7 and later, Android 6.0 and up, Requires iOS 13.0 or later
Supported Media Formats: WebM, DVD, MP4, 3GPP, AAC, DIVX, AVI, etc.   
Pricing Information: Free; Premium plans range between $2.99 to $47.99
You can break free of the cycle of buying apps by considering Miro as your next WebM player. However, you might have to compromise a lot on the user interface. From the look of the official website, it looks like the developer isn't actively updating the app and the website. Furthermore, it relies greatly on converting content to a specific file type. You might need to convert WebM to another format like MP4 before being able to play the video.
Features:
Built-in audio and video file converter
Lets you download online content
Pros
Plays WebM on Apple computers by converting to another compatible format
Cross-platform media player
Cons
The website is dated and unresponsive
The software interface looks outdated
Developer's Name: Participatory Culture Foundation
Download the App: Miro Player
Supported Operating Systems: Win XP and up, OS X and later
Supported Media Formats: WebM, Quicktime, MPEG, AVI, WMV, WMA, FLV, etc. 
Pricing Information: Free
GOM Media Player is another potential app you can use on PC, Mac, and mobile phones for WebM file playback. It comes with additional codecs so that you can play various other video and audio formats too. The multimedia player's specialty is touch-optimized skins. You can also choose from a wide variety of default skins. Furthermore, if you need to focus on the content of the media player, then you can switch to the basic white skin. It contains minimal content control on the UI so that you can focus on movies or TV shows.
Features:
Supports subtitles like SRT, SUB, RT, SBV, etc.
Offers additional codecs
Pros
Supports 360° VR content playback using DirectX 11 or newer (not supported on Windows XP/macOS)
Skin customizations and optimizations
Cons
Ads in a free version
Searching the subtitles not available on Apple computers
Developer's Name: GOM & Company
Download the App: macOS | PC | iOS | Android
Supported Operating Systems: Win 7 or later, OS X 10.13 or later, iOS 11.0 or newer, Android 4.4 and up
Supported Media Formats: WebM, MKV, MP4, AVI, FLAC, OGG, M4A, etc. 
Pricing Information: Free; GOM Player Plus costs $9.99
You can also give 5KPlayer a shot as your preferred standalone app for WebM playback. The multimedia player supports the playback of video content in 4K UHD, HD, 720P, and many other qualities. Furthermore, it can play 360° video supplied by VR devices or high-tech cameras. That's not all! You can play content from conventional DVDs and CDs without installing any plugins. And the latest addition is IPTV streaming in supported regions.
Features:
Built-in radio
Zero quality loss for video and audio playback
Pros
Download videos from various video-sharing and streaming sites
Supports Apple AirPlay and DLNA devices
Cons
Very slow server for the software download mirror
Not available for mobile devices
If you're wondering how to play WebM files on your PC, download and install the PotPlayer now. It's free and easy to navigate. The tool is a good choice for playing WebM videos if you're working on animated content post-production projects like editing, optimizing, layering texts, etc. Because the tool utilizes hardware acceleration like CUDA, DXVA, QuickSync, etc., for fast video rendering.
Features:
Overlay and Direct3D9 Ex Flip Mode support
Chapter or scene bookmarking
Pros
Hardware acceleration for graphics and texture detail-intensive videos
Page flipping, side-by-side viewing, etc.
Cons
Missing compatible app for macOS
You won't find it for iOS or Android mobile devices either
Developer's Name: Daum Communications
Download the App: PC
Supported Operating Systems: XP, Vista, Win 7, Win 8, Win 8.1
Supported Media Formats: WebM, FLAC, HLS, DASH, MPEG, AC3, etc. 
Pricing Information: Free
If you're looking for an effortless multimedia player that'll run on most of your devices, get KMPlayer. It lets you playback WebM content and many popular video files like MKV, TS, MPG, etc. Its diverse networked storage content import lets you enjoy movies, TV shows, and audio from a remote device. It supports WebDav, SMB, UPNP, FTP, etc., so you can stream content from personal or business servers. Moreover, you can participate in games and missions to earn points.
Features:
Advanced playback controls like bookmarks and speed control
Customize video components like hue, light intensity, hue, brightness, etc.
Pros
Gamified video player for mobile
Real-time video playback when downloading is still going on
Cons
Not available for Apple computers
10. PlayrXtreme Media Player
PlayrXtreme Media Player is a cross-platform media player app that you can use on your mobile devices like iPhone, iPad, and Android smartphones. It lets you sync videos from networked devices, so you don't need to import media into your device using a cable.
Thus, you can experience video or audio playback across devices in your home or workplace. You can also try out this media player if you stream content online. If you're finding it challenging to play WebM video files, you can install this app on your iPhone or iPad and start watching TV shows or movies in WebM media formats.
Features:
Dedicated Library tab to add movies and music tracks effortlessly
iPad directory helps you to import media from iPad's local storage
Play video and audio from remote servers and networked storage if your device supports this feature
Pros
It's suitable for conversion-less media playback on a mobile, tablet, and smart TV
It supports various subtitles formats
Offers the option to download subtitles from online destinations
List ItemCompatible with hardware-accelerated video and audio playback
Cons
Not available for Apple computer OS like Ventura, Monterey, Big Sur, OS X, etc.
Require a monthly or yearly subscription to use standard features like streaming, HD audio playback, subtitles, etc.
Developer's Name: Mind Cube Apps
Download the App: iPhone | iPod | iPad | Apple TV | Android | Kindle
Supported Operating Systems: iOS (13.0 or later), iPod OS (13.0 or later), iPadOS (13.0 or later), tvOS, Android (4.4 and later), and Fire OS    
Supported Media Formats: WebM, AVI, MKV, MP4, WMV, and many other video/audio containers
Pricing Information: Limited free version; monthly Pro version costs $4.99; annual Pro version costs $19.99
FAQ
The best way to play a WebM file is using the Elmedia Player from App Store. Unlike other media players, you don't need to convert WebM to MP4 or M4V before playback. You just import the content and play. It's that easy.
Many online and offline media players support WebM files. For example, you can use the followings:
Elmedia
Player
Safari web browser
Chrome browser
VLC Media Player
Real Player