JustStream
How to Mirror Mac to Sony Bravia TV Wirelessly?
With JustStream you can mirror Macbook to Sony TV in a few clicks. This app needs no wires or additional hardware, but provides all the functions you may need, including screen mirroring and streaming from Mac to TV, without any delay. You can adjust resolution and output screen size, disable or enable your mouse cursor as necessary, add external subtitles, and much more.

Our demo lets you mirror Mac to Sony TV for free for an uninterrupted 20-minute period to fully evaluate the app and see whether it works for you.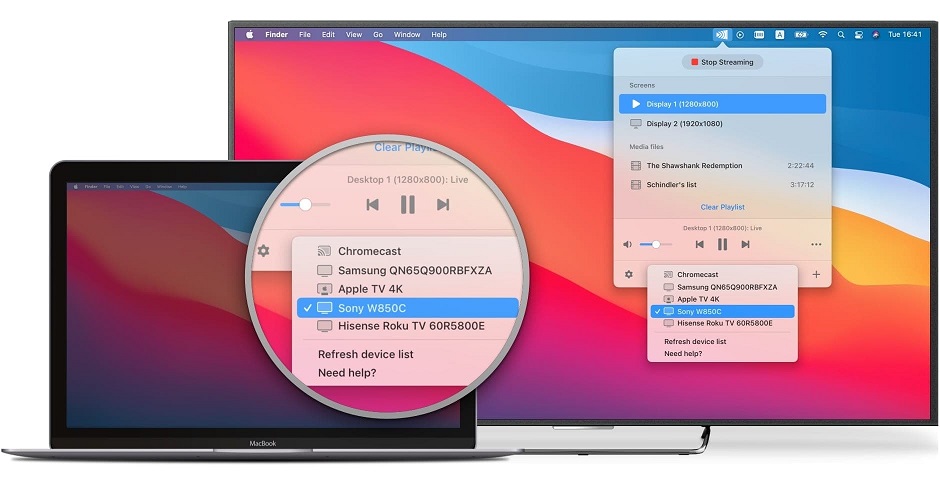 Adapt Resolution and Screen Size
To fully enjoy your mirrored content, you need it to be displayed correctly. That's why JustStream allows you to adjust your resolution by selecting Auto, Full HD (1080p) or HD (720p). You can also modify the screen size to fit the content to your TV screen. This will ensure that everything will fit perfectly no matter what.
Track Your Mouse Cursor or Clicks
While it's very convenient to hide your mouse cursor while watching a movie, there are times when you need it in full view. For example, if you're delivering a presentation or doing a tutorial. When mirroring from Sony to Mac with JustStream, you can use your cursor instead of a laser pointer and even show your clicks.
How-to Guide on Screen Mirroring Mac to Sony TV
Here is how to do Sony Bravia screen mirroring from Mac without using an Apple TV. It's just your Mac, your smart TV and your wireless network.
Turn on your Sony TV and make sure both devices are connected to the same WiFi network.
Open JustStream. From the list of connected monitors, choose the one you'd like to mirror.
Click on the "WiFi" icon at the bottom to view the list of available receiving devices and select your Sony TV.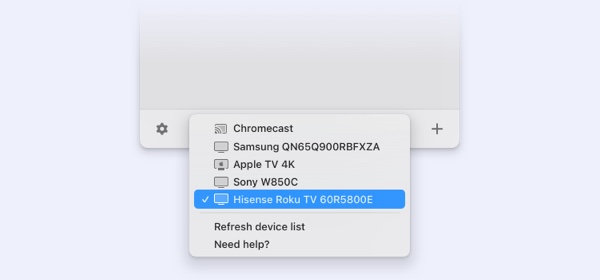 To start streaming, you can either click "Start Streaming" or double click on your receiving device.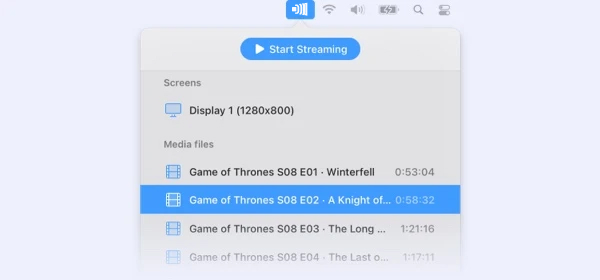 Note:
If you want to mirror with sound, you have to install a JustStream Audio Driver, which comes with a JustStream installer.
Mirror display
Mirror Mac to Sony Bravia or Many Other TV Brands
Questions and Answers:
If you need more help with mirroring to Sony TV, take a look at our FAQ section below to find additional information.
Languages:
Deutsch, English, Français, 日本の, Español