After Adobe stopped supporting Flash Player, many media players withdrew their SWF functionalities. You'll need a special type of solution to continue using this format, regardless of your computer or smartphone. Today, you'll discover some of the best options.
What is an SWF File?
SWF videos were one of the most common Adobe Flash Player file formats. Though often associated with illustration-style content, such as cartoons, ordinary movie-style types can also use this type of configuration.
Warning
We don't recommend using your Wayback Machine to download a hidden Flash Player app, as Adobe stopped all support for its program in 2021. You won't receive updates, which will likely result in performance issues. At worst, you could also put your device at risk of malware and other security dangers.
Why did Adobe Stop Supporting the Flash Player?
Adobe Flash suffered from the constant danger of cybersecurity breaches during its 25-year existence. Users often complained about slower browsers after downloading the software, too, and double encoding meant that smartphone batteries were often incapable of playing media for long without needing a recharge. 
As technology advanced, the need for the tool dwindled; it wasn't meant for new-age smartphones and laptops. Browsers became more able to handle demanding tasks as well, and—at the same time—also offered security that was sometimes lacking with Adobe's old software.
List of Top SWF Players for Mac, Windows 11/10/8/7/Vista/XP, and Android
Now that you're aware of the basics let's look at the best apps for you to play SWF videos.
1. Elmedia Player
Elmedia lets you open SWF files without needing to convert them. Videos run seamlessly, and you can watch online and offline movies. The tool works with AirPlay and Chromecast, meaning that you can stream your favorite programs on your TV from your Mac. You also won't need to deal with annoying ads that can ruin the experience.
Features:
Compatible with AirPlay and Chromecast
Stream online and offline 
Watch media without ads 
Playback control 
Create playlists
Pros
Play online videos from a direct URL without opening a browser
Most of the best features are free
User-friendly interface
No need to convert to other formats
Supported formats: SWF, MP4, AVI, WMV, WebM, etc.
Supported OS: macOS 10.12+
Name of the developer company: Electronic Team, Inc.
Price: Free; premium version available for $19.99
How to Run SWF Files With Elmedia Player on Your Mac?
2. Drag your file into the Applications folder.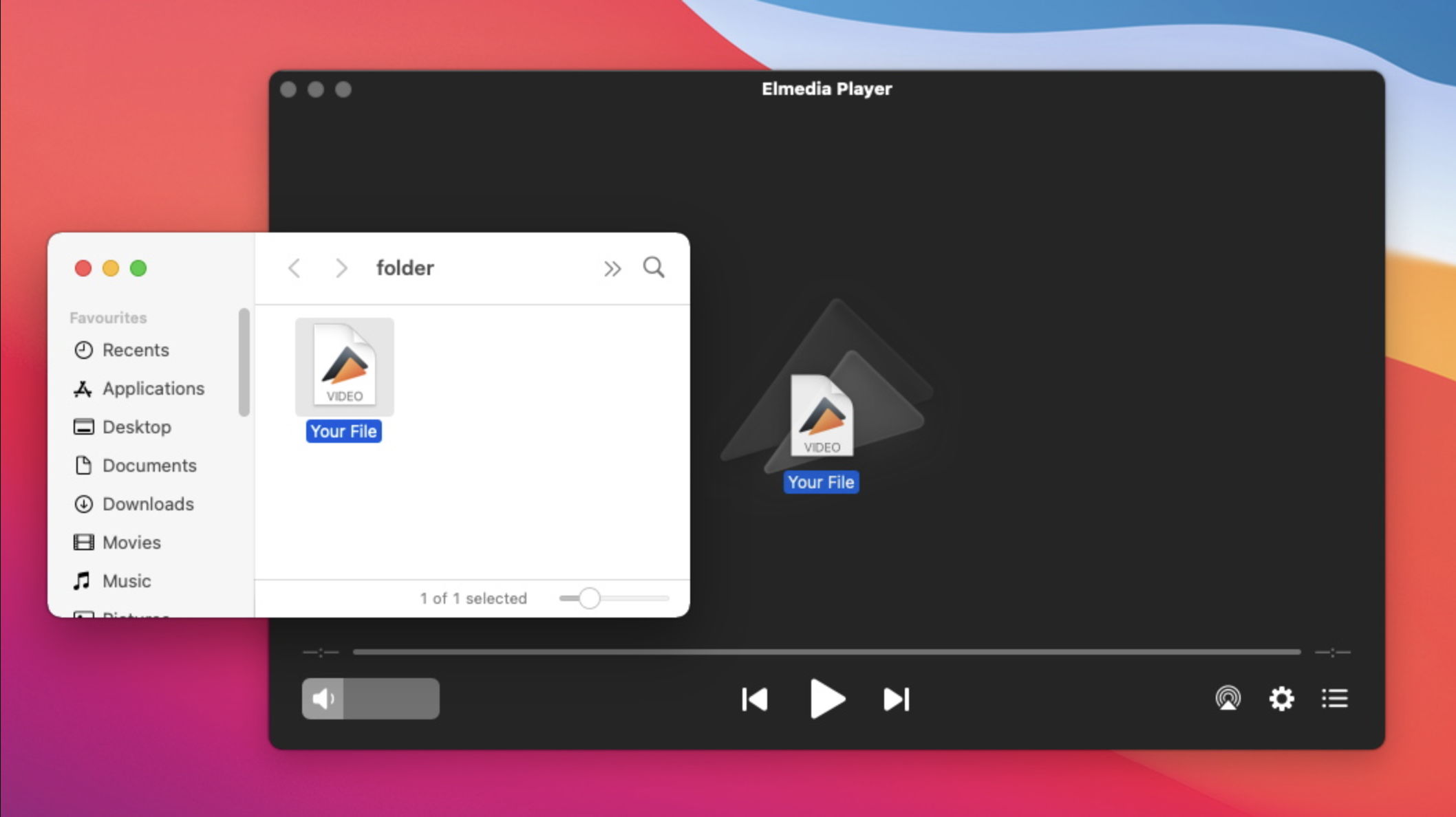 3. After opening the app, choose your video.
4. Select Open With > Elmedia Player.
The Best SWF Player for Mac to open and run Flash videos.
2. VLC Media Player
You can use VLC across Windows, Linux, macOS, and Android. The program supports sites like YouTube, plus DVDs and CDs. You have the option to synchronize subtitles for foreign films, and the app features no ads or third-party tracking. To give your interface a look that fits your personality, you can customize it with several skins.
Features:
Skin customization
Video filters
Subtitle syncing 
Hardware decoding
Pros
Works cross-platform
Use with physical and non-physical product types
Advanced controls
No user tracking or adware
Cons
The interface can feel clunky
Supported formats: SWF, MPEG-4, Cinepak, H.263, H.264, etc. 
Supported OS: macOS 10.12+, Windows 95/98/Me+, Android 4.3+, Ubuntu 16.04+
Name of the developer company: VideoLan Organization
Price: Free; donations are possible
3. Windows Media Player
Can Windows Media Player play SWF files? Yes, but only if you use Windows 6-10. 11+ doesn't support playback. You'll need the Macromedia Flash plugin to watch Shockwave Flash on operating systems between 6 and 9. You can watch any old DVDs you have through disk burning and fast forward as you feel is necessary.
Features:
Disk burning 
Video overlaying 
Skin customization
Pros
Designed specifically for Microsoft operating system computers
Free to use
Cons
Only available on computers using Microsoft's software
You need an older version of the operating system for the SWF file format
A Macromedia Flash plugin is required in some cases
Supported formats: SWF, MP4, AVI, etc. 
Supported OS: Windows 6-10 for SWF
Name of the developer company: Microsoft, Inc. 
Price: Free
4. Vidmore Player
Vidmore supports DVD, Blu-ray, and online streaming—and you can watch your favorite shows and movies in 4K. You have the option to adjust the image brightness and saturation for your personal preferences, and skipping chapters is easy with the Quick Navigation options. You can get seamless playback, regardless of the format you use.
Features: 
Frictionless playback 
Quick navigating options 
Image adjustment 
Advanced fast-forwarding
Pros
User-friendly interface
Available on multiple operating systems
Play disks and digital files
Supported formats: SWF, M4V, MP4, FLV, MTS, 3GP, etc. 
Supported OS: macOS 10.9+, Windows XP SP2+
Name of the developer company: Vidmore
Price: $29.95
5. Aiseesoft Free Media Player
Aiseesoft supports lossless quality, and you can view your content in 1080p and 4K—plus 720p. You can also see 3D videos using the app, with image adjusting available if you want to move away from the default settings. In addition to streaming from the internet and downloading files elsewhere, you can watch the footage you've recorded on a camcorder.
Features:
Lossless video quality
1080p and 4K footage playback
Screen adjustments
Pros
The simple and effective free version
Enjoy high-quality screen resolution
Multiple file types are supported
Cons
Free technical support is not supported with the free edition
Blu-ray and disk files are non-existent without a paid plan
Supported formats: MP4, WMV, SWF, FLV, MOV, MKV, etc.
Supported OS: macOS 10.9+, Windows XP SP2+
Name of the developer company: Aiseesoft Studio
Price: Free; premium version available for $62.45
6. 5KPlayer
5K Player lets you consume videos from over 300 websites on your PC and laptop, including Vimeo and Vevo. You can make playlists to keep everything organized, and the content you watch won't lose quality in how it looks. The app has a video downloader, too, making it easy to store content that you particularly enjoy.
Note: We checked whether 5K Player could play SWF video files on Windows and Mac. Conclusion: it can't play on Windows, but it can play on Mac.
Trying to Open and Play SWF with the 5KPlayer on Windows Failed
Opening and Playing SWF via 5KPlayer on Mac Succeeded
Features:
Runs SWF on macOS
AirPlay compatible
Rotate your screen
Use subtitles
Create libraries
Pros
Watch content from hundreds of websites
View footage in 4K and 5K
Works with AirPlay
Cons
Not available on Linux
Not able to play SWF on Windows
Supported formats: SWF, AAC, H.264, MP4, etc.
Supported OS: Windows 10+, macOS 10.7+
Name of the developer company: Digiarty Software, Inc.
Price: Free
7. SWF Player - Flash File Viewer
SWF Player is dedicated exclusively to this format; while some users have complained that games don't work well, many have said that the app is fine for watching videos. You can download the service on your Android phone, and the control overlays let you customize what you need to without worrying about needing to click all over the place.
Note: The Google Play version was updated in 2019. And it won't run on newer Android versions, which makes it almost useless nowadays.
Features:
Control overlay
ZIP file opening
Play games and videos
Pros
Dedicated to SWF
You can watch basic videos with few problems
Cons
The last update was in 2019
The app crashes when the tasks become more demanding
Supported formats: SWF only 
Supported OS: Android 8+
Name of the developer company: Issess 
Price: Free
Frequently Asked Questions
You can use several browser extensions, including:
Extensions are primarily available on Google Chrome. Safari isn't a good option in this respect.
Using a dedicated third-party app is your best choice (check a list of the software to open and play SWF files on different operating systems in our article). You can watch several other formats without enduring time-consuming conversions, and your SWF videos will often feature lossless playback. On top of that, you can consume shows that were previously on DVDs and other media.