JustStream
Stream Video To TV And Enjoy It On The Big Screen. Ultra HD And 4K Quality Supported.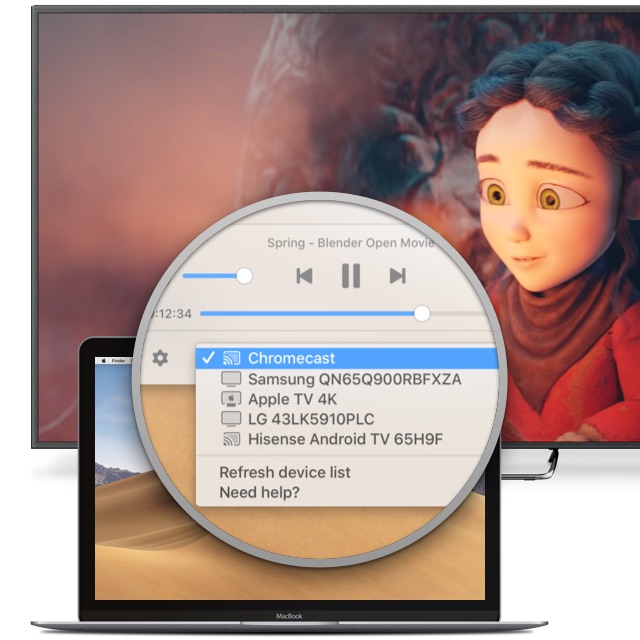 JustStream is a 2 -in-1 app for connecting your Mac to TV for streaming. You won't need any cables, or hardware, or complicated configuration. JustStream lets you stream content from Mac or mirror display of your Mac to Smart TV, Chromecast or Apple TV.
JustStream supports a wide range of TV types and services and different manufacturers: Samsung, LG, Roku, Sony, Panasonic, etc.

Demo limit: 20 minutes of streaming / mirroring in free mode
According to our extensive research, the average streaming duration is 28 minutes. We decided to create a demo version that lets you stream for the whole 20 minutes to fully evaluate our product and see whether it works for you.
Stream media
Stream local videos from computer to TV, Chromecast or Apple TV
JustStream supports essentially any format of video files. You can easily stream or mirror Mac to TV to watch media on larger screen. In case video format is not supported by receiving device, JustStream will transcode it on the fly without interrupting the streaming process.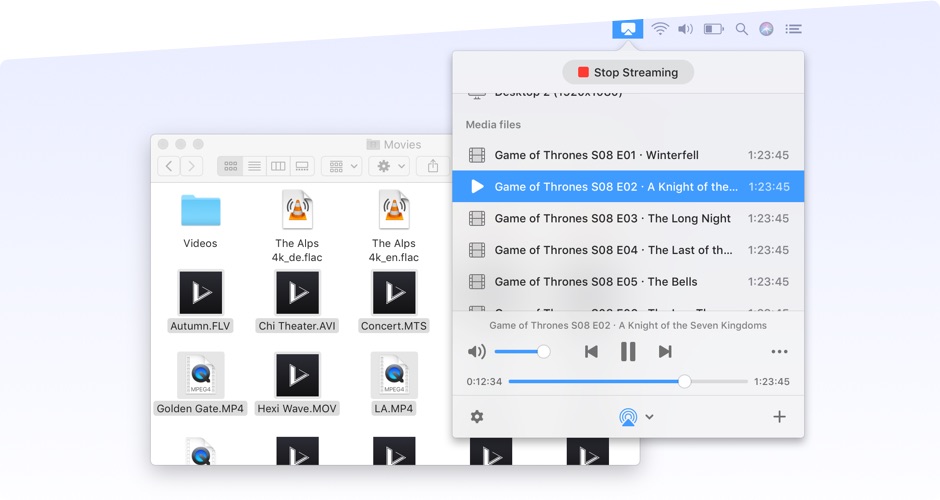 Create streaming playlists
If you wish to stream multiple shorter videos non-stop, you can use JustStream's convenient option of creating playlists. Once you are done, you can stream the whole playlist without any interruptions.
Advanced support for subtitles
If your video comes with subtitles, embedded or external, they can be included in the stream. And if you are casting to Chromecast or Chromecast Ultra - you have an option to edit subtitles color, size, and font.
External and embedded audio tracks
Whether your video file is using external audio tracks or embedded ones, there is no need to do anything special with them - JustStream supports both types.
Mirror display
Mirror display and audio on Mac to smart TV, Chromecast and Apple TV
If you were wondering how to connect Mac to smart TV wirelessly, JustStream is your answer! You'll be able to mirror videos, audio files, presentations, and software apps without any cables. JustStream supports an array of smart TV sets and services, with such popular brands as Samsung, LG, Roku, Sony, Panasonic on the list. You can select the display you want to mirror if you have more than one.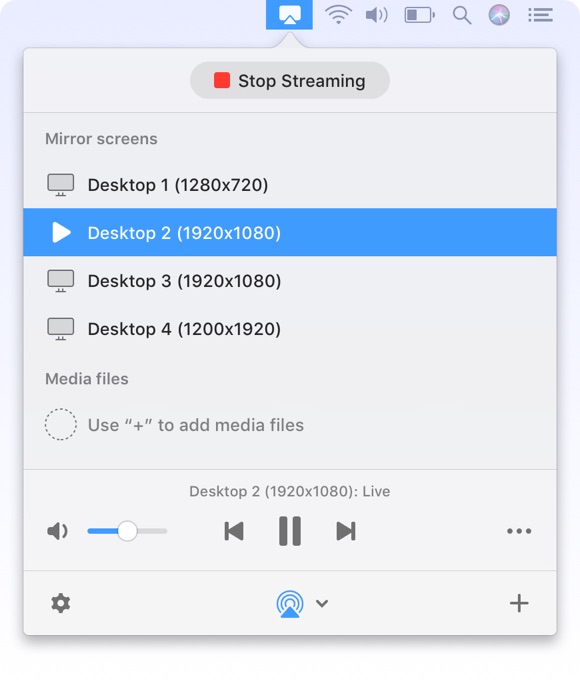 Customize video quality
JustStream allows you to choose the quality of the mirrored content. You can also fit the mirrored video to your TV screen so that the video fills the screen perfectly.
Additional mirroring options
JustStream offers some additional special options for mirroring Mac to TV. You can capture the movements of the mouse cursor and make it appear in the mirrored output or you can capture mouse clicks to make the clicks appear highlighted in the mirrored output.
Mirror display
Mirror display of Mac to all your devices

Samsung Smart TV→

LG TV's→

Roku TV's→

Apple TV

Chromecast

Sony
How to stream from Mac to TV
Download and install JustStream app from this website on your Mac.
Open the app on your computer. Note: this a menu bar app - click its icon in the menu bar whenever you are about to use it.
Click + in the lower right corner of the JustStream window to browse for a file you will be streaming.
Now select the device you are going to stream to: click the arrow next to the AirPlay icon to see all devices on the same WiFi network with your computer right now. If you can't see your device on the list, but it is online and on the same network, try refreshing the list.
Click "Start streaming" in the app and you are good to go.
Questions and answers
Here we tried to answer the most frequently asked questions about streaming video from Mac to TV and other related topics.
In order to connect your Mac to a smart TV wirelessly you'll need to ensure you have two things ready. First, you have to have both your computer and the TV set connected to the same wireless network. Second, get yourself a streaming or mirroring app and install on your Mac. Once you have a reliable and easy-to-use streaming app like JustStream, you'll be able to mirror your Mac display or stream media content to TV effortlessly.
In order to cast local videos from your Mac to smart TV, you can use JustStream app. It supports a huge variety of TV platforms and brands and is super easy to operate. You'll find a step-by-step guide here.
In order to sync (mirror) your Mac display to TV you'll need to download a reliable mirroring app like JustStream on your computer, install it and follow the simple instructions in order to have your Mac display contents shown on a large TV screen. JustStream offers additional options like capturing mouse clicks and cursor when mirroring Mac display. Find the mirroring instructions here and for streaming guide follow this link.

#1 at Video
JustStream
Streaming App for Mac
4.5
rank based on
23
+ users
Pricing:
Starts from $19.95