Computers are like our virtual offices these days. We have everything there. And not just on the hard drive! Some files are on the hard drive, some files are on remote servers, then some are in the cloud storages. The amount of data we are dealing with is just overwhelming. Proper file management is crucial because it ensures high quality and reliable organization of documentation, both personal and corporate.
Dual panel file manager for Windows has always been around and has a great reputation (we are talking about Total Commander). But when it comes to Mac OS, dual-panel file management is still developing, however developing fast.
Choose your Mac Total Commander
There are a number of file managers for Mac OS, that can be a Total Commander for Mac, but how good of an alternative? In this article we'll compare Commander One and Disk Order that are both dual panel. We'll compare the connections they offer, how many additional features they have, how flexible they are. Read on and decide which suits you better.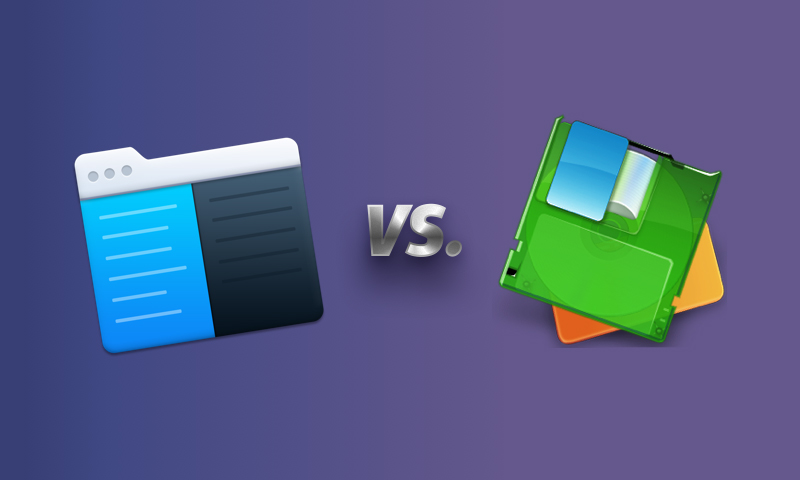 Commander One is written in Swift and has a clean and customizable interface. It features a neat switch to hide and show hidden files. Disk Order handles lots of files and connections also. It is also pretty fast as almost all tasks can be performed with keystrokes or a couple of mouse clicks.
Commander One supports an impressive number of connections including FTP, SFTP, FTPS, FTPES, Dropbox, Google Drive, Amazon S3, WebDAV protocol, Microsoft OneDrive, MTP, iOS. FXP Copy and SCP are scheduled for upcoming releases. Disk Order works with FTP, SFTP, FTPS, Dropbox, and iOS.
Commander One PRO has its built-in Process Viewer for all processes overview with the possibility to quit any of them. Disk Order doesn't have its process viewer as well as no Terminal emulator. Terminal emulator is offered in Commander One and provides much needed speed in file operations. Commander One offers Root access for the most advanced control over the files. Disk Order will allow you to compare folders, which Commander One currently doesn't offer. Both file managers don't offer file comparison. Such features as hex editor, remote edit, mass rename and custom editor are offered in Disk Order, and are currently not present in Commander One.
You will find it rather convenient to be able to open multiple tabs in each panel of the reviewed file managers, so that you don't have to close any folders in order to open new ones. Work with as many locations as you need! Both file managers offer bookmarks (favorites).
As for customization, both Commander One and Disk Order can be customized by colors. Commander One also offers themes. Hotkeys and context menu are customizable in both applications.
Sorting can be done by 5 parameters in Commander One and by just one parameter in Disk Order.
Commander One works with compressed folders outstandingly. It fully supports ZIP, 7zip, TAR (bz/gz/z/xz) archives and RAR type in read-only mode. Additionally it supports IPA, APK, JAR, CAB, ISO. One can work with compressed folders as with regular folders and search through archives easily. Disk Order offers support for ZIP, TAR (bz/gz/z/xz) archives and RAR and 7z types in read-only mode.
Commander One supports search with RegEx, while Disk Order doesn't have such feature.
Disk Order has a fully featured 30-day trial period. After it is over if you like the app you'll need to buy a license. Commander One is a free file manager for Mac OS X with a basic functionality. In case you need extended features, you should consider buying a license.
Frequently Asked Questions
Commander One
Requirements: macOS 10.13+ ,
51.85MB
size
Version
3.7(3831)
(
25 Sep, 2023
)
Release notes
Category:
Utilities