Read about our plans for Typeeto, including Sony PlayStation support
Learn more
Typeeto


Use MacBook keyboard with other devices

Connect Mac keyboard to your iPad, iPhone, Apple TV or any other devices that support Bluetooth keyboard. Use a full scale keyboard to type in long messages on your mobile devices.
Supported devices
Typeeto is compatible with all devices that support Bluetooth keyboard, however especially for you we have tested some of them.
Bluetooth keyboard for iPad, iPhone and Android device
Using your Mac keyboard enables you to make most of your device.
Easy Setup
To make your device and Mac talk, you do not need to install any additional apps on the device. All you have to do is to connect it to Mac, launch Typeeto and start typing.
Convenient Typing
Typeeto dramatically improves your typing experience. A full size keyboard enables you to enter long texts on your device faster and in a more convenient manner.
Neat Interface
Sleek and transparent UI, cool animation effects to make your interaction with Typeeto an enjoyable experience.
No Restrictions
Connect any number of devices to your Mac and switch between them in one click, or assign a hot key to each device to make things even easier.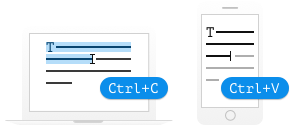 Copy-paste with Typeeto
Type a text on Mac and copy-paste it to the input area on a connected device. You can use common shortcuts – cmd+c/cmd+v for iOS devices), ctrl+c/ctrl+v for Android or assign dedicated hotkeys. Max text length is 1024 characters.
How to connect Typeeto
Turn Bluetooth On
Turn on Bluetooth on Mac and a device you would like to connect. Make sure both of them are discoverable.
Pair on Mac
Go to Bluetooth settings on your Mac and pair your device
Confirm on Device
Connect your device to Mac. Remember that for iOS devices connection is to be initiated from them.
Read the detailed instructions
Utilities

Typeeto for Mac
free
With Typeeto you can type in any field allowing text entry, including Search, username, email and password fields.
Compatible with
OS X 10.9.5+
.
Requires

6.66MB

free space
, Version
1.4.118 released 16th Feb, 2016
Rank based on
5
3500+
users