YouTube to MP3 Converter for Mac
Download audio, video, you name it
Get albums and mixes in one click
Have multiple downloads running at once
Includes many quality-of-life features
Safe and available on Windows and Mac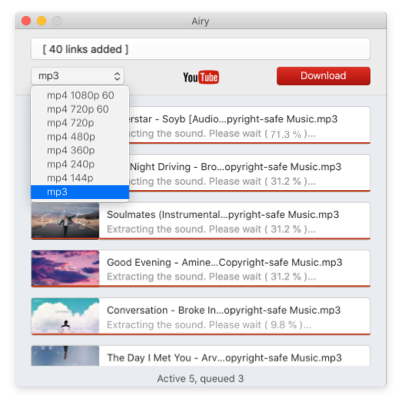 How to Convert YouTube Video to MP3 on Mac
1
Open up Airy and your browser of choice. Navigate to the video that you'd like to have converted into MP3.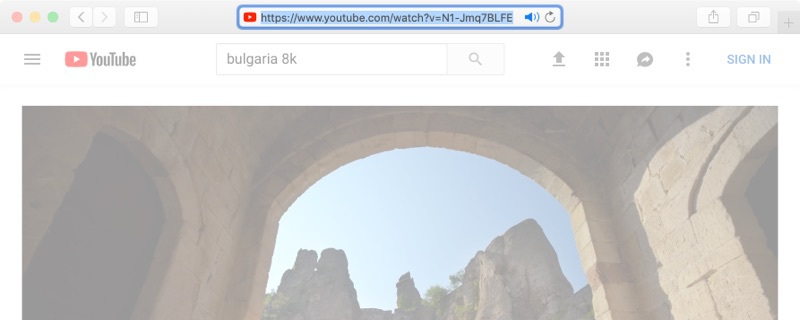 2
Copy the video URL. This can be done via "Share" - "Copy to clipboard", or directly from the address bar.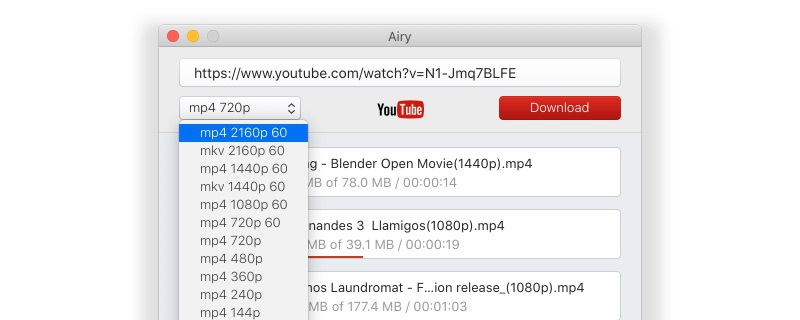 3
In Airy, paste the address. There is a drop-down format selector; pick MP3. Press "Download" to start it up.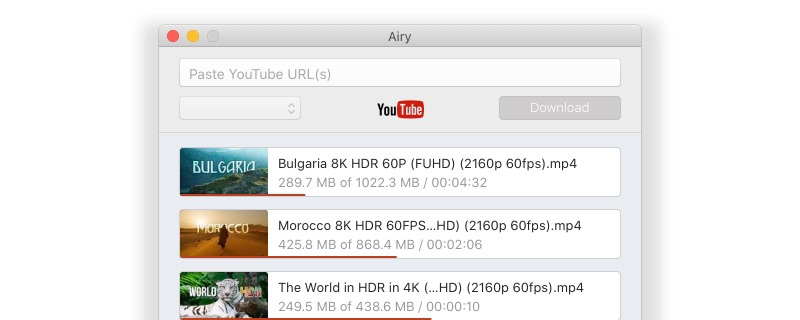 Airy YouTube Downloader
Why Is It Such a Great YouTube to MP3 Converter Mac Experience?
When you're trying to convert YouTube to MP3 on Mac, there are many different challenges. Airy was developed specifically to address this. With its high utility, the program will provide you with an easy download in most situations. Instead of getting several different pieces of software, why not get a package deal? Give it a try, and you'll be immediately charmed.

Turn Video Playlists into Music Albums
If you're planning to get Airy, don't forget to make some room on your SD card. Any playlist can be quickly turned into music, and very soon you'll have a veritable audio collection! This YouTube MP3 converter for Mac will give you more than you've asked for.

Multithreaded YouTube to MP3 Mac Conversions
Airy is more than just a pretty interface. Our team has implemented some curious algorithms that challenge any other YouTube converter for Mac. Multithreading improves the performance of local read/write operations, allowing you to make full use of your bandwidth.

Batch YouTube Conversions Enabled
Why limit yourself to one download at a time? Queue up a dozen, or a hundred. Airy has no limits on queued downloads, so you can keep browsing and adding more to the list. Eventually, they'll be completed, and you'll be better for it. More is always greater.

Utilize Simple Download Management
Pausing is an important, often-missed feature of YouTube converter for Mac. Airy will make no such mistakes; at any time, an active download may be paused to be continued later. You no longer need to cancel every download when in dire need of free bandwidth.

Channel-wide YouTube to MP3 Mac Downloads
If mere playlists are not enough to sate your appetite, perhaps a channel will do the job. The thing is, Airy will always convert YouTube to MP3 on Mac, playlists and channels alike. Size is never an issue, and even the most numerous lists will be exhausted in due time.

Bypass Restrictions to Convert YouTube Video to MP3 on Mac
When you convert YouTube to MP3 Mac, downloading age-restricted or private videos seems impossible. Don't fret. Airy can use your credentials to log into YouTube and download any video that is accessible from the account. No exceptions! Accept no substitutes.
Disclaimer
Airy was never intended for use outside of personal viewing and consumption. If you decide to exploit this service by sharing downloaded content or backing up data that doesn't belong to you, then the responsibility for any copyright infringement violations will be on you.
QnA
Perhaps, you've come here asking different questions. Or maybe we weren't exhaustive enough when compiling the info. Either way, you might find some answers in this section.
No software suits this task better than
Airy YouTube Downloader
. Once you have the application installed, it's only a question of getting the video address. All other tasks are automated, and you'll be provided with a nice, compact MP3 file.
Far be it from us to play favorites, but we have a candidate in mind. When picking out the
best YouTube to MP3 converter
, look no further than Airy. It's a beast of an app, downloading video after video without breaking a sweat. Try it, enjoy it, and join the Airy club.
What others say about Airy

#1 at Downloaders
Airy
Download YouTube videos & convert video into MP3 format
4.9
rank based on
811
+ users
Get a download link for your desktop
Submit your email address to get a link for quick download on your desktop and get started!
Pricing:
Starts from $19.95
Languages:
中文, Český, Deutsch, English, Français, Italiano, 日本の, 한국어, Русский, Español, Nederlands