YouTube Playlist Downloader
If you watch YouTube videos offline, you'll get rid of the limitations, such as buffering and slow loading. But most of the time, you need more than just one video. Downloading playlists will allow you to get many hours of entertainment, completely offline. Airy YouTube Downloader for Mac will allow you to do this, and more - such as mass conversion of YouTube videos into compact MP3 music files.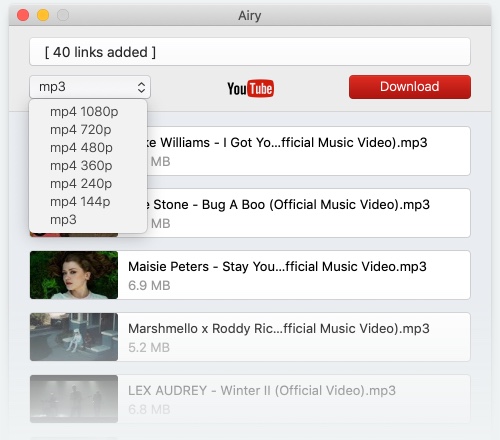 How to Download with YouTube Playlist Downloader?
To have a YouTube playlist downloader free of any unpleasant ads is truly a blessing. When you also have the chance to have your favorite playlists on your computer, life can really be beautiful. Airy YouTube playlist downloader Mac compatible is the perfect choice, thanks to its user friendly interface. Even as a first time user, the experience with Airy is easy and pleasant.
If you want to know how it works, here are the steps to download YouTube videos with Airy:
1
Step 1: Pick your YouTube Playlist
After you choose the playlist of your choice, copy its YouTube URL address.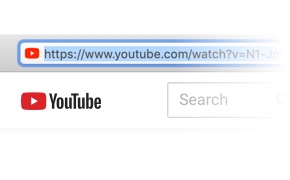 2
Step 2: Paste the YouTube URL in Airy
Airy also gives you the option to choose the resolution and the format of your videos. You can pick MPEG 1080p or lower.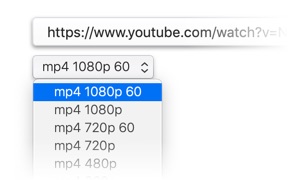 3
Step 3: Begin Downloading
Step 3: Begin Downloading
Click on the Download button and wait. Airy will do the work, for you to enjoy the results.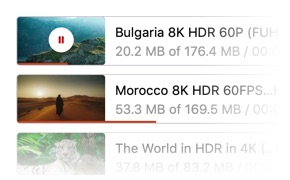 Disclaimer
Airy was built for user who'd like to save their favorite playlists or particular videos for personal use. If you wish to download content that isn't yours to share, we must warn you are responsible for the copyright.
Airy YouTube Downloader
What are the benefits of a YouTube Playlist Downloader on Mac?
To have a YouTube playlist downloader MP4 friendly is great when it comes to YouTube playlists. They've become popular over the years, with special features such as "Favorite" and "Watch Later", auto-add, and even Mix playlist based on your listenings. Airy will help you download any of these playlists right on your Mac, to enjoy them at any given time.

Download Complete YouTube Playlists
There is no need to worry about a YouTube playlist downloader software that will take videos one by one and convert them. Airy is ahead of the game and will download a YouTube playlist for Mac or even Windows, in few seconds.

Run Multiple YouTube Downloads
Thanks to today's fast internet, we no longer have to wait on a video to load, or download. With the help of Airy, you'll be able to manage multiple playlist downloads at the same time, without losing any quality or limits on the videos.

Convert YouTube Videos
Airy is great even when we talk about video conversion. With this YouTube playlist video downloader you can convert audio or video with no issue.

Airy Browser Integration
If you're a Mac desktop user and prefer to have the best YouTube playlist downloader in your bowser, then Airy is the way! Simply bookmark it and you can start downloading in a blink of an eye.

Pause Downloads
Let's say you have somewhere to run and no time to finish the video download that just started. Or the downloading got stuck, or never started to begin with. With Airy, these problems are long gone. You can pause and resume downloading activity whenever its best for your convenience.

Download Restricted Videos
We all know how YouTube's policy can be very restricted. Your favorite video can be taken down when you least expect it. Well, we have good news for you. With Airy, you'll be able to download even age restricted or private video.
Airy YouTube playlist downloader is free to use on their website. You can use it either on your iPhone or iPad. Airy
YouTube playlist downloader for free
has two free downloads. If you want unlimited downloading of short movies you can upgrade to the paid version of the app.
We'd definitely say Airy YouTube playlist downloader for Mac or Windows. It's user friendly, convenient and functional, which are the most important qualities a good YouTube downloader software should have. It's suited for various formats such as audio and video. It's great when it comes to time value, too.
These days, it's never been easier and more convenient for anyone to learn how to download a whole playlist from YouTube. Here are some steps for Airy YouTube downloader to help you save your videos:
Step 1: Search and pick a YouTube Playlist
After you found your playlist, copy its URL address.
Step 2: Paste the YoTube Playlist to Airy
If you'd like, pick the format and resolution of your videos. It can be 4K resolution in an MP3 or MP4 conversion format.
Step 3. The downloading Start
Click on the button that says Download and wait for Airy to finish downloading the videos.
What others say about Airy

#1 at Downloaders
Airy
Download YouTube videos & convert video into MP3 format
4.9
rank based on
811
+ users
Get a download link for Desktop
Submit your email address to get link for quick download and get started!
Pricing:
Starts from $19.95
Languages:
中文, Český, Deutsch, English, Français, Italiano, 日本の, 한국어, Русский, Español, Nederlands