The Best YouTube Audio Ripper - Airy
Extract YouTube to MP3 with just a few clicks
Download entire playlists at the same time
Pause and resume downloads as necessary
Download video in any available resolution up to 4K and 8K
Available for both macOS or Windows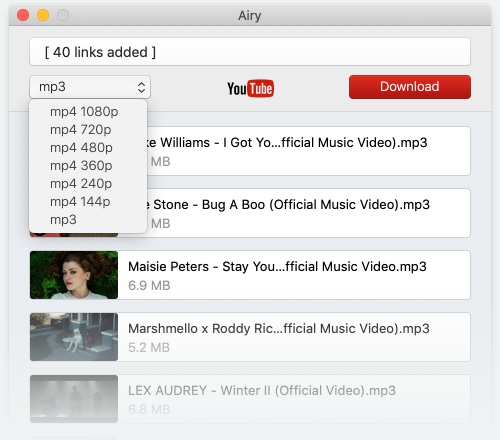 How to rip music from YouTube with Airy
Airy is a powerful, but very minimalistic and clean app. All of its features are more or less self-explanatory, so you won't need a lot of time getting used to it. If you're wondering how to rip sound from YouTube, follow these simple steps to make the best out of Airy from the get-go:
1
Download and install Airy on your Mac or PC.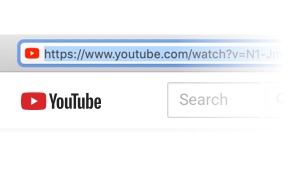 2
Go to YouTube. Copy the URL of the video which contains your desired audio, then paste it in Airy.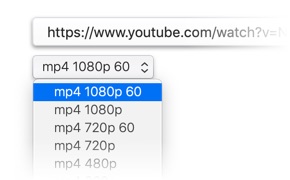 3
From the drop-down menu, select MP3 as the output format. Click Download to start the conversion.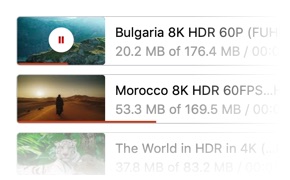 Airy YouTube Downloader
Rip songs from YouTube - and a lot more!
Airy YouTube audio ripper for Mac and Windows
is a hidden gem. You wouldn't suspect what it hides underneath its seemingly simple interface. In fact, apart from
getting audio from YouTube using Airy
, you can do a whole lot more. Airy's capabilities when it comes to both video and audio makes it an excellent all-around app for your offline experience. Take a look below to find out what we mean.

No Limit on Download Length
Airy offers unlimited download length. Upon purchase, it allows you to grab videos regardless of their overall length. Whether you're eyeing a whole bunch of short videos, or a single one which lasts hours, this app will handle them gracefully and without restrictions.

Unlimited Number of Downloads
With Airy, the number of videos you can download is also unlimited. You can keep adding new videos to your download queue without worry. Every single one of them will be saved to your computer, so all you have left to think about is your favorite content.

Download Entire Playlists
You don't need to go through the trouble of manually downloading videos one by one. If there are playlists that you enjoy, you can simply use Airy to grab the entire list. This is especially useful when it comes to getting audio from YouTube, because it lets you build up your music collection by using song selections tailored to your taste.

Download YouTube Video in HD
Airy makes sure you get an unrivalled experience when watching YouTube videos offline by offering the highest resolution available. It can even download videos in Ultra HD 8K 60FPS. You can also benefit from smaller resolutions, using them on different devices such as iPhone, iPad, etc.

Integrate It with Your Browser
To make things even easier for users, Airy flawlessly integrates with your browser. Once you add it to your bookmarks tab, you can download content on the spot, without ever interrupting your browsing process. Whether it's grabbing video or using the YouTube audio extract option, it works both ways.

Access Restricted or Private Content
Airy allows you to download content that not many downloader apps can - namely, age-restricted or private content. You can use your login details to gain access, provided that your account is permitted to view them.
Windows Version of Airy YouTube Downloader
All users and operating systems should be treated equally, don't you agree? That's why Airy is not only available for Mac users, but also for Windows users. Both versions include a wide array of features to make sure we've got you covered, whether it's ripping sound from YouTube or downloading your favorite video clips.
FAQ
If you have any questions about Airy, make sure to take a look at the section below. We've tried to respond to the most commonly asked questions from our users.
What others say about Airy

#1 at Downloaders
Airy
Download YouTube videos & convert video into MP3 format
Get a download link for Desktop
Submit your email address to get link for quick download and get started!
Pricing:
Starts from $19.95
Languages:
中文, Český, Deutsch, English, Français, Italiano, 日本の, 한국어, Русский, Español, Nederlands