These days cloud computing is the part of everyday life of any person well familiar with Internet. Everything is in the cloud – loads of files and documents and even applications. One of the most popular platforms for cloud computing is OpenStack. It is a free and open-source platform for private and public clouds. Users can interact with the platform through a web based dashboard, command line tools, or RESTful services. OpenStack is a reliable platform that offers openness and interoperability with an open API. Over 3000 and growing daily contributors actively communicate with each other in this innovative ecosystem.
There is a multitude of cloud storage services that are built on OpenStack API and provide their clients with its innovative and strong mechanisms. One of these OpenStack Swift API based solutions is Vexxhost – an OpenStack cloud with a highly performing Infrastructure-as-a-Service platform for its public cloud users. Thanks to its powerful servers and SSD storage, this service is easy to start with, the setup will probably take less than a minute. Its convenient dashboard allows accessing and controlling the application tools easily. Vexxhost is fully certified by OpenStack, and has been validated through intensive testing.
Whether you are using Vexxhost services for your private needs or for business, we can imagine convenience matters a lot to you. And what can be more convenient than having the possibility to work with your cloud storages from the convenience of your Finder app? CloudMounter is a reliable and secure application for mounting your cloud storages on Mac and working with online files as if they were all stored locally, with the exception of actually having to store them locally and cluttering your hard drive. CloudMounter also offers the possibility to upgrade your OpenStack security by mounting it on your computer and using CloudMounter encryption software to protect your OpenStack Swift data.
A few appealing things about CloudMounter file encryption software
When mounting your OpenStack storage on your Mac you won't have to synchronize your cloud documents, and still it will feel just the same way as when you are working with files stored on your hard drive.


Being able to encrypt files in your OpenStack object storage is rather important for file transfer protection. Feel extra safe with CloudMounter.


CloudMounter features a special decryption key that ensures your OpenStack documents are unreadable to those who do not have the key.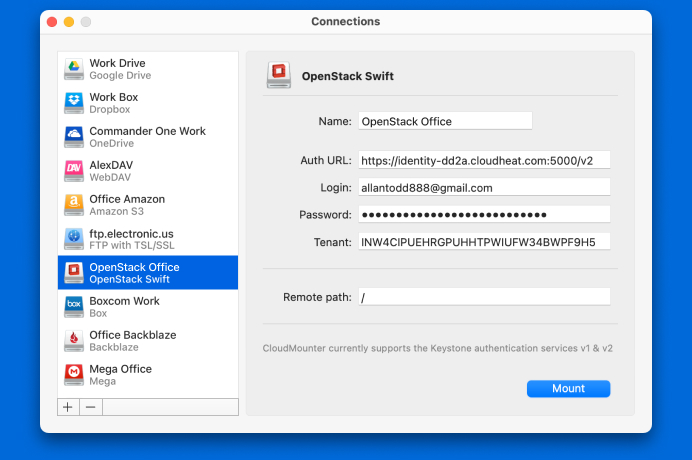 Here is why CloudMounter is so popular OpenStack Swift client: first off it knows exactly how to encrypt files in your OpenStack cloud and has really high security standards. It can easily be named the top encryption software thanks to its unique decryption mechanisms that are only meant for you. Also all cloud login info is stored in Mac OS Keychain and is used exclusively for designated clouds through encrypted channels. Next on, CloudMounter provides great data security not just for OpenStack services, but also for Dropbox, Google Drive, Microsoft OneDrive, Amazon S3 files and the files on FTP/SFTP, WebDAV servers. All in all you can get the most reliable web encryption and management of your cloud files.
CloudMounter
Requirements: macOS 10.12 , 13.1Mb free space
Version
3.11.698
(
16 Dec, 2021
)
Release notes
Category:
System Utilities