There's a little secret to buying an Apple computer, one that you may not learn until it's too late: Apple actually wants you to use exclusively their own services, not any similar programs developed by third parties.
Sure, there are Google and other online services that enable data access via web interface. However using them is not always convenient and reliable.
Synchronizing Outlook and Mac is quite straightforward, difficulties arise when we talk about automatic synchronization - simply because there is no such thing. This is when you need SyncMate, it allows synchronizing not only Address Book, but also other vital data in your Outlook account. You need to setup SyncMate just once and all further syncing sessions happen in the background, you do not even need to be in the picture!
Few words about SyncMate?
SyncMate is a universal solution for syncing Mac with various devices and online accounts. You can easily synchronize any data with your online online storage accounts, MTP, Mounted, Android and iOS devices, as well as Microsoft services.
Sync your Outlook contacts with Mac Address Book
We strongly recommend you to do a backup before your first synchronization.
Download and install SyncMate on your Mac. Once the installation is complete, launch the application.
In the main window displayed in the left pane click 'Add New' link. Wizard will assist you, make sure to click Microsoft Services button to choose Outlook.
Log in using your credentials.
Specify synchronization parameters.
Click 'Sync'.
SyncMate provides flexible settings for synchronization. Thanks to autosync, backup and other useful options all the data you need is always up to date.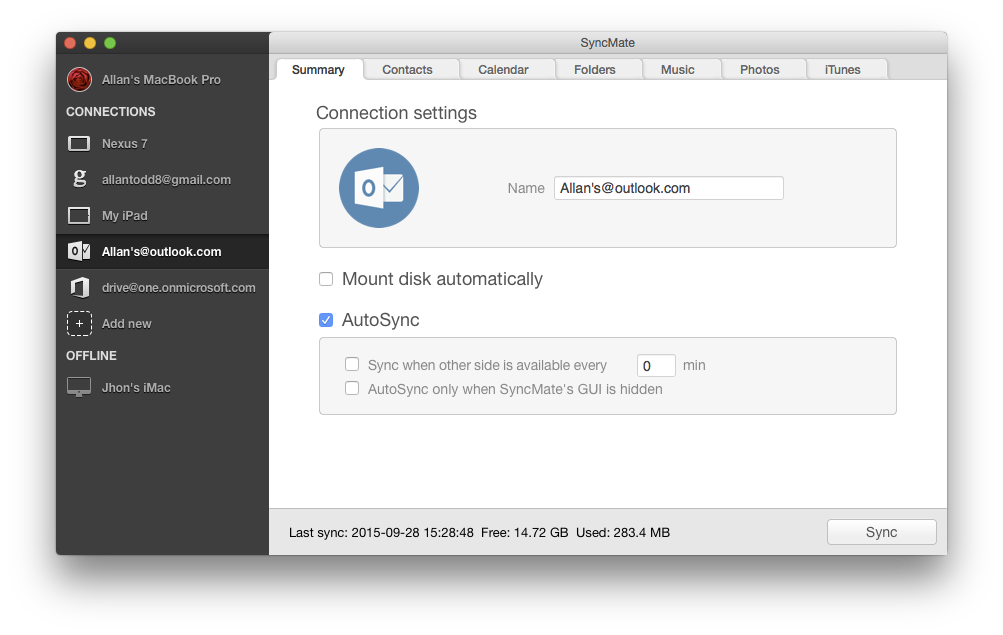 Summary
With the help of SyncMate you can sync not only your Contacts and Calendars but also media files, Music and iPhoto libraries, mount your online storages as disks and sync unlimited number of devices and accounts simultaneously.
SyncMate Expert
Requirements: OS X 10.8.5+ ,
50.9MB
size
Version
8.1.475
(
30 Mar, 2020
)
Release notes
Category:
System Utilities