JustStream
Stream Mac to LG Smart TV over WiFi
There are different ways you can stream your video files wirelessly to a TV. JustStream is one of the best! It doesn't just cast to LG TV from Mac - the app does so with impressive flexibility and functionality. Despite having many options to configure your experience, a simple stream is always just a few clicks away. Get the most out of your device, whether it's LG, Sony, Roku, or even Chromecast.

Free to Try
To make sure that you can cast to LG TV from Mac with your current setup, JustStream allows you to run trial streaming sessions for 20 minutes in total. Still, most brands and models should work just fine, as long as they support the DLNA protocol or AirPlay.
NEW
Yoo-hoo! JustStream now supports Apple M1, AirPlay 2 and Roku TV!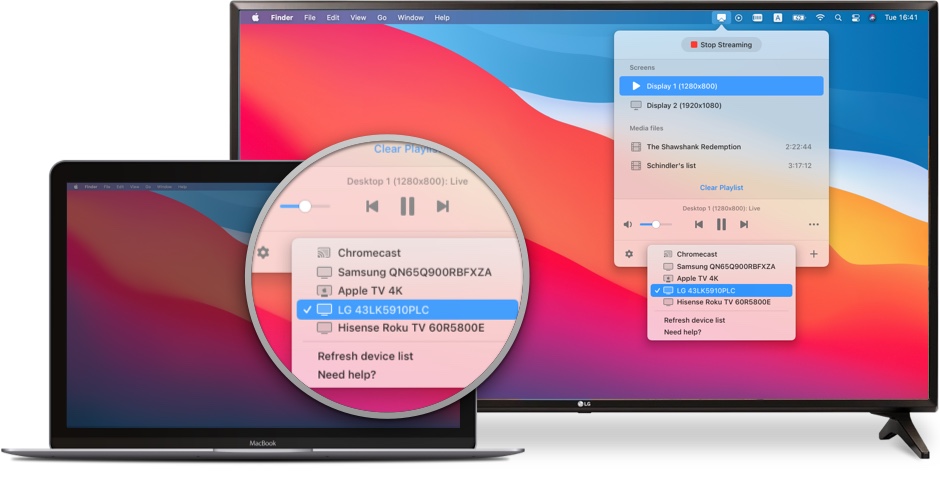 All Conventional Formats Supported
JustStream bypasses the usual mess of format compatibility and conversion. Whether it be an average MP4, or the less-common MKV, you can be confident that the file will be streamed without any problems. And if the receiving platform (for example, Chromecast, which is mostly limited to MP4 and WebM) is incompatible, the file can be transcoded on the fly.
Build Your Playlist
Despite it being just a streaming widget, JustStream features all the comforts of mainstream media players. One of these benefits is the playlist feature, which allows you to watch or listen to large swathes of content without constant switching. JustStream can open folders as playlists, which makes it easy to create one yourself.
Additional Audio and Subtitle Tracks
Some clips rely on external files to add new translations and such. JustStream addresses this issue: you can add and choose any external subtitle or audio file to your videos. Better yet: if the files are named in a certain way, the app will recognize and add them automatically. Truly the pinnacle of Mac to LG TV streaming.
Your Mac is the Best Remote
TV interfaces aren't known for their convenience and responsiveness. That's why we suggest using JustStream's interface on your Mac! Any currently playing stream is fully accessible and controllable from the widget, not to mention all the settings you can change.
Basically, it supports any device
Streaming Mac to Samsung Smart TV

Samsung Smart TV→

Roku TV's→

Apple TV→

Chromecast→

Sony
How to Stream to LG Smart TV with JustStream
Launch
JustStream
. Expand it from the toolbar icon.
Click "+" to start browsing for files. Add files or folders to stream.
Click the "signal" icon and choose the target device.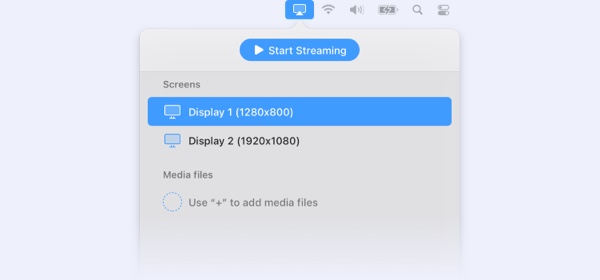 Press "Play" to start.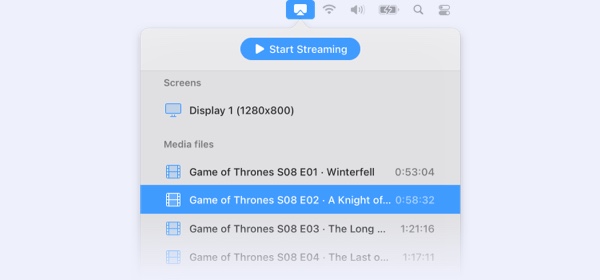 FAQ
You can, and it's easier than ever with JustStream. This exemplary application stands out among its peers. Its list of features is unmatched. Alternatives include "Mirror for LG TV" by AirBeamTV and "AirStream for LG TV" by Best App Limited.
Your best bet is JustStream. This mirroring and streaming app will come in handy in a variety of situations. You can configure everything, from subtitles to screen ratio. And it's just an all-round good experience.
As long as your TV supports the AirPlay 2 protocol, you can use Mac's default capabilities to run a screencast. To enable this, go to Apple menu > System Preferences > Displays, and choose to "Show mirroring options in the menu bar when available."

#1 at Video
JustStream
Streaming App for Mac
4.5
rank based on
23
+ users