JustStream
All Sony Screen Mirroring Needs Are Met with JustStream
JustStream is a universal, configurable way to stream almost anything from your Mac to your Sony TV. Connect Mac to Sony Bravia wirelessly, and you can begin. Do you want a screencast, or maybe you have video or audio to stream? JustStream adapts to the needs of any user through an array of useful options. You can be sure - this powerful app can stream anything that a Mac can handle.
Completely wireless streaming
Mirror your screen or run any video format
Deeply configurable subtitle support
Enable or disable the mouse cursor
Brands other than Sony are supported

Free 20-minute Test Run
Any doubts you have about our software are totally normal. To make sure that you make the right choice, we offer a 20-minute free trial version. It's not terribly long, but these 20 minutes should suffice for a complete test run of our app.
NEW
Yoo-hoo! JustStream now supports Apple M1, AirPlay 2 and Roku TV!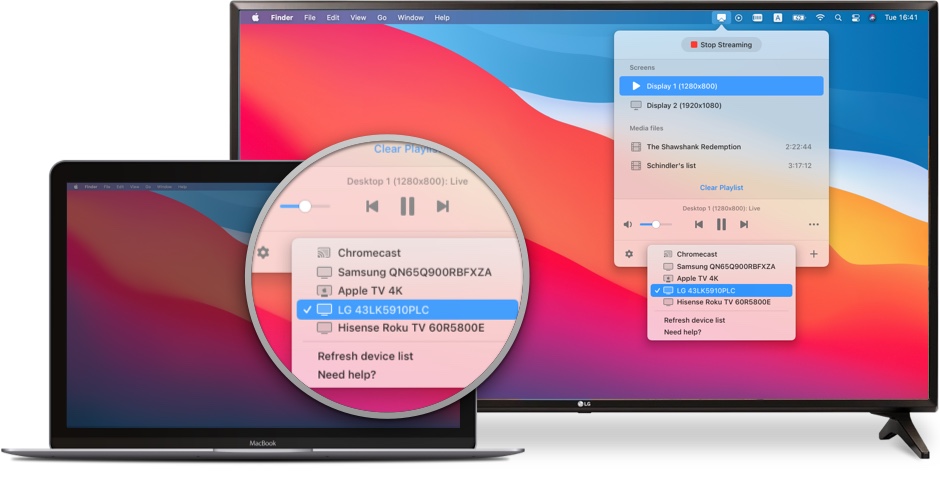 Adapt to any Screen
Far from being the acceptable minimum, JustStream carries enough functionality to suit many purposes. It provides a comfortable experience in a wide range of situations. Image quality can be modified, including low-latency options like 720p or, if your network can handle it, Full HD. Control screen resolution and proportions for maximum compatibility. Needless to say - this application will complement any Sony TV, or any TV for that matter.
Mouse Cursor Settings
Mouse cursors can be useful when mirroring; they can also be inconvenient. Luckily, JustStream allows for the cursor to be enabled or disabled as you please. There's an additional option to highlight clicks - nice for presentations. In any case, you can watch movies without the pointer getting in the way.
Mirror for Sony TV Mac
Sony TV Screen Mirroring from Mac
How to Mirror Mac to Sony Bravia TV Wirelessly?
JustStream offers an option to the default AirPlay app, which is particularly useful for Sony TVs - they don't feature AirPlay compatibility. It's not any harder to use:
Make sure that your TV is on and that it's on the same network as your Mac.
JustStream can be expanded from an icon on the menu bar.
At the bottom middle, there is an icon that expands into a list of connectible devices. Choose your TV.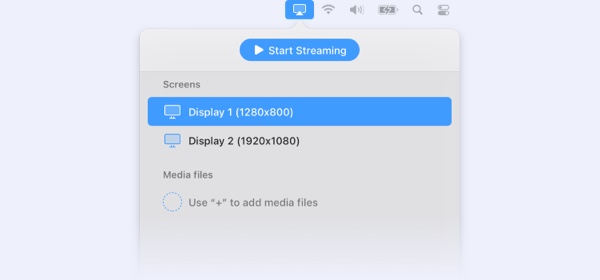 In the center of this window, there's always a list of displays that can be mirrored. Double-click one to start mirroring. You can also do it by clicking "Play", or from the display's context menu.
Click "Stop Streaming" once you're done.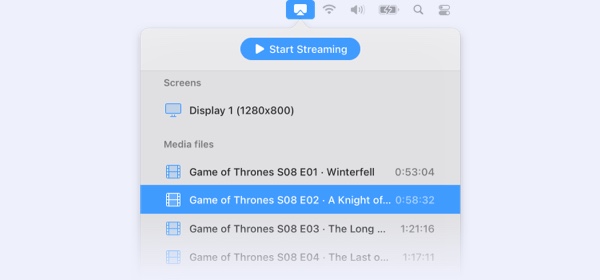 Frequently Asked Questions
There are other concerns that people raise in relation to screen mirroring Mac to Sony TV. Since we've made it our goal to be informative, some answers will be provided below.
You can, with JustStream! It opens up many possibilities for screen mirroring and video/audio streaming. You can find some surprising uses for the app.
Find the Wi-Fi Direct Mode on your Sony TV.
Go to your Mac's Control Panel and choose "Network and Internet".
Connect to a Network.
Choose "DIRECT-xx-BRAVIA" or the SSID displayed on your TV.
Choose "Connect".
It is especially important that you check that no other mirror streams or apps are running while you're trying to set it up. And take note, while BRAVIA TVs are certified to the same WiFi standard, their screen mirroring settings may vary.

#1 at Video
JustStream
Streaming App for Mac
4.6
rank based on
438
+ users
Languages:
Deutsch, English, Français, 日本の, Español