Chromecast is a great accessory for casting videos from iPhone to your TV. Unfortunately, screen mirroring isn't possible natively and you need a third-party app to cast screen to Chromecast.
Nevertheless, the process is quite simple and once you've downloaded the app, it takes only a couple of minutes to start mirroring your phone. 
In this article, we've described three popular third-party apps you can use to cast your phone's entire screen to a Chromecast device or a TV with built-in Chromecast functionality.
Best Screen Mirroring Apps for Chromecast
iPhone screen mirroring Chromecast apps use iOS's screen broadcasting feature to display it on a TV. This prevents them from mirroring DRM-restricted apps such as Netflix. After testing some of these apps over the span of a couple of days, we've curated a list of the three most popular ones, all of which we've described below.
Best Chromecast Apps for iPhone to Stream and Mirror (UPDATED)
NOTE: Before using any of the apps mentioned below, you have to set up Chromecast using the Google Home app. Make sure your iPhone and TV/Chromecast are on the same Wi-Fi network.
1. DoCast
DoCast is the ultimate app for screen mirroring on the iPhone. Not only does it let you mirror your phone's screen for free without showing ads, but you can also use it to cast offline media content stored in your iPhone.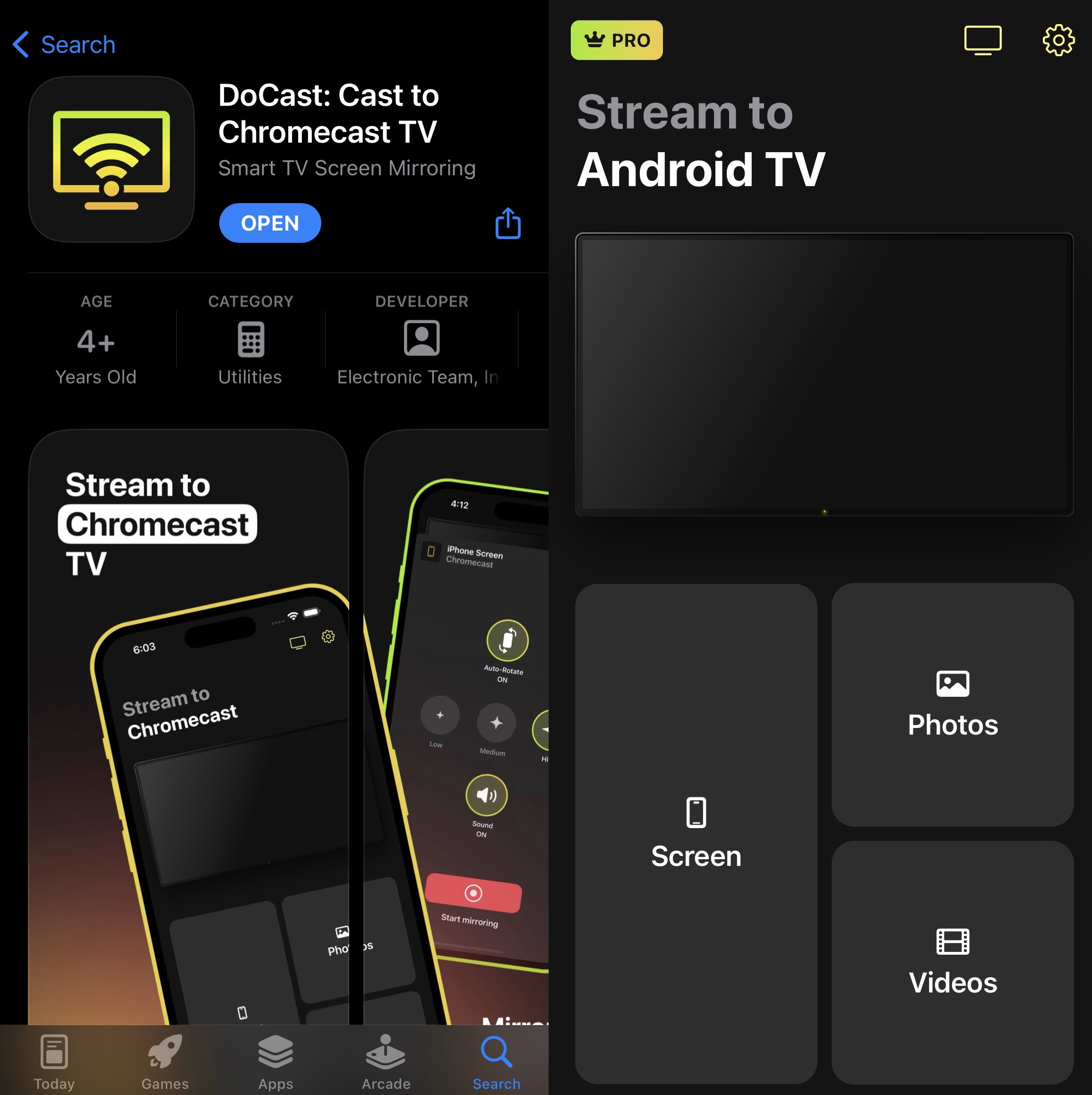 The app's user-friendly and minimalistic UI makes it incredibly easy to navigate through its features. As soon as you connect it to your Chromecast device, you immediately know where you should tap to get to the screen mirroring section.
Once you're there, you can adjust the settings (changing the mirrored display's quality, enabling audio, and turning on auto-rotation) before you begin the screen mirroring session.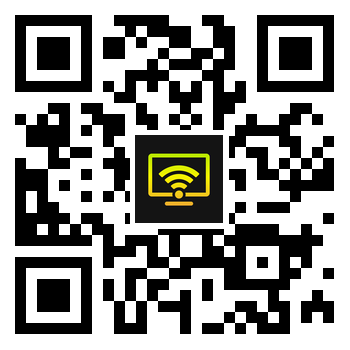 The free version lets you mirror for 15 minutes per session and cast videos for 3 minutes per session. To remove these limitations, you can upgrade to the premium version, which costs $3.99 per month. There are some plans that come with a special gift! 
On the App Store, DoCast has a rating of 5/5.
Pros
Simple and minimalist UI
Has an app for iPhones and iPads
Lets you cast offline and online media
Offers a 3-day trial version
Cons
Screen mirroring only works for 15 minutes on the free plan
2. Screen Mirroring on Chromecast by AirBeamTV
The second best app that can Chromecast mirror iPhone is AirBeamTV. It's a versatile app that you can use on multiple platforms including iOS, iPadOS, macOS, and even Android.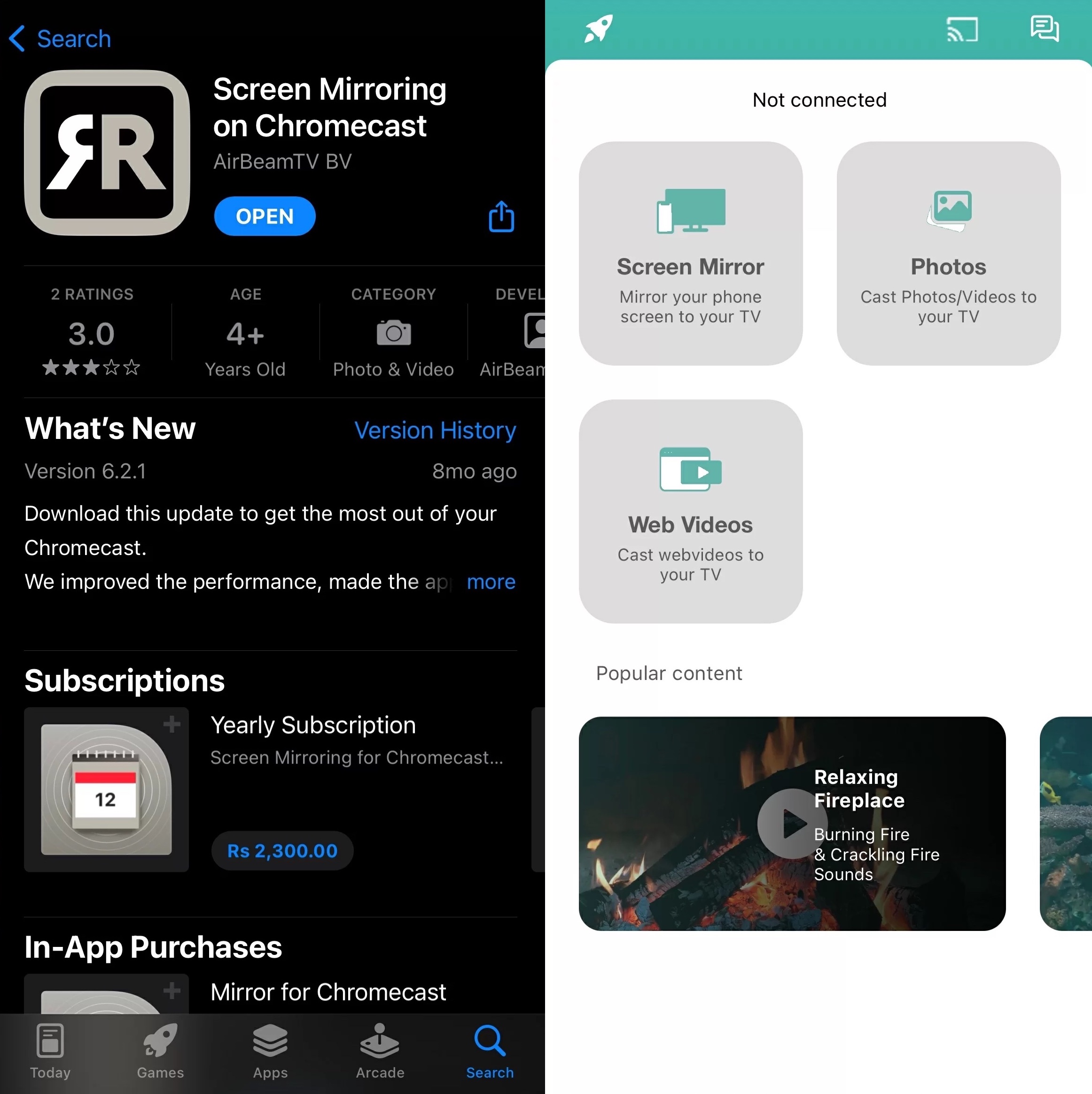 AirBeamTV's iOS Chromecast mirror app has three main features: Screen Mirror, Photos, and Web Videos. With the first one, you can mirror your iPhone's screen to a TV that is connected to Chromecast. 
Photos feature lets you cast photos and videos stored on your phone to your TV. Web Videos allow you to cast online content from sites like YouTube to your TV. 
Unfortunately, the free version doesn't play any audio when you mirror your iPhone's screen. You have to buy the premium version to unlock all features, which has a one-time fee of $14.99.
Pros
User-friendly app
Also available for Android phones
Supports offline content casting
Cons
Has a latency of 2-3 seconds
3. TV Mirror+
TV Mirror+ is our third-best mirror app for Chromecast. The app is compatible with all generations of Chromecast. It's a low-latency screen mirroring tool which makes it great for things like games, apps, and presentations.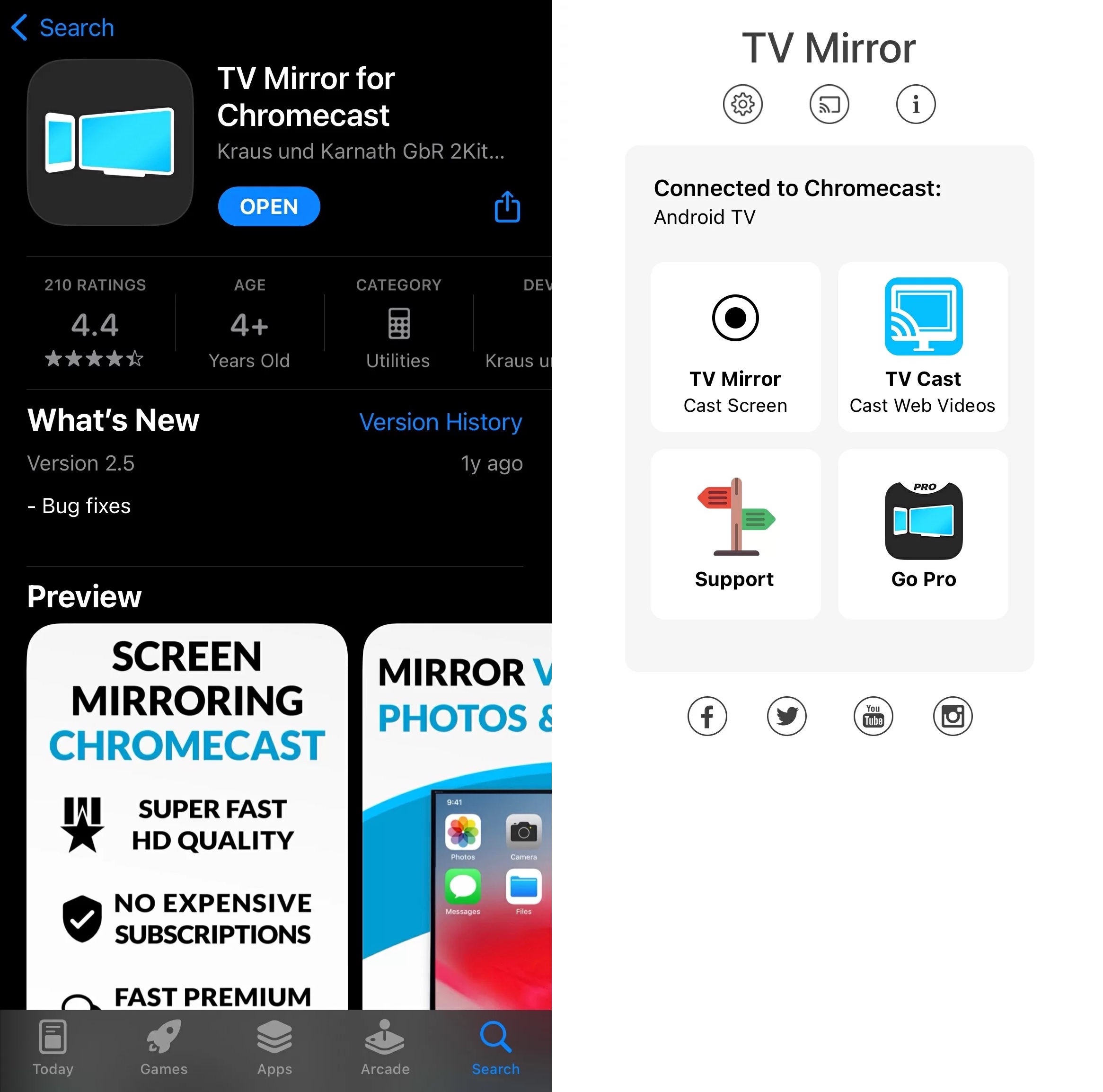 It automatically detects Chromecast devices in your vicinity when you launch it. After taking you to the dashboard, you'll see that it has two features: you can either mirror your phone's screen or cast online videos.
There's no option to stream offline photos or videos to your TV. This Chromecast mirroring app has a simple interface, but the free version requires you to watch ads before you begin to mirror your phone's screen, which can be a bit frustrating.
Pros
Has low latency, making it great for gaming
App is easy to use
Built specifically for screen mirroring
Cons
Disconnects from the TV sometimes when you switch between apps
iPhone Chromecast Mirror - How Does it Work?
Video Guide on How to Mirror iPhone to Chromecast - Free and Paid Solutions
Setting up a third-party app to screen mirror for Chromecast doesn't take too much time. With most apps, all you have to do is connect to your Chromecast and then enable screen broadcasting.
Below, we've described how to use one of the aforementioned apps for screen mirroring iPhone to your streaming device. These apps have a slightly different UI but they're similar in the way their screen mirroring feature functions.
In this guide, we've used DoCast as an example but you can follow similar steps on other apps.
2. Open the app and wait for it to search for nearby Chromecast devices.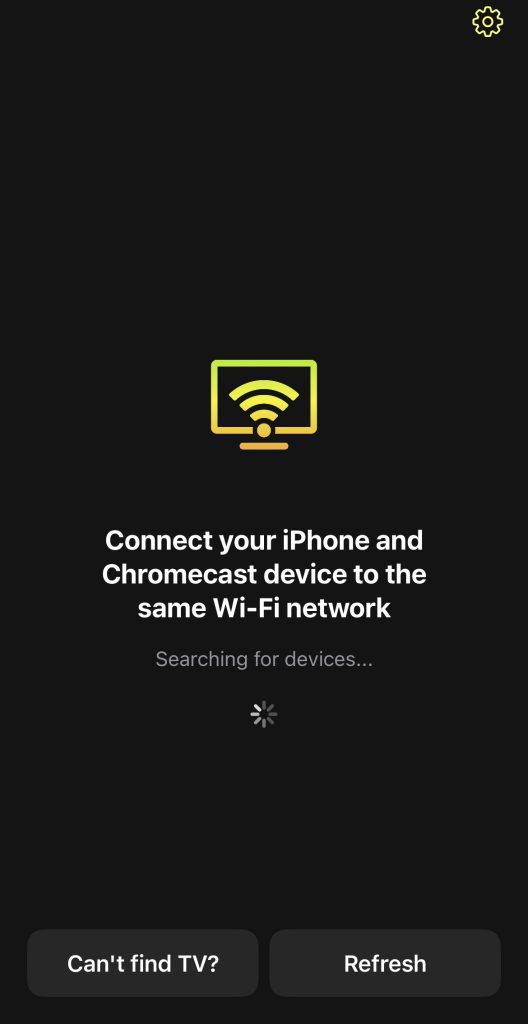 3. Tap your Chromecast device to connect to it and proceed to the dashboard.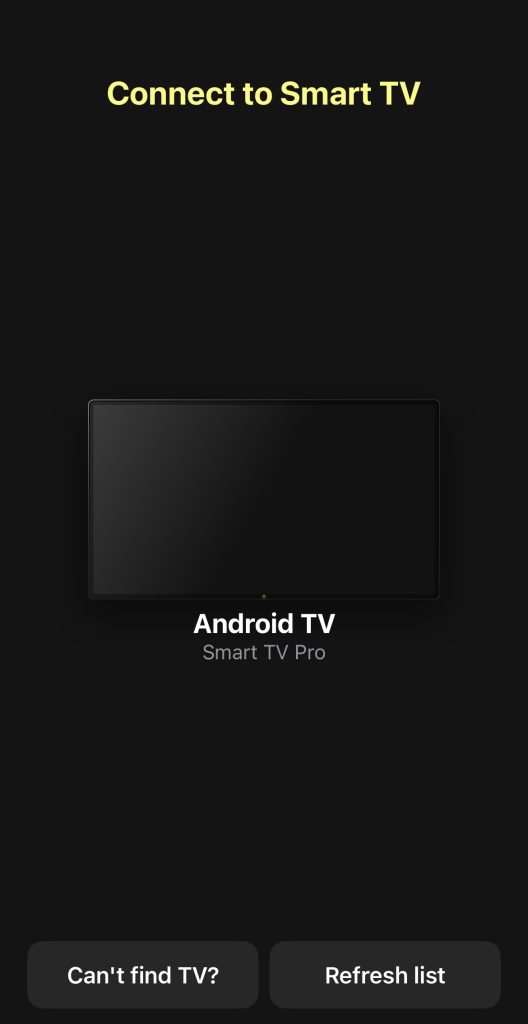 4. Tap Screen to go to the screen mirroring section.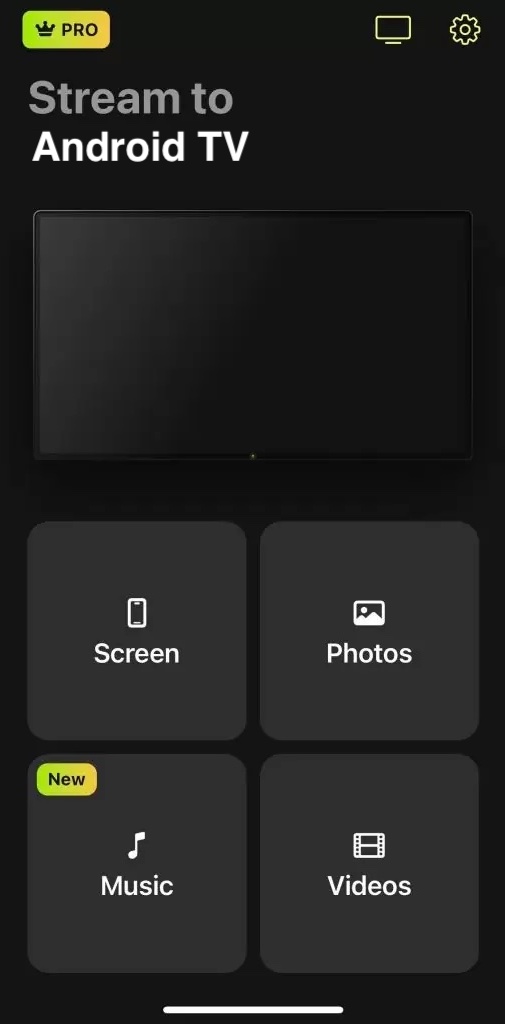 5. Adjust the settings however you like and then tap the red button at the bottom.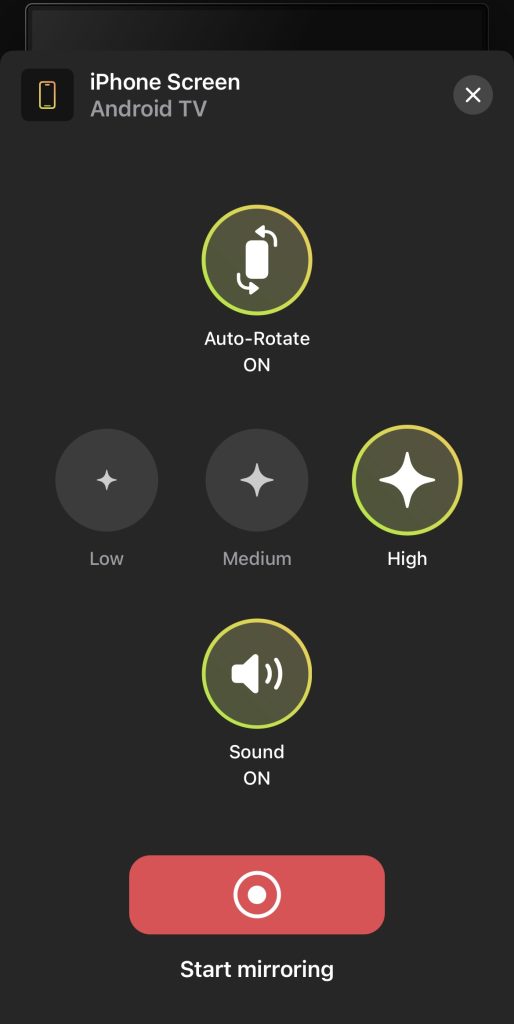 5. Tap Start Broadcast to start mirroring your iPhone's screen.
Conclusion
There are various Google Chromecast apps on the market, all of which have their own advantages and disadvantages. All of the ones we've mentioned in this article are capable of mirroring your iPhone's screen to your Chromecast wirelessly.
Which one you should use depends on your preferences, but we recommend reading user reviews first if you plan to get a paid subscription. 
That being said, our top choice for screen mirroring to Chromecast is DoCast because it's quite easy to use and has a great free version. Moreover, it has affordable premium plans which let you mirror your iPhone's screen for as long as you want.
Frequently Asked Questions
Yes, there are several apps you can use to screen mirror to Chromecast. With the help of a third-party app such as DoCast, you can easily mirror your iPhone's screen to your TV. It's free, but a paid subscription will be required to mirror for more than 15 minutes per session.
To mirror your iPhone to your TV, you'll have to use Chromecast or AirPlay. With AirPlay 2-enabled TVs, you can use your phone's built-in screen mirroring feature. But if you have Chromecast, you'll need a third-party app such as DoCast since there's no way to natively mirror your iPhone's screen with it.
DoCast is the best app for casting your iPhone's screen to Chromecast. It has a visually appealing UI and tons of free features that allow you to take advantage of your Chromecast device. You can use it to mirror your screen and cast offline photos and videos to your TV.
Yes, DoCast is a free app that you can use for screen mirroring on Chromecast. It's completely ad-free and lets you mirror your iPhone's screen for 15 minutes per session. Plus, it supports audio and auto-rotation.