Download videos
VideoDuke is your safe and handy media downloader for Mac
If you choose VideoDuke as your video downloader Mac solution, you will never be disappointed. The long list of features offered by this media downloader for Mac makes it ideal for basically any task you throw at it. No matter if you want to download videos (TV shows, movies, YouTube clips, etc), music, images, subtitles, or even scripts from a page, it can take care of the task easily.
You can choose from two modes of operation - Simple and Advanced. Most importantly, VideoDuke is a perfectly safe application.
Unlike other video downloaders that usually could come with a packet with adware or even malware, you can trust this app to provide 100% safety. It's hosted directly on our official website that's periodically scanned and uses top-level cybersecurity protocols.
Download any media
Media downloader app can save any related file
This media downloader Mac application takes care of all the media download scenarios you may need as a user. Through its Advanced mode, it can download videos, music, HTML 5, and other elements from websites. Let's take a closer look at each.
You can count on this media downloader for Mac to get the audio from YouTube videos or other sources online. If you want to build a playlist for working out, there's no need to keep the video as well. Save audio in MP3 and many other popular formats with VideoDuke.
Need to download HTML5-embedded videos? No problem with VideoDuke. You can get videos that use HTML5 and save them in many popular formats on your Mac. Choose from MP4, AVI, MKV, FLV, and many more to build an offline playlist.
If you're downloading a full album from YouTube or you just want your song to also have a cover, you can trust VideoDuke media downloader for Mac to get that as well for you. Just go to the Image tab and save all the images on the page using this media downloader app.
Best media downloader
While it shines with audio, HTML5, and images as well, VideoDuke truly delivers its best performance when it comes to downloading video files from the internet. Able to download from hundreds of websites and offering functions like bulk downloads, or downloading entire YouTube channels, this app is simply remarkable.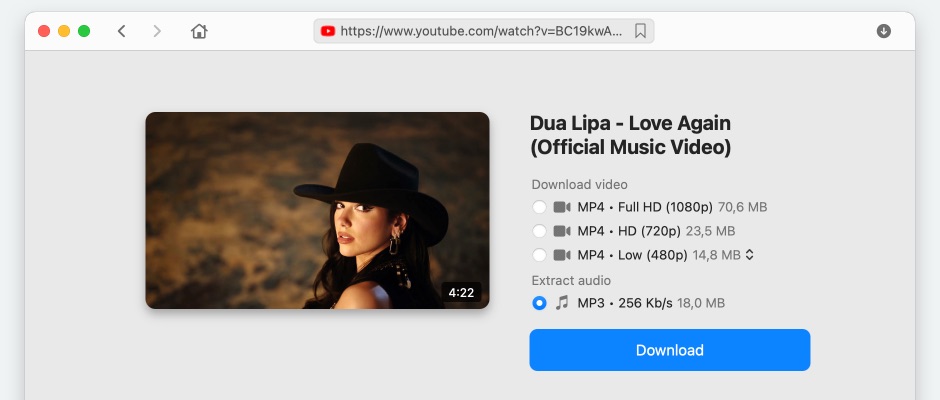 Learn more
More on media downloader Mac.
There's literally no limit to what VideoDuke can help you download on Mac. This all-in-one media download Mac app gives you all the tools needed to download any kind of media and save it on Mac for offline download. Use VideoDuke to download and enjoy: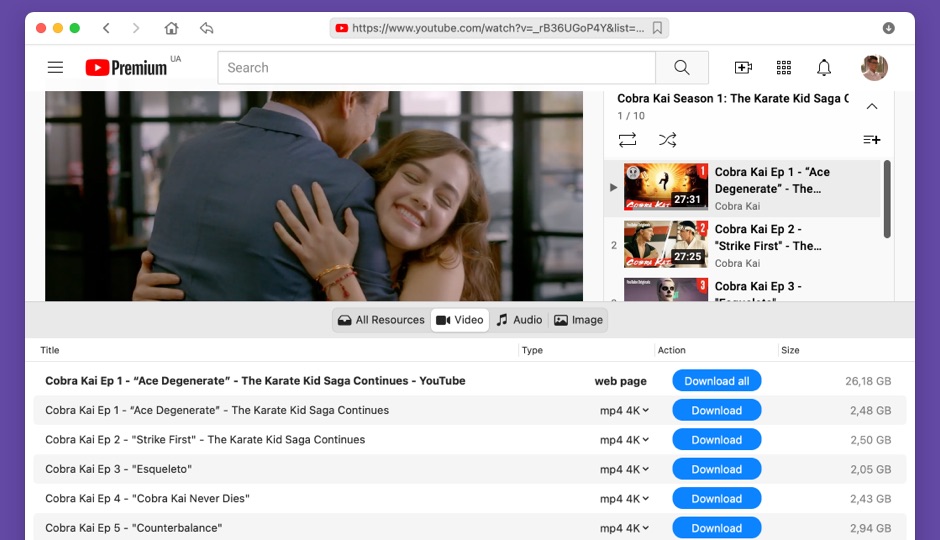 Even more features
Media downloader for Mac can do much more
Delivering support for popular video streaming sites such as YouTube, Vimeo, Dailymotion, and more through quick-access buttons, VideoDuke offers an easy-to-use interface that's completed by the search bar to rapidly find everything you need.
Browse In-App
Easily look for videos browsing directly in the app window and using the in-built search function.
Rapid Access
Immediately access YouTube, Dailymotion, and Vimeo in VideoDuke without needing a browser.
Add Bookmarks
Place bookmarks so you access favorite websites.
Downloads Check
VideoDuke offers a complete download history.
Browser integration
Download faster by integrating VideoDuke in your browser.
Two Modes to Use
Choose from Simple or Advanced operating modes to get the job done.
Frequently Asked Questions

#1 at Video Downloaders for Mac
VideoDuke
Download videos from almost any website
4.5
rank based on
89
+ users
Get a download link for Desktop
Submit your email address to get link for quick download and get started!
Category:
Video Downloaders for Mac
Pricing:
Starts from $19.95