The Best YouTube Downloaders for Mac to use in 2016-2017
Windows users have a lot of options to download YouTube videos while Mac users get less options to do that, one reason being that many companies do not create Mac compatible software.
We rounded up 10 best YouTube downloaders on Mac for your convenience.
1. Airy YouTube downloader for Mac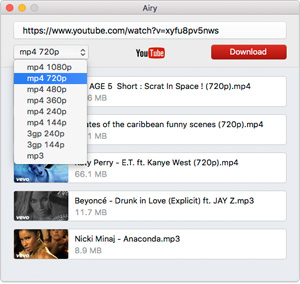 Airy is a YouTube video downloader that can save your favorite YouTube videos to your Mac so you can play any of them whenever you want. And there is no need to have Internet connection to play those videos you saved and you can play them even if the original poster decided to remove them from the web. Airy handles Full HD and 4K Ultra HD videos flawlessly and lets you resume paused or interrupted downloads. When downloading videos with Airy you get to choose required format (e.g. MP4, FLV, 3GP) and resolution. You can also save only the soundtrack in MP3 format, without saving the video. How cool is that? Airy can fetch album art and titles and can download entire YouTube playlists. Want to download videos not only from Youtube but from other sites? Try Elmedia Player PRO.
2. MacX YouTube Downloader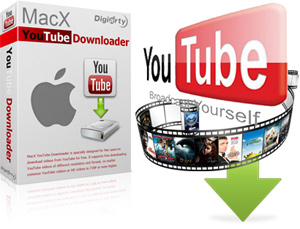 MacX YouTube Downloader is not just for videos from YouTube, it can also save videos from Facebook, Dailymotion, Vevo, Vimeo, and lots of other video sharing websites. It can download YouTube videos in different resolutions and formats, and it doesn't matter if those are common YouTube videos or HD videos in 8k/5k/4K Ultra HD, 1080P or 720P.
Unfortunately no app is perfect. Every downloading app can experience problems sometimes, and Macx YouTube Downloader for Mac is no exception. E.g. with a slow Internet connection the app doesn't convert some formats and downloading process may last forever.
3. Apowersoft Video Downloader for Mac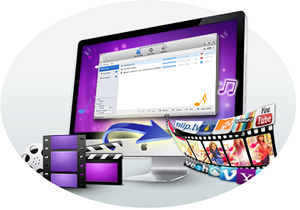 This app lets you convert videos to other file formats suitable for devices like iPad, iPod Touch, iPhone, Samsung Galaxy, PSP, Kindle Fire, HTC One, etc. Additionally it lets you download high resolution videos from lots of websites including but not limited to YouTube, Vimeo, Dailymotion, Facebook. You can also save complete YouTube playlists to your Mac.
Apowersoft Video Downloader for Mac is pretty easy to use in general. Despite the interface being a bit generic, it gets the job done.
4. YouTubeHunter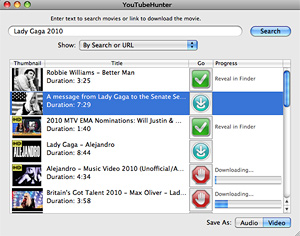 This app can download videos from YouTube and other video resources. It has a search field to type in keywords and find videos just like directly on Vimeo or YouTube. Then there is a possibility to sort videos according to most popular, most viewed, popular in HD, recent, etc.
YouTubeHunter allows you to choose whether to download all video or just its audio, which is perfect option for when you only want to download a soundtrack. Generally this app is pretty good, the only thing that could be improved is the location of the download status for each video. It should be on the main screen available right away. And seeing an estimated time for each download would be helpful.
5. Aimersoft YouTube Downloader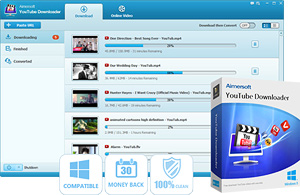 Aimersoft Youtube Downloader is yet another app for downloading from YouTube. Aimersoft Free YouTube Downloader has a simple user interface. Thanks to its One-Click download option, your favorite YouTube videos are very easy to save. And what's really great you can save the entire playlist from YouTube to your Mac within few moments.
6. Wondershare YouTube Downloader for Mac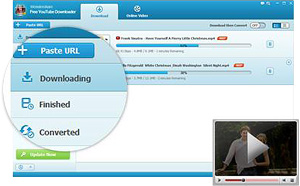 You can use this app to save videos from YouTube to your Mac, convert YouTube videos to your portable device format, and format them for playback on your computer with built-in FLV player. There is a free version of this app, which is stripped-down from a premium package that costs $29.00. The paid version of Wondershare YouTube Downloader for Mac offers better support for various video sharing websites, conversion of tracks to various formats, the ability to extract audio from videos. To download videos you can either use the floating Download button in your Internet browser or paste a YouTube link into the app.
7. YTD Video Downloader for Mac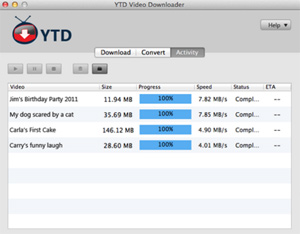 YTD Video Downloader for Mac offers an easy-to-understand main menu, with three buttons describing the main features. This app offers all features expected from a downloading app for streaming videos, and some additional ones for video conversion. Some extra options make this tool very handy, like converting videos to different formats or cutting them to various sizes. The app is free, simple, and is a good choice for Mac users who want to download YouTube videos for watching offline.
8. ClipGrab for Mac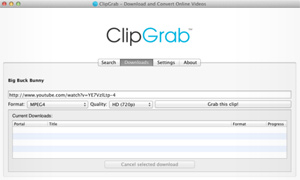 ClipGrab can download and convert videos (note that conversion is limited to Intel Macs) and supports a lot of video websites including YouTube, Dailymotion, Vimeo, CollegeHumor, MyVideo, Clipfish, Sevenload, etc. It can also convert downloaded videos to MPEG4, WMV, MP3, OGG Theora, and OGG Vorbis. However, during testing we downloaded a video in FLV format from Vimeo and couldn't select any other formats from drop-down menu so it is possible conversion doesn't work for all formats and websites.
ClipGrab can save HD videos - just make sure HD is selected in the Quality menu. ClipGrab conveniently detects when you copy a link to clipboard and can automatically download it if you want. Downloading process is really fast. There is a downside though - you can't integrate ClipGrab with your web browsers,. However if you copy and paste the links you can add as many as you want to the queue.
9. iTubeDownloader for Mac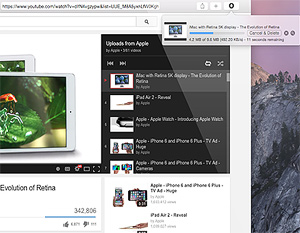 iTubeDownloader for Mac helps you quickly find and save any video from YouTube in a single interface - it has its own built-in browser and you can copy and paste within same window. When you install iTubeDownloader it creates a folder on your desktop where it will automatically download and save videos. This is a very basic downloading app for YouTube videos and requires a minimal input. iTubeDownloader is free for seven launches.
10. Total Video Downloader for Mac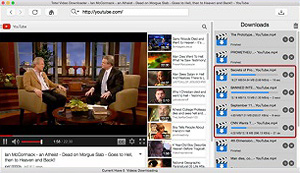 Total Video Downloader is aimed to do exactly downloading, downloading that is possible for nearly any video on the Internet. It is super simple yet one of the best we ever used. However as much as it can be better of any of its competitors, it doesn't convert videos to other formats. Total Video Downloader has an interface that basically looks like Internet browser with shortcuts to the most popular video websites, like YouTube, Dailymotion or Vimeo.
When all you need is downloading, then it is a good choice, also very easy to use. But when you need conversion or video optimization or extracting MP3 soundtrack you may consider another app.
This was a lineup of the best YouTube downloaders for Mac that you can read through, try out, and make your choice.
Airy for Mac
Requirements: OS X 10.7+ ,
16.4MB
size
Version
3.2.175
(
3rd Feb, 2017
)
Release notes