Basic features
VideoDuke - your Instagram downloader Mac app
Mac users are now able to save all their favorite Instagram content with VideoDuke. No matter if you want to grab videos, images, or other elements from Instagram, it's now all possible thanks to this app.
You get to choose from two modes - Simple and Advanced - depending on what you want to do. Next, you have a wide array of video and audio formats to pick from. If you're wondering about the quality of the videos, know that you can get resolutions from 144p to 4K and it's all just a few clicks away thanks to VideoDuke Instagram downloader for Mac.
What's more, VideoDuke can be used as Safari Instagram downloader. Just integrate VideoDuke in browser and download videos in a few clicks.
Advanced features
Download anything from Instagram with VideoDuke
If you want to really unleash the power of this complete video downloader for Mac, choose the Advanced mode and you will be able to get the videos, images, and even scripts from the pages.
Just go to the Advanced tab and you will be able to download and pick exactly what you wish to get from Instagram. Nothing is off the table with such a potent video downloader and you can even use VideoDuke to navigate Instagram so you won't lose time opening a browser to do so. So stop wondering how to download Instagram videos on Mac! Download any content from Instagram right now using VideoDuke!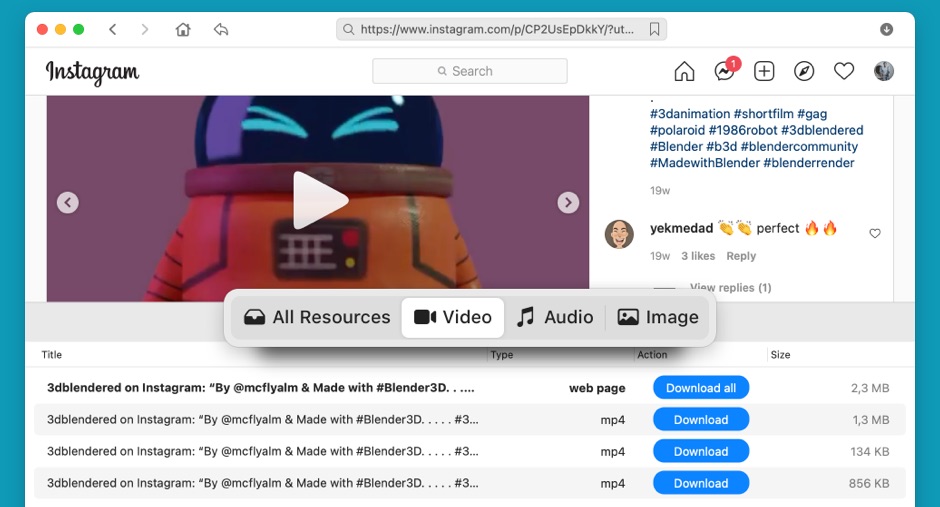 Even more features
Learn more about VideoDuke Downloader for Mac
VideoDuke is extremely user-friendly and it offers support to download videos from Vimeo, YouTube, Dailymotion, Facebook, Twitch, Twitter and many more. Use the quick-access buttons to get on these sites or the search tool to access any other websites as well.
Browser mode
You won't need to open a separate window. Navigate YouTube, Dailymotion and Vimeo directly in VideoDuke Instagram download Mac app.
Easy access
Navigate YouTube, Dailymotion, and Vimeo in VideoDuke's window directly.
Bookmarks
Never forget to download Instagram video with the bookmarking feature.
Verify your downloads
Easily access the download history whenever you want.
Browser integration
VideoDuke has a browser integration function through bookmarks.
Two Operating Modes
Switch from Simple to Advanced depending on what you need.
Download videos from any site on Mac
VideoDuke is the app that helps you download videos from over 1000 websites*, starting with the most visited ones. This is the list of video sites on which VideoDuke can work its magic:
*Possible issues troubleshooting
Frequently Asked Questions

#1 at Video Downloaders for Mac
VideoDuke
Download videos from almost any website
4.5
rank based on
89
+ users
Get a download link for Desktop
Submit your email address to get link for quick download and get started!
Category:
Video Downloaders for Mac
Pricing:
Starts from $19.95