Learn about SyncMate - Huawei Mac sync app:
Sync Huawei Contacts with HiSuite Mac alternative
Windows users can use Huawei's HiSuite app to sync data between phone and computer. Unfortunately, there is currently no Huawei HiSuite for Mac solution available from the phone manufacturer.
Mac users either need to find a manual method for keeping synced or find a third-party application to do the job. That's where SyncMate comes in. We think it's the best way for Mac users to sync data with a Huawei phone.
SyncMate lets you easily connect a Mac to a Huawei phone so you can keep contacts, calendar entries, and other data synced across the devices. You'll never miss a meeting because you set an appointment on your phone and forgot to add it on your computer as well.
Use the following directions to start using SyncMate as a HiSuite for Mac connectivity solution to sync contacts and syncing calendar entries.
If you only want to perform a simple Huawei Mac sync, you can use the freeware version of SyncMate and do not need to upgrade to the Expert version of the tool.
Connect the phone to your Mac with its USB cable.
Download and install SyncMate on your Mac or MacBook.
Open SyncMate, click "Add New (+)" on the left side of the program.
Select "Android device" for the Huawei phone.
Go to the right of the tabs at the top of the screen and click the "+" button and configure the sync parameters.
Click "Sync" to start syncing your calendar entries and contacts between the Mac and Huawei.
Sync Photos from Huawei to Mac with SyncMate
Now let's look at how to sync photos between a Huawei mobile device and a Mac. The Expert edition of the software costing $39.95 is required to create a Huawei Mac connection that can transfer photos.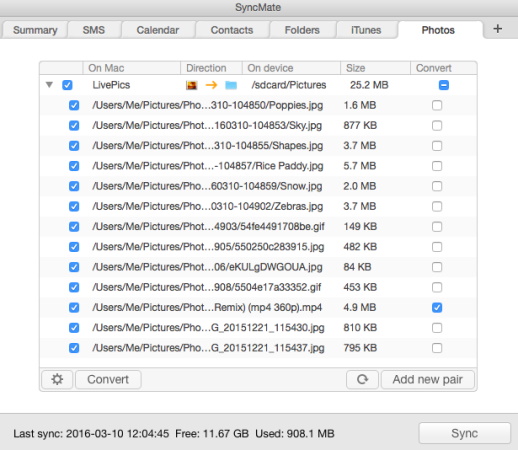 Connect the Huawei to the Mac using the phone's USB cable.
Download SyncMate and upgrade to the Expert edition.
Open the app and then the "Add New" button on the left-hand menu. Select "Android" for your Huawei.
Click the "+" button on the top menu and then select "Photos" from the plugin list.
Configure the sync parameters which let you specify the albums or folders you want to be synced.
Choose conversion settings to control the file type and image quality of the transferred photos.
Sync Music Huawei Mac with SyncMate
There are no native Huawei Mac methods for syncing music between the devices. SyncMate offers the best tool for maintaining a consistent music library on your computer and phone. You'll need to upgrade to the $39.95 Expert version of SyncMate to sync music.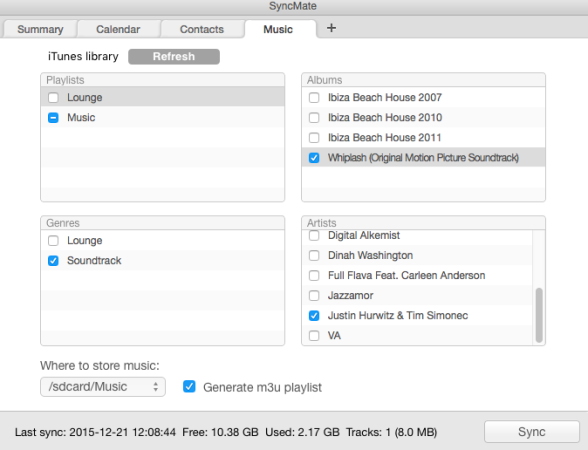 Download and install SyncMate to your Mac and upgrade to the Expert version.
Click the "Add new" button on the left-hand side of the app's window and select "Android" to
sync Android with Mac
.
Click the "+" button at the top right-hand corner and choose the "Music" plugin.
Configure the parameters to be used when syncing. You can designate specific genres, playlists, albums, and artists if you like or just sync everything.
Select the Mac folder that will store music files transferred from the Huawei and click "Sync".
More features of Syncmate HiSuite for Mac
SyncMate as HiSuite Mac alternative
SyncMate operates as an efficient personal assistant to keep information synced between your Huawei and Mac. It will quickly become your favorite app for syncing data between your devices.
Sync Huawei Calendars
Let SyncMate eliminate the tedious practice of duplicating calendar entries on your phone and Mac. With the HiSuite Mac connection in place, your calendar and contacts will be the same, no matter which device you are using.
Sync your videos
Do more than just keep photos and videos synced on your computer and phone with SyncMate. You can modify the image and video parameters during synchronization.
Video can be converted to different formats and you can select settings like resolution, bitrate, and codec before syncing.
Sync whole folders
Complete folders or individual files can be updated with SyncMate.
The best way to configure Mac file syncing is to designate a folder for automatic synchronization and then just drop files in that folder. This allows you to access the data on either device.
Need a simple file transfer? - Try MacDroid
Transfer Photos, Videos, Music, and manage entire Folders between your Mac
computer and your Android device connected via USB.

At one time, it was impossible to sync a Mac computer with a Huawei Android mobile device. A few third-party apps have attempted to fill this gap, and we believe SyncMate is the best HiSuite for Mac solution on the market.
SyncMate offers users a reasonably-priced and full-featured syncing application that lets you easily establish a Huawei Mac connection and keep your valuable data updated on both devices. We hope you found this article informative and wish you success in your syncing efforts.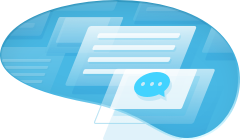 Related Articles
Frequently asked questions

#1 at System Utilities
SyncMate Expert
Mac synchronization software
4.5
rank based on
795
+ users
Get a download link for Desktop
Submit your email address to get link for quick download and get started!
Category:
System Utilities
Languages:
Deutsch, English, Français, 日本の, Русский, Español, Norwegian