Battle.net for Mac. Fixing Permissions problem
From time to time discussions on Battle.net support forums are buzzing with the same old problem - errors while launching the game or Battle.net client on Mac, the app quits unexpectedly, crashes, etc. The response is usually the same - for some reason certain file or folder permissions were reset, and Battle.net no longer has the rights to run processes on your system. This could happen due to Mac OS update, backup restore, repairs and many other reasons.
There are several possible solutions to these problems, but most of them are quite complex and require admin permissions for your Mac OS account, accessing hidden system files, working with Terminal and other steps that sound like 'a little too much' for a lay user.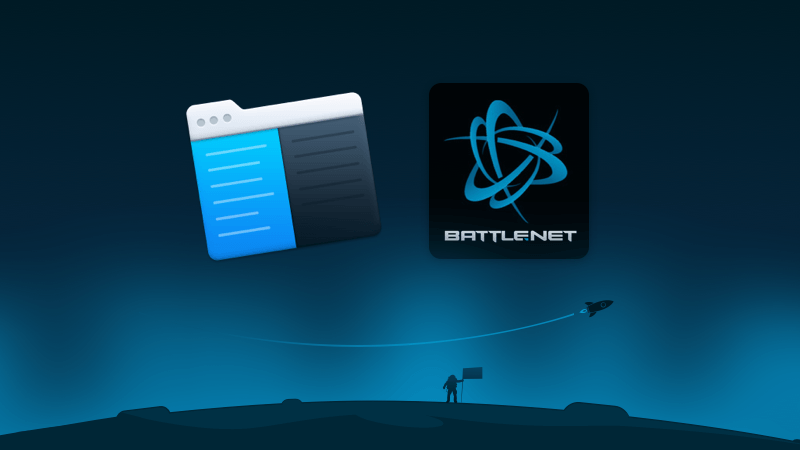 Commander One
We, at Eltima, love simplifying complexity. With Commander One you can solve the permissions issue in a few clicks. So, let us have a look at various ways Commander One could help you:
Fix /Applications Support folder permissions
This requires access to the hidden /Library folder, in your Mac OS user directory. Luckily Commander One has a handy single-click switch to display hidden files in its Toolbar. You do not need to bother with certain system commands in Terminal to enable this setting. Restart Commander One as Root, from Command menu, then navigate to ~/Macintosh HD/Users/your_user/ and turn on Show Hidden Files option.
You will see greyed-out /Library/ folder appeared in the list. Access it and navigate to /Applications Support/ folder inside. There, right-click the /Battle.net folder and set Read, Write and Execute permissions for Owner and Public. Do the same on /Blizzard folder.
Repair Shared folder permissions
Battle.net uses Mac OS Shared folder to keep information of Blizzard titiles for all accounts. Sometimes, the user lacks a permission to create one or write into the folder. To fix this issue, restart Commander One as Root and navigate to /Users directory on Macintosh HD. Right-click it and choose Get Info from the list. In Sharing & Permissions area tick all the checkboxes for everyone.
If there is no /Shared folder in /Users directory, create it under Root access of Commander One. Then perform the above steps to set read and write permissions for everyone.
These simple steps should fix all issues related to incorrect system permissions of Battle.net files.
Alongside these handy file manager options, Commander One is also capable of mounting cloud storages, like Google Drive, OneDrive, Dropbox, Amazon S3; accessing FTP, SFTP and WebDAV servers, browsing through contents of iOS and Android devices; working with archives and much more.
Check out 15 days free trial version of Commander One to make most of the PRO Pack benefits. More information about the file manager can be found on our web-site and pages on social networks - Facebook, Twitter, Google+.
Commander One
Requirements: MacOS 10.12+ ,
61.08MB
size
Version
3.4.2(3592)
(
14 Jul, 2022
)
Release notes
Category:
UtilitiesApplication