Save Facebook Videos on Mac with Elmedia Player PRO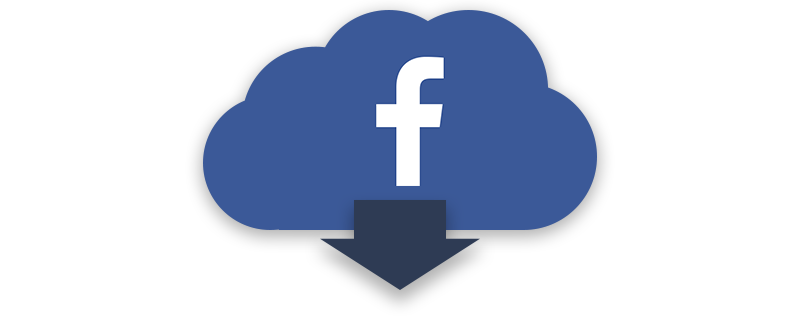 Essential Mac Facebook video downloader
Facebook takes a huge part of everyday life of the majority of people all over the world. Most probably you know that Facebook contains lots of interesting videos in its video section, but there's no link to download them. So what to do if you want to save Facebook videos on Mac?
Use Elmedia Player PRO - and ultimate Facebook video downloader for Mac.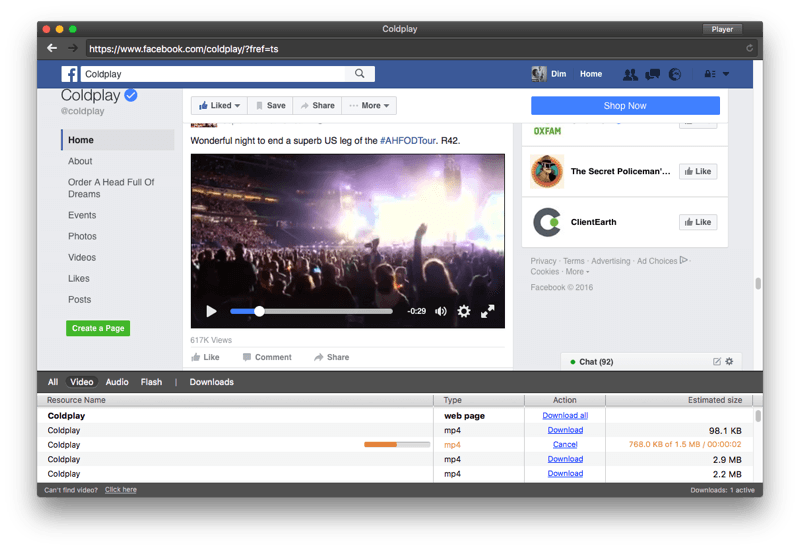 Facebook video downloader for Mac
PRO version of Elmedia Player was created with thoughts of easy and fast downloading of Facebook videos directly to your hard drive. No matter whether you are connected to the Internet or whether the movie is still available on Facebook, you will always have instant access to it. You can also download HD Facebook videos easily.
Additionally, Elmedia Player is a player after all, so you can easily play your downloaded Facebook videos in it and many other video formats too.
Follow these simple steps to save Facebook videos on Mac:
1. Download and install Elmedia on your Mac
Download Elmedia Player by simply pressing "Download" button on this page and install it on your Mac. Then launch the Elmedia Player app.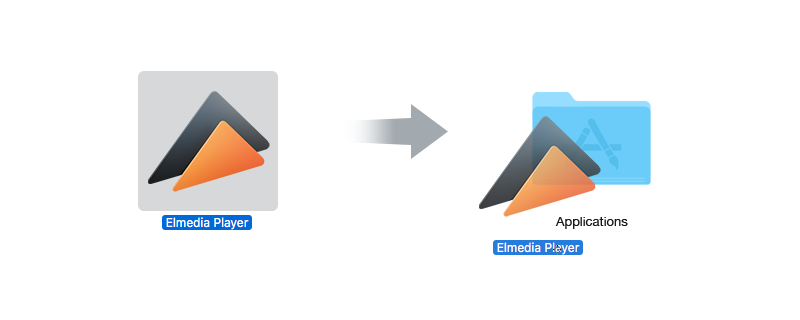 Drag the APP file onto the Applications folder
2. Activate PRO version on your computer
In main menu of Elmedia Player click "Activate PRO version" and insert the code received after placing the order with us. After the code was entered press OK to finalize the activation process. No system or application restart is required.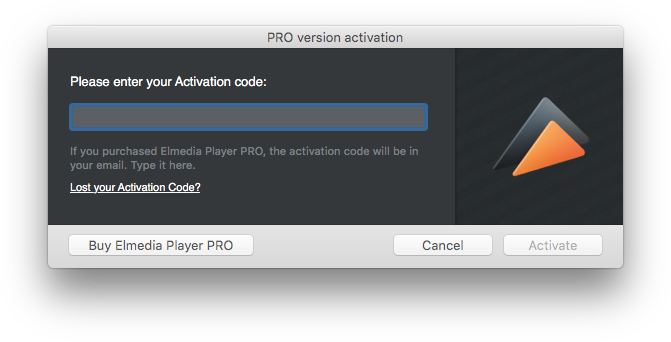 Activate Elmedia Player PRO
3. Useful recommendations
We highly recommend you to integrate Elmedia Player with your regular web browser. This way you will have quick access to "Download online movies" option. Use "Integrate into Browser" option and follow its comprehensive instructions.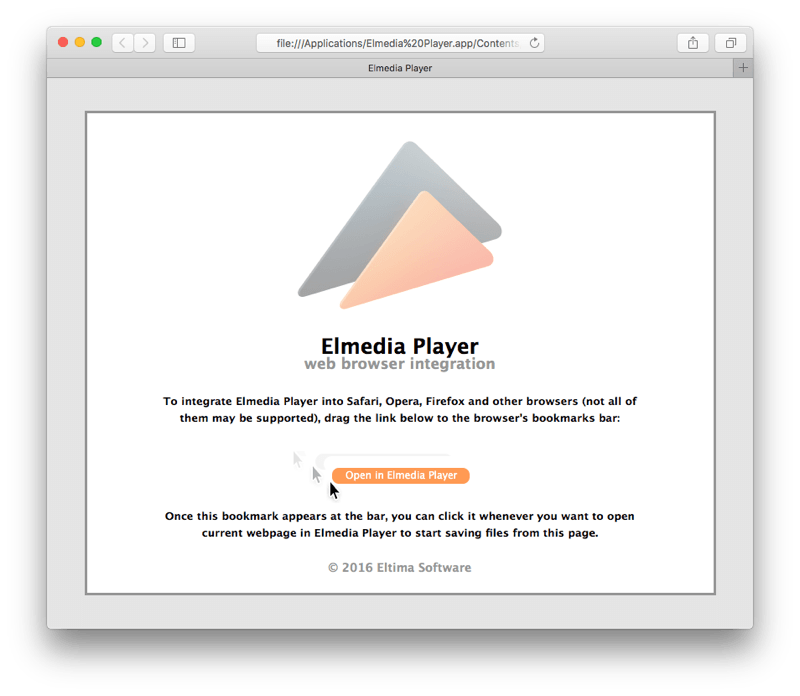 Web browser integration
After integration process is complete you can open the webpage with the video you want to download in your Internet browser and use "Open in Elmedia Player" button to access the downloading feature.
4. Choose the video for download
After you have decided on the video you'd like to download and either added it to Elmedia Player through the integration feature or entered the URL manually you will see that the downloads list is showing you the resources found at the specified URL. Switch the view to "Video" and you will see the video files, usually MP4 (this type of video is usually used for uploading files to different video resources).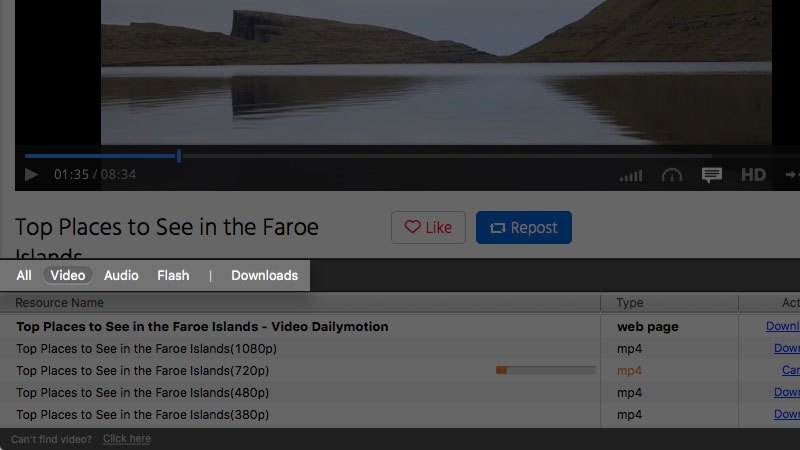 Select the file to download
5. Save the video to the hard drive
Now all you have to do is just press "Download" button and Elmedia Player PRO will start the download process. You will find the downloaded video in the directory, specified in Elmedia Player preferences.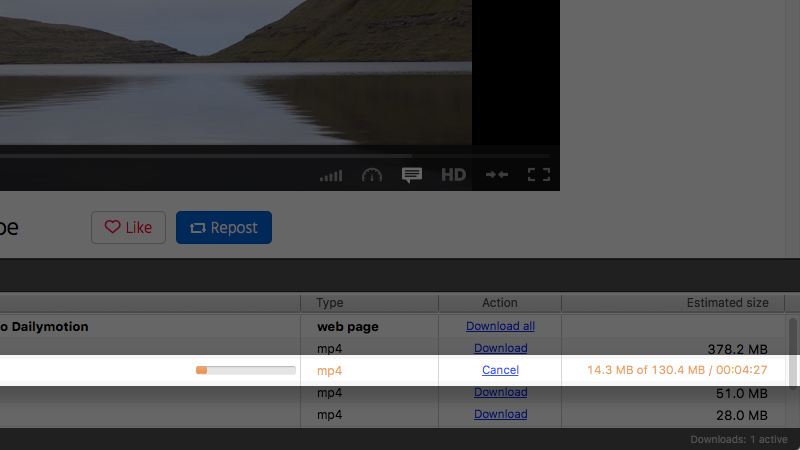 Download Facebook video on Mac
Download Facebook to MP4
With Elmedia Player PRO, you can download Facebook videos to MP4. Log in to your Facebook account and find the video you wish to download. Switch to the browser mode by selecting Window → Browser in the main menu of Elmedia Player PRO. Paste the Facebook video URL and press Enter. Switch the filter to "Video" and select results to MP4 videos. Now press "Download" button and Elmedia Player PRO will immediately start downloading the files you selected.
You also get these great extra features with Elmedia Player PRO:
Download YouTube videos
Make screenshots
Download videos from the web
Convert Flash Projectors to SWF
Flexible Playback Options
AirPlay
Elmedia Player
Requirements: OS X 10.7+ ,
36.64MB
free space
Version
6.9(1118)
(
11th Nov, 2017
)
Release notes
Category:
Video