How Apple Airplay works
You've probably already came across AirPlay on your iPhone, iPad, iPod Touch, or any Mac or Windows PC running iTunes. AirPlay is a wireless streaming feature and is by far one of the most popular and the most recognized ones nowadays.
Basically AirPlay is a way to wirelessly stream music and movies all over your home network. This is very convenient as you can only have one instance of a video or audio and can watch it on any participating device.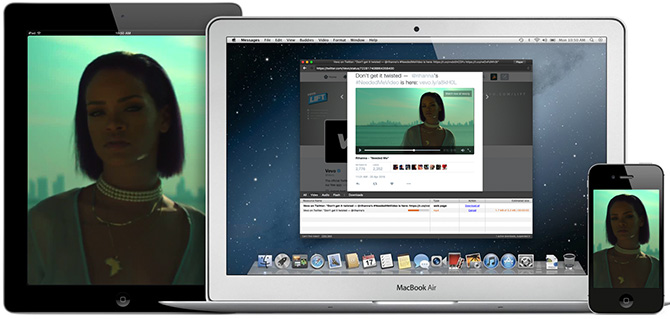 Airplay Mac Sender and Receiver
Elmedia Multiformat Player - AirPlay Mac Sender and Receiver
Elmedia Player offers profound support for AirPlay. Elmedia can receive videos and music streamed from an AirPlay device (like another Mac, iOS, Android). Elmedia Player is also a slick AirPlay Streamer when you need it: it sends media from a Mac computer where it is installed to any other Mac with Elmedia or other AirPlay receiving devices. For example this way you have the possibility to get AirPlay on your Apple TV.
Music can also be streamed with Elmedia from iOS AirPlay devices like iPhone, iPad to Mac, or from Mac to Apple TV. Currently for iOS 9 and newer Elmedia only offers audio streaming. iOS AirPlay for both video and audio from iPhone SE/6s/6s Plus/6/6 Plus/5s/C, iPad Pro/Mini 4/3/Air 2, iPod Touch to Mac are fully supported.

Stream audio and video on iOS AirPlay devices
Elmedia Player can be used as an audio-only receiver, letting you stream your favorite music to a computer with large speakers.
Elmedia Player supports a great variety of video and audio files even those that are not supported by AirPlay (exceptions are VIDEO_TS, SWF, EXE). This way you won't need to convert files that are originally not compatible with AirPlay, Elmedia will still stream them. This player is a very convenient app to stream YouTube, Vimeo, DailyMotion videos to Apple TV thanks to Open Online Video option. Subtitles and external soundtracks are very well supported.
Note: Free Elmedia offers 1 minute of streaming music and videos to AirPlay devices and vice versa. If you like it and need more you can upgrade to Elmedia Player PRO.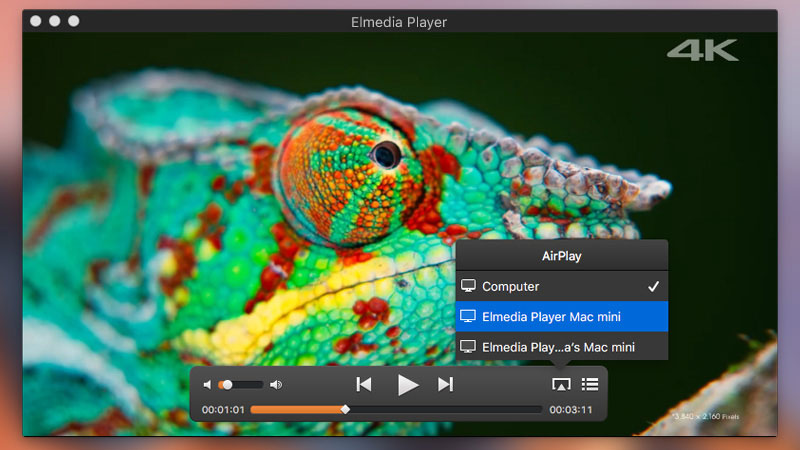 Streaming music and videos to AirPlay devices
Additionally to being a versatile multiformat player letting you watch online content with Open Online Video option, Emedia allows fitting image to screen, adjusting playback speed, managing subtitles, making screenshots of any moment in a movie or making the whole video a set images (while keeping the original of course), choosing output devices for video and audio streams, has a built-in web browser and Open URL features and a 10-band equalizer.
Know how to AirPlay videos and audio content with Elmedia Player.
Elmedia Player
Requirements: OS X 10.9+ ,
36.74MB
free space
Version
6.12(1435)
(
2nd Oct, 2018
)
Release notes
Category:
Video