YouTube Music Playlist Downloader With Airy
YouTube offers a feature that allows you to organize your favorite videos on YouTube and create playlists. There are also native playlists that are available to all users and allow you to create playlists like "My Mix", "Liked Videos", and "Watch Later". Every single playlist that you can create on YouTube can be downloaded using Airy. You will find an exhaustive guide below to download YouTube playlist music without any hassle.
If you haven't created any playlists yet and just want to download youtube music we have prepared another highly explicit guide you could follow.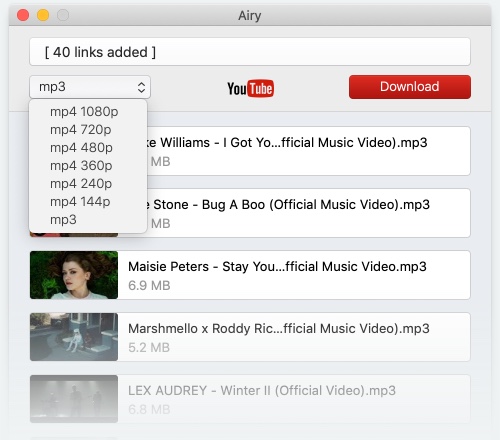 YouTube Music Playlist Downloader
If you are looking for the best possible YouTube playlist downloader on the market you need to check out Airy. It has been constantly evolving, with frequent updates that have introduced multiple quality of life features. Since you are trying to download music from YouTube playlist you will be pleased to find out that Airy can handle large downloads with ease. It doesn't matter if you want to download a full playlist or even an entire HD channel - Airy will complete the task instantly.
1
Find your desired YouTube playlist and copy the URL. This task can be performed both from the address bar or by using the "Share" button.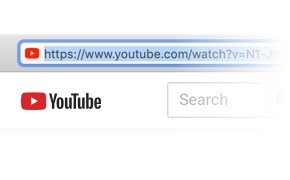 2
Open Airy and you will stumble upon a text box on the main page. Paste the URL and your video will automatically preload.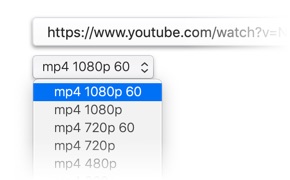 3
You will be prompted to select the desired format. If you plan to download the playlist to your desktop we suggest 1080p, 4K, or HD resolution for the best experience. Click on "Download".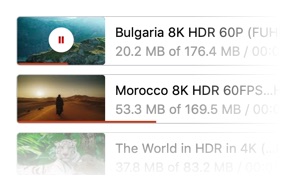 Airy YouTube Downloader
Cool Features that Make Airy A Must-Have

Pause downloads without losing progress
If you used download managers that work inside the web browser you probably know just how awful they can be. The download stops working midway, the files get corrupted after the download is complete, you cannot resume the download and so many other issues that simply ruin your experience. Airy is here to address all these issues and will allow you to pause and continue any download as you see fit. And to top it all off, you won't be receiving any pesky download errors. That's what the best youtube music playlist downloader brings to the table!

Download YouTube playlist music with Multithreaded Technology
YouTube has a tendency to limit your bandwidth when trying to download videos from the platform. It doesn't matter how fast your internet connection is because YouTube will be placing limits on the download speed. If you want to maximize your bandwidth download potential you should give Airy a try. With Airy you can download music playlists from YouTube and running multiple downloads simultaneously is also an option.

Download entire albums with one click
A good song is amazing but a good album is an entire experience. However, it doesn't matter how good the album is if you have to download every single song individually. With Airy you won't be having this issue anymore. Airy is capable of downloading an entire album to both Mac and Windows devices. Simply find the desired album's URL and all tracks will download instantly.

Download Clips that Require a Log-in
It's a rare feature in YouTube downloaders. You can use Airy with your credentials to get access to your private videos or to bypass age restrictions. Whatever you can watch on your account, Airy can download. Back up anything you want, without any concerns for anonymity or YouTube constraints.
Frequently Asked Question
In this part of the article, we will clarify any questions you might have. If you need more information regarding Airy or want to ask us a question do not hesitate to leave a comment.
iOS is notoriously tricky when it comes to downloading YouTube playlists directly to the device. There is one option worth considering in the form of Syncios. If you tried it yet and aren't satisfied with the results you can always use Airy. Airy doesn't download directly to the iPhone, but you can convert your desired videos to MP3, and later on, you can transfer them to your iPhone using a USB cable.
Android is very similar to iOS in this regard. Some apps might be able to do the job, but you are expensing yourself to shady products that will infect your device with unwanted ads. The same method can be applied on Android - convert your YouTube playlist to MP3 using Airy and then send the files to your device via USB.
Technically it is illegal. However, YouTube has to take action against you and they never do so. They don't have reliable means of detecting such actions so they aren't very hasty at taking measures. We have explained this topic in great detail in our
is it illegal to download YouTube videos
, and we are sure that it will provide you with all the information necessary to safely download music from YouTube.
What others say about Airy

#1 at Downloaders
Airy
Download YouTube videos & convert video into MP3 format
4.9
rank based on
811
+ users
Get a download link for Desktop
Submit your email address to get link for quick download and get started!
Pricing:
Starts from $19.95
Languages:
中文, Český, Deutsch, English, Français, Italiano, 日本の, 한국어, Русский, Español, Nederlands