Learn How to Download Dailymotion Video on Mac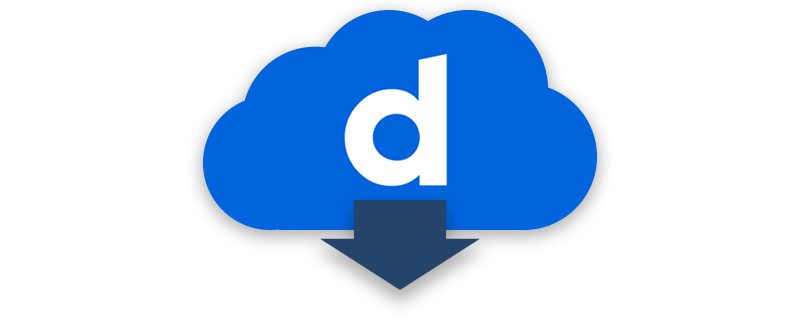 A great and friendly Dailymotion video downloader Mac app
It is not enough for you to just watch online Dailymotion video just once? Are you looking for the way to save Dailymotion videos on your Mac and watch them whenever you feel like it? You just found the perfect application to download and save Dailymotion video on Mac - Elmedia Player PRO - the perfect Dailymotion downloader for Mac. With this app you will have all your favorite videos in hand no matter if you have Internet connection at the moment or not and no matter if the video is still on the website or was deleted due to some reasons.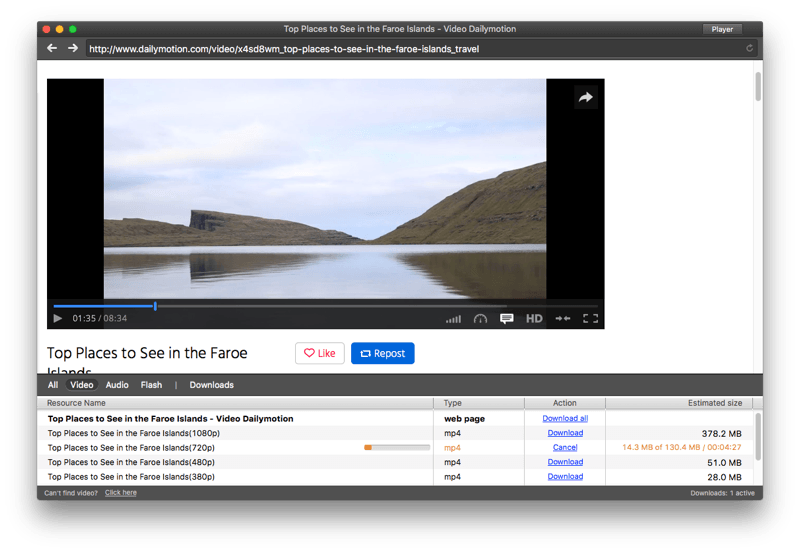 Dailymotion video downloader for Mac
Elmedia Player PRO was developed with thoughts of easy and convenient downloading from Dailymotion website and other video resources. Elmedia Player features built-in web browser that allows browsing through Dailymotion videos and choosing those you want to download. You can watch all the downloaded videos in Elmedia Player PRO that supports not only Dailymotion videos playback, but also a large variety of media formats too.
How to save videos on Mac
1. Download and setup
Download the DMG file of Dailymotion downloader for Mac from this website and install it: drag the APP file onto the Applications folder. Then launch Elmedia Player from there.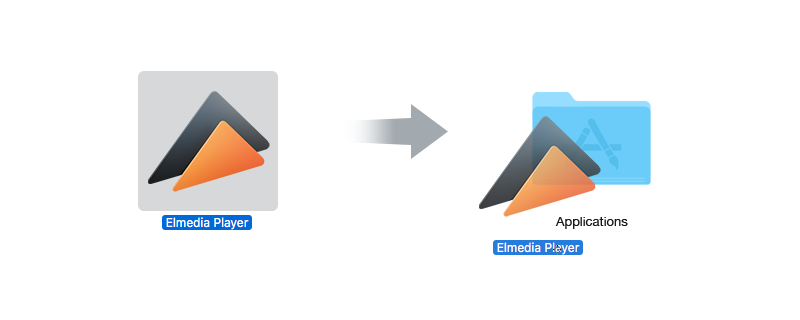 Drag the APP file onto the Applications folder
2. PRO version activation
It's easy and quick: click "Activate PRO version" in player's menu and insert the activation code you got after placing the order for Elmedia Player PRO. Then simply press OK to start benefiting from great PRO features.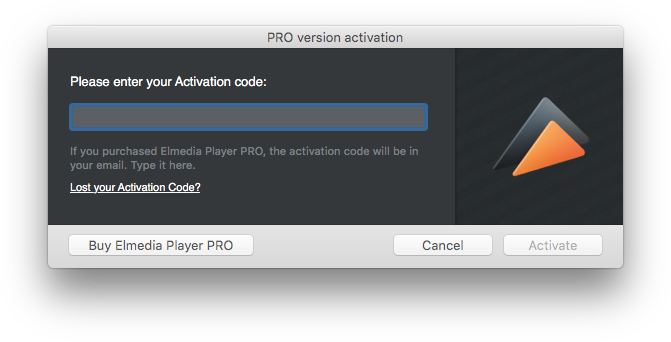 Activate Elmedia Player PRO
3. Useful recommendation
You have rather convenient possibility to integrate Elmedia Player into your regular web browser for the quick access to "Download online movies" feature. Then finalize the integration process by following the comprehensive instructions of "Integrate into Browser".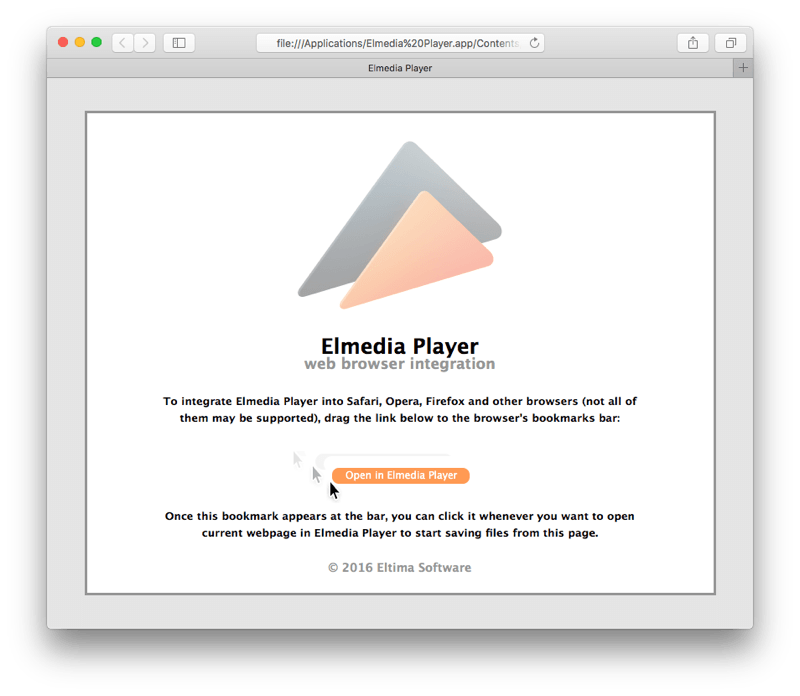 Web browser integration
Now open the webpage with the video you are going to save to your computer in your regular web browser and use "Open in Elmedia Player" option to proceed with saving of the video.
4. Select the file you want to download
After making your video choice and adding it to Elmedia Player PRO you will see the resources that this video uses in the downloads list. To filter out all unnecessary files, switch to "Video" filter to narrow the results to MP4 files (MP4 format is usually used to upload videos online).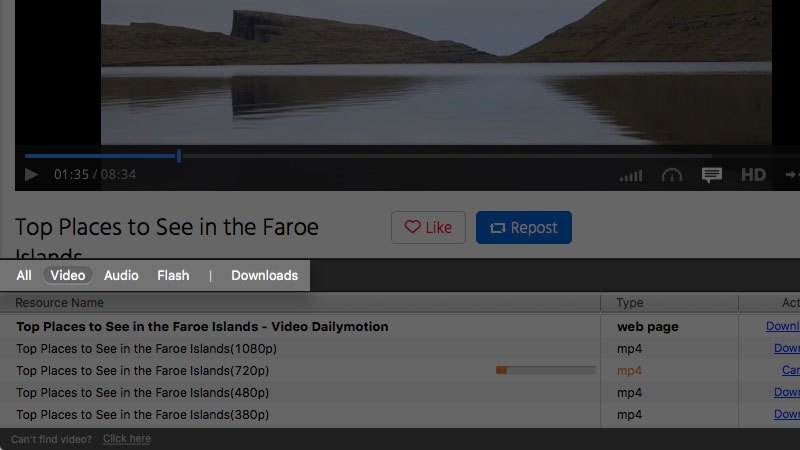 Select the file to download
5. Save your video to the hard drive
Now simply press "Download" button and Elmedia Player PRO will start saving the files you selected. The downloads are saved to the directory that was specified in "Put new downloads in" menu. By default it is " ~/Downloads", but you can change it if you wish.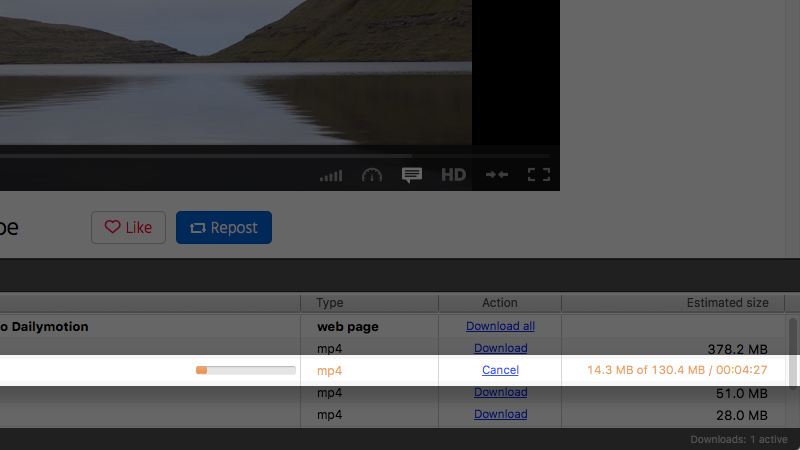 Download Dailymotion video on Mac
You also get these great extra features with Elmedia Player PRO:
Download videos from YouTube
Make screenshots
Convert Flash Projectors to SWF
Enhanced Playback Options (video tuner, 10-band graphic equalizer, video and image layout adjustments, etc.)
AirPlay support
Elmedia Player
Requirements: OS X 10.9+ ,
36.74MB
free space
Version
6.11(1419)
(
11th Sep, 2018
)
Release notes
Category:
Video