Convert YouTube Playlist to MP3 Thanks to Airy Downloader
Get entire albums of MP3 files from YouTube with the help of Airy. It's the tool you need to build your music collection. It's a great way to convert YouTube video to MP3, easily dealing with large downloads, channels and playlists. Furthermore, it's easy to start a download in Airy with the help of browser integration.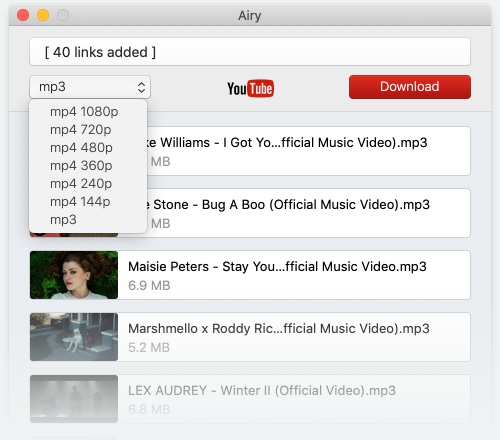 How to Convert YouTube Playlist to MP3
With Airy, once you know how to convert a YouTube playlist to MP3, it's the work of a few seconds. It's an effective tool that lets you get exactly what you want at the click of a button, including ripping only audio from videos. Here's how you can make use of it:
1
First, download Airy from its homepage. Open your browser, and navigate to the video you're interested in.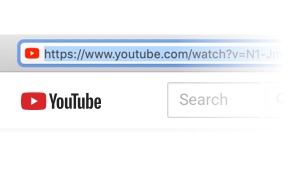 2
Copy the URL from the browser, and paste it into Airy. Choose quality, and if you only want to convert YouTube to MP3 playlist, choose MP3 as format.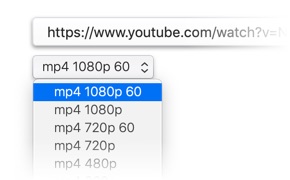 3
Hit download, and the video or audio will go straight to your chosen destination.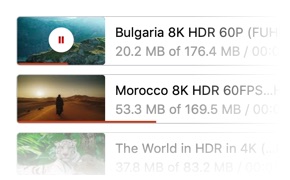 Airy YouTube Downloader
Why Convert a YouTube Playlist to MP3?
There are tons of reasons for a YouTube playlist convert to MP3. One of the main reasons is to ensure content is backed up - YouTube can remove videos with little warning, or block them with georestrictions or age limitations. By downloading an offline version with Airy or any other program, you can ensure you'll always be able to access content. On top of that, many people compile their own personal lists of content over time. A downloader lets you save all that content in a single place with complete ease, to access via AVI or another player.

Convert a Whole YouTube Playlist to MP3
Airy can save you a huge amount of time and effort. Rather than downloading file by file, you can simply paste a playlist URL into the downloader, and convert entire YouTube playlist to MP3. It's considerably simpler than alternative options.

Multi Thread Downloading
One of Airy's strongest points is its speed. It runs up to 20 different threads on a single download at any one time. As a result, it's able to guarantee the quickest downloads possible, ensuring that you can download an entire playlist to your iTunes library in seconds, for playback or conversion to ogg and other files.

Conversion to a Range of Different Formats
Airy lets you take your pick from a range of different formats and qualities such as MPa and MP4. You can download audio only, or take your pick of a number of different video options with a variety of resolutions such as . Pick low res if you have limited space, or higher options for better quality on your player.

Integrate to Your Browser
Thanks to browser integration, you can convert YouTube playlist to MP3 Android or Apple. Once integrated, you'll have a button to operate Airy, similar to how a browser addon functions. All you need to do is hit the button, and you'll immediately get the content you're looking for.

Pick Up Where You Left Off
Efficient management lets you pause downloads whenever necessary. Plus, if for any reason your connection drops or you reboot unexpectedly, Airy lets you continue as soon as the connection is restored. These make Airy particularly effective if you want to do a YouTube playlist convert to MP3 task with large playlists that may take some time.

Get Around Any Restrictions
YouTube videos can disappear overnight, due to either georestrictions, age restrictions or simply being taken down. The Airy app lets you get around the problem. By letting you download content, you can create a backup library that will never be at risk of restrictions.
Disclaimer
Airy has been designed to let you create backups of content you have a right to. Airy is not responsible for any copyright issues that may arise if you download content that is not yours.
We're comfortable recommending Airy as the best YouTube to MP3 converter. It's a great tool with a number of useful features, and is perfect if you want to download YouTube videos to MP3 or simply save them as a video. It's got a selection of different formats and resolutions, and thanks to the multiple threading, it offers really high download speeds. We highly recommend it.
Airy is the ideal tool to convert playlist YouTube to MP3. All you need to do is follow these steps:
Download Airy from the homepage.
Open your browser, and navigate to the YouTube video you're interested in.
Copy the URL, and paste it into Airy.
Select MP3 as your chosen download format.
Hit download, and the songs or audio file will head straight to your chosen folder.
As we've already mentioned, Airy is the ideal tool for downloading an entire playlist. All you need to do is copy and paste the playlist URL into Airy. Once you hit download, it will work its way through each page and convert YouTube playlist to MP3.
What others say about Airy

#1 at Downloaders
Airy
Download YouTube videos & convert video into MP3 format
4.9
rank based on
811
+ users
Get a download link for Desktop
Submit your email address to get link for quick download and get started!
Pricing:
Starts from $19.95
Languages:
中文, Český, Deutsch, English, Français, Italiano, 日本の, 한국어, Русский, Español, Nederlands