Compare Nimble Commander (formerly Files) vs Commander One
Simply put – file management is important. Efficient and fast file management ensures quality and good organization of documentation, either personal or corporate. Total Commander is the perfect solution on Windows computers, and when you switch to Mac you start searching for the same feeling of quality of order. It is not so easy to find a good Total Commander alternative as it turns out. Here we'll compare Commander One and Nimble Commander that are positioned as Total Commander alternatives for Mac. The aspects we'll be looking at: what connections they support, how many additional features they offer, how customizable they are. Read on and decide which one suits your needs better.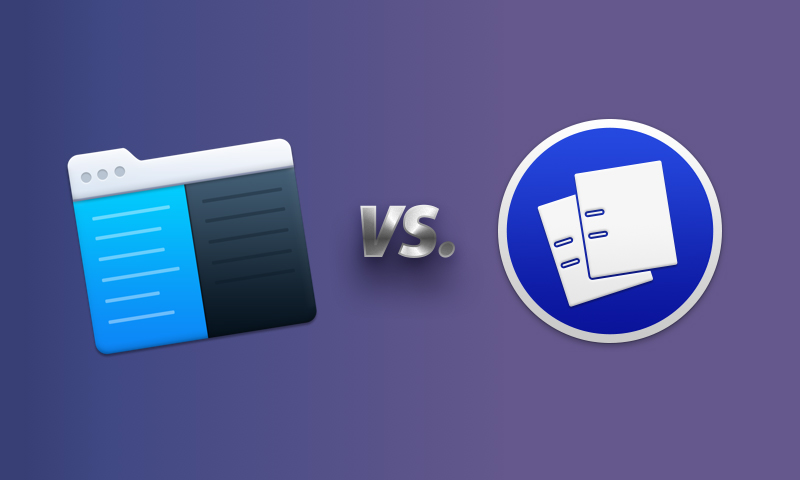 Commander One provides an easy way of managing loads of files working effortlessly with local and network drives. It has an easy Show/Hide Hidden Files switch and is very flexible. Nimble Commander is also a dual panel file manager offering traditional powerful concepts and maintaining minimalistic and clean design. Nimble Commander only works with FTP and SFTP connections, while Commander One supports many popular and highly demanded connections like FTPS, FTPES, FXP Copy, Dropbox, Google Drive, Amazon S3, WebDAV servers, Microsoft OneDrive, MTP, iOS. How awesome is that you can manage cloud files in a two-panel environment?!
Commander One and Nimble Commander offer background queue of all ongoing processes for easy access and management. File operations can be paused in Nimble Commander, whereas Commander One currently doesn't offer pausing. Both file managers offer unlimited number of tabs in each panel and various view modes (slightly different for both apps, e.g. Thumbs view is only available in Commander One). Commander One works well with network drives, while Nimble Commander doesn't support this option. Search with RegEx is only possible in Commander One.
Built-in process viewer is a convenient tool that lets you overview the processes and quit them if needed without leaving the file manager. Both file managers in this article offer such tool. Same with Terminal emulator – this convenient option is also present in both apps. Both Commander One and Nimble Commander offer 5 sorting parameters.
Let's talk about making your file manager stand out
Both managers offer themes, but only Commander One offers color customization. Hotkeys can be customized up to your preferences in both apps, context menu cannot be customized in any of them.
Working with compressed folders is quite important for any file manager. So what do we have here? Commander One definitely offers broader possibilities for archives. ZIP is fully supported by both apps, RAR is supported in read-only mode by both. 7zip and TAR (bz/gz/z/xz) archives are fully supported by Commander One, while Nimble Commander doesn't work with them at all. Additionally Commander One supports IPA, APK, JAR, CAB, ISO types, and Nimble Commander – CAB, XAR, ISO. Commander One can work with compressed folders just as if they were regular ones.
Commander One is a free dual panel file manager for Mac OS X. For advanced usage there is a PRO version available. Nimble Commander is offered as a free 30-day trial and then if you want to keep using it you'll have to buy a license.
Commander One
Requirements: OS X 10.10+ ,
19.75MB
size
Version
1.7.4(2445)
(
21st Sep, 2017
)
Release notes
Category:
System Utilities