A good file manager is like a perfect assistant, only it's silent. When working with loads of documents you will surely appreciate a quality product that helps you manage the file flow effortlessly and effectively, never losing a thing. It is especially important these days since files are not just stored on hard drives anymore, there are multiple storages to take into consideration. A good file manager can cope with all the load effortlessly and should let you manage files in various storages in any format either compressed or not.
In this article we'll compare two dual-panel file managers – CRAX and Commander One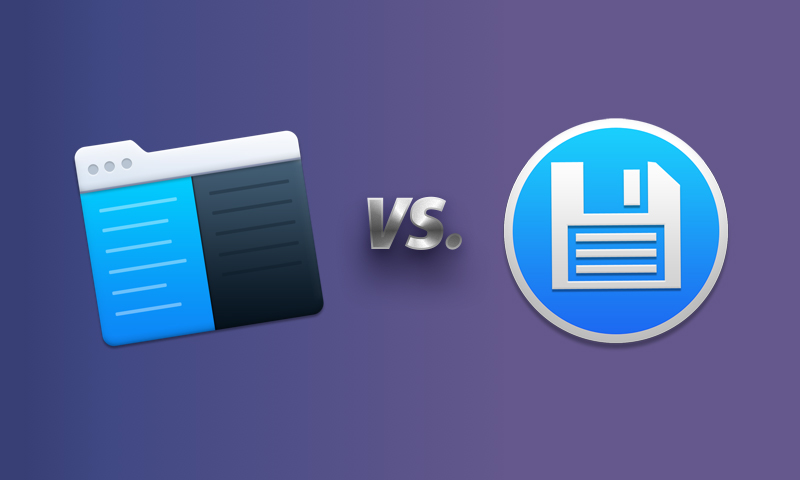 Commander One is a popular dual-panel file manager that was approved as an alternative to Total Commander for users of Mac computers. It is sophisticated but very comprehensive, thus easy to use. This manager lets you work with local drives as well as with network ones. Easy switch allows showing and hiding hidden files quickly. CRAX Commander is dual-panel file manager as well. Just as Commander One it offers multiple tabs that you can open in each panel and promises approachable interface. It has a built-in SVN, FTP, SSH client.
Commander One offers working with many popular and highly demanded connections in a two-panel environment. This includes FTP, SFTP, FTPS, FTPES, FXP Copy, Dropbox, Google Drive, Amazon S3, WebDAV servers, Microsoft OneDrive, MTP, iOS. CRAX Commander's connections are more limited. It only works with FTP, SFTP, FTPS and local Dropbox.
Commander One PRO offers its native Process Viewer so you can overview all processes on your computer with the possibility to quit any of the processes. There is no process viewer in CRAX as well as there is no Terminal emulator. You can find Terminal emulator in Commander One and you will find it rather useful for fast operations with the files. Both file managers offer Root access. CRAX offers files and folders comparison, remote editing and custom editor, whereas Commander One doesn't have such features at the moment. Sorting in CRAX Commander is available by 13 parameters, while Commander One has only 5.
Both Commander One and CRAX allow their users to customize hotkeys, which allows perform various actions at a lightning speed.
Both file managers offer outstanding possibilities for working with archives. They fully support ZIP, 7zip, TAR (bz/gz/z/xz) archives and RAR type in read-only mode. These apps can work with archives as if they were regular folders and let you search through compressed folders.
Commander One is a free file manager for Mac OS X with an optional PRO version that can be purchased to add advanced features. CRAX is also offered in free Demo version to try the product, and in order to get all the advanced features, full version has to be purchased.
Frequently Asked Questions
Commander One
Requirements: MacOS 10.12+ ,
61.08MB
size
Version
3.4.2(3592)
(
14 Jul, 2022
)
Release notes
Category:
UtilitiesApplication