NEW
Yoo-hoo! CloudMounter is now natively compatible with Apple M1-powered Macs!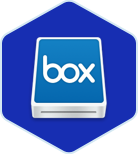 Box.com encryption with CloudMounter
Box cloud service offers the storage of various types of files online - from photos and videos to financial information. Everything can be organized in folders — just like on your computer — and stored in the cloud. Is is box.com safe? Box is equipped with enterprise-grade security features for the total control over files. For the highest level of Box cloud security we recommend using CloudMounter app. With this
Box client
you can encrypt your files, and even if someone somehow obtains the access to your Box account from a different device, they will only see a confusing nonsense.
Mount as a Disk
Connecting to Box cloud drive with CloudMounter you won't need to duplicate the data locally and online. This helps save your valuable hard drive space.
Online data encryption
Encryption proves to be very efficient for file transfer protection. You can increase your Box cloud security with CloudMounter and not be worried about box.com security breach.
Protected access
Be sure that your content in Box online storage is unreadable to those who do not have the decryption key.
CloudMounter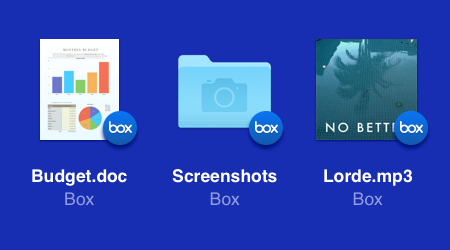 Other app/device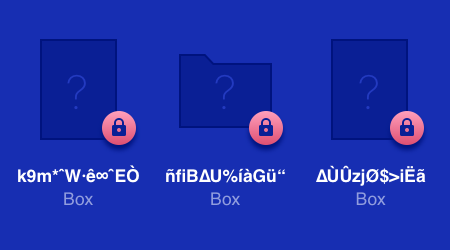 Online files easy to reach
Mounting Box file storage as a local drive makes your cloud files easily accessible just as if they were stored on a local drive.
Why everyone is choosing CloudMounter
CloudMounter is a young app, however it had a strong start and keeps gaining popularity thanks to its highly-demanded features and support for various online storage types. It also offers much needed security.
High level of privacy
CloudMounter respects and takes great care of privacy! It doesn't use your cloud login data for anything except for logging in to the designated account. Additionally CloudMounter doesn't store any login details - everything is kept in Mac OS Keychain and is used via encrypted channels.
Integration with Finder
CloudMounter and Mac OS Finder works well together so that you can connect to and work with remote servers from the convenience of your desktop or MacBook without any difference from working with local documents.
More clouds
Of course we are intensively working on adding more clouds and web servers to CloudMounter portfolio, so if your storage habits happen to change, you will still find CloudMounter to be a useful assistant in cloud management.
Encrypt other cloud storages and web servers
With CloudMounter it's also possible to encrypt Dropbox, Google Drive, OneDrive, Amazon S3, OpenStack Swift data, and the files on FTP/SFTP, WebDAV servers.