Typically, the only way to fully mirror an iPhone screen on an external screen is by using the Apple TV app or a physical cable. But if you have a Chromecast device or Chromecast built-in TV, you can also use third-party apps to mirror your iPhone's screen. In this article, we'll list down the best apps you can use to screen mirroring iPhone Chromecast, discuss the differences between casting and mirroring, and help you figure out what's best for your use case. 
How to Screen Mirror iPhone to Chromecast Using Mirroring Apps
Video Guide on How to Mirror iPhone to Chromecast
Here are the best third-party apps to mirror your iPhone's screen to Chromecast. 
1. TV Mirror+
TV Mirror+ is an iOS app that simplifies the process of mirroring your iPhone screen on Chromecast. With an easy-to-use and clutter-free interface, setting up the app takes only a few steps. One of the best features of the app is the ability to mirror your screen at a high resolution of 1920×1080 px, and it also allows you to manually choose a frame rate ranging from 15 to 60 frames per second.
To ensure that the aspect ratio of your iPhone screen matches the screen you're mirroring, the app employs one of three resampling filters:
Linear

– low picture quality but is the fastest;

Lanczos 3

– offers better picture quality but is slower;

Lanczos 5

– has the highest picture quality but is the slowest.
💰 However, it is a paid app with no free trial. To use it, you have to pay a one-time fee of $3.99, and there are no further in-app purchases.
Here's how to use TV Mirror+ to mirror your iPhone screen using Chromecast:
1. Download the TV Mirror+ app from the App Store.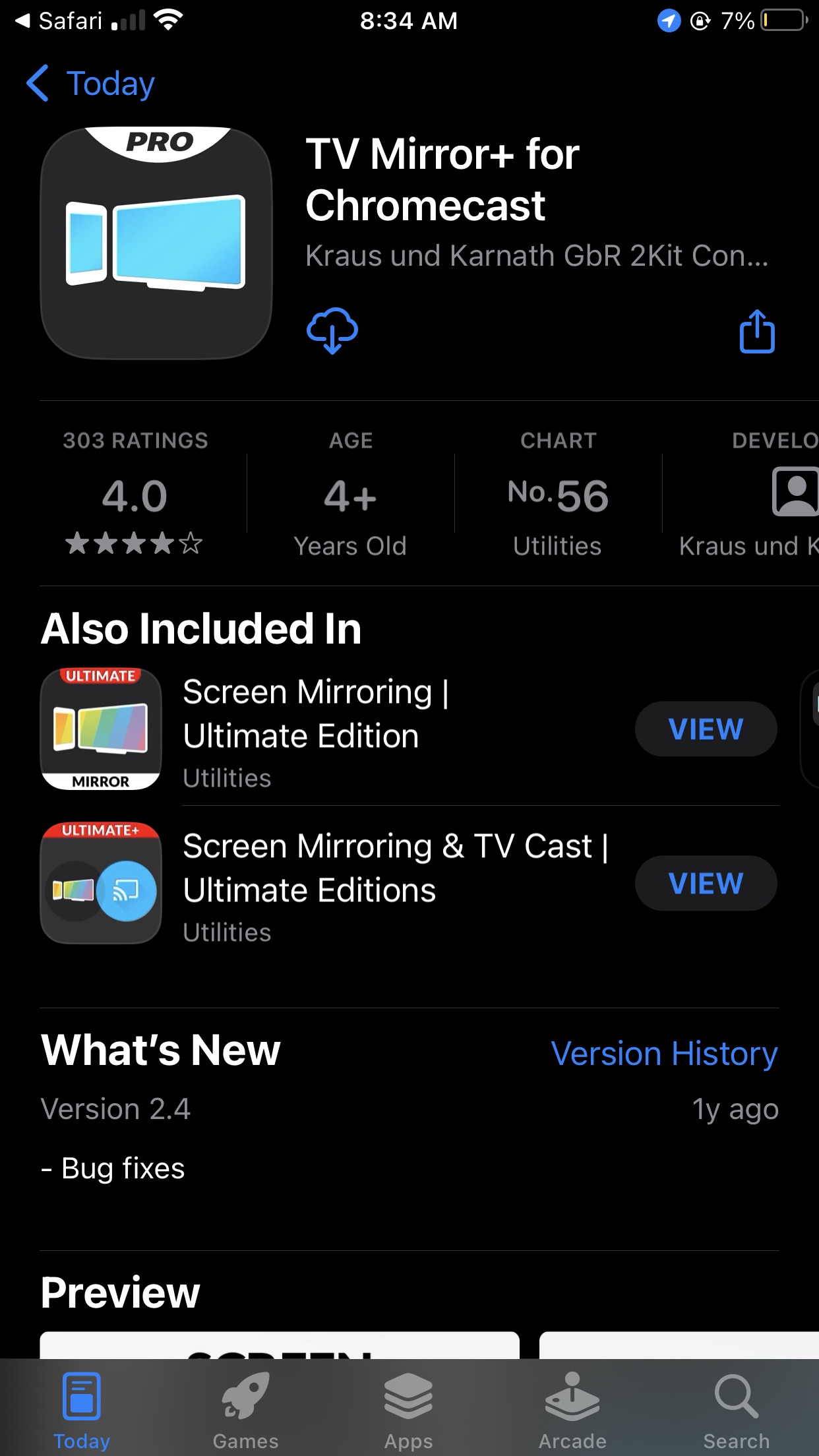 2. Launch the app and tap the Setup button.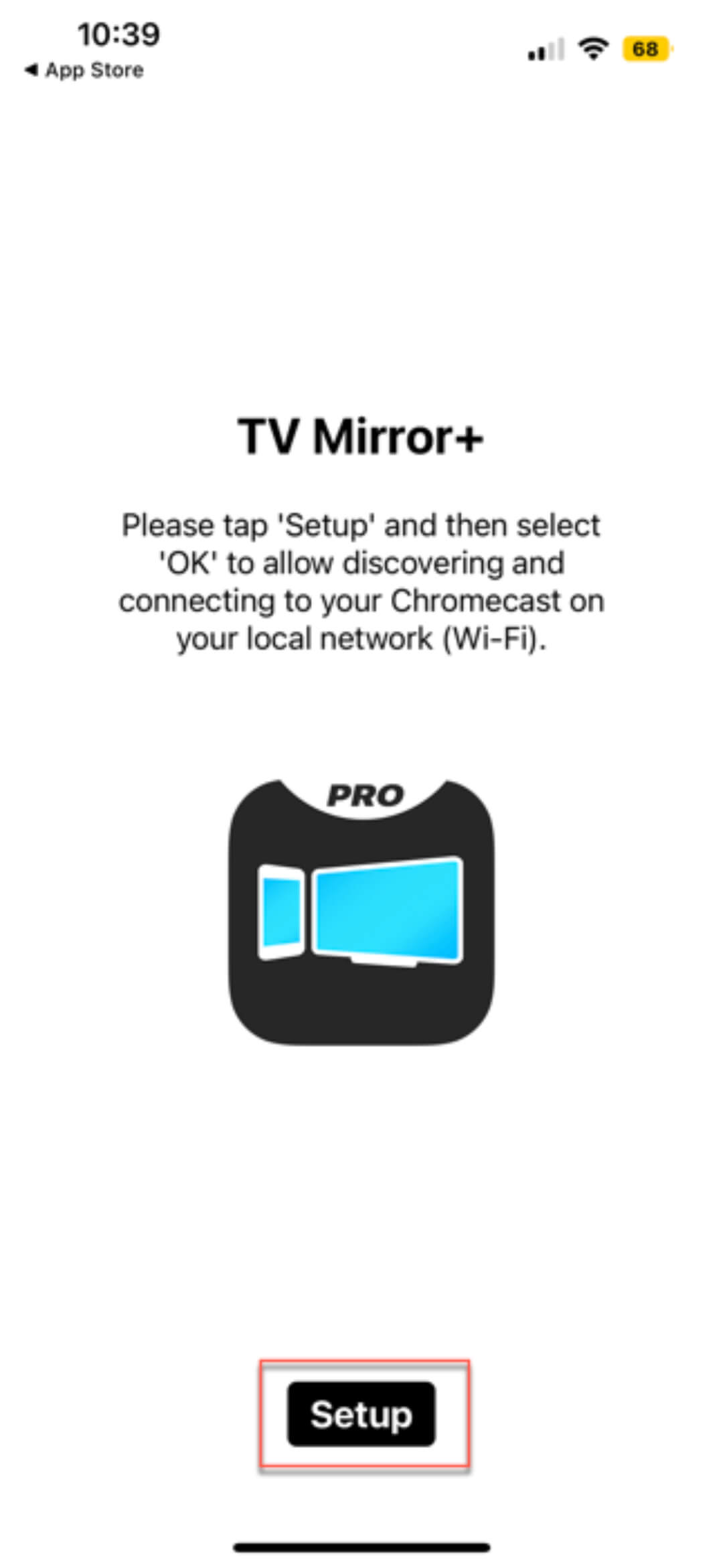 3. Grant TV Mirror+ permission to access devices on the local network.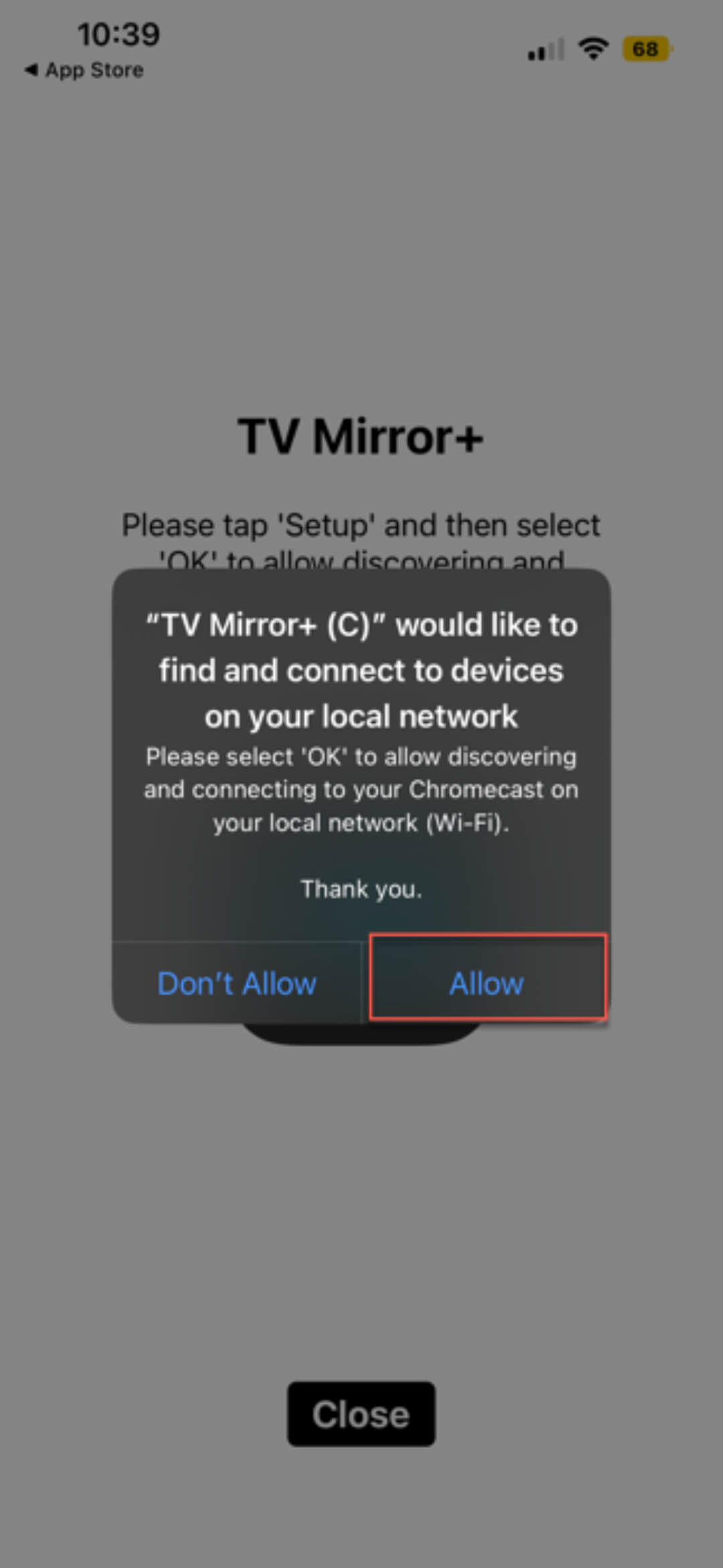 4. Now you'll see your Chromecast in the list of devices connected to the same network. If you do not see your Chromecast device here, you need to make sure it's turned on, connected to the TV, and also connected to the same Wi-Fi network as your iPhone.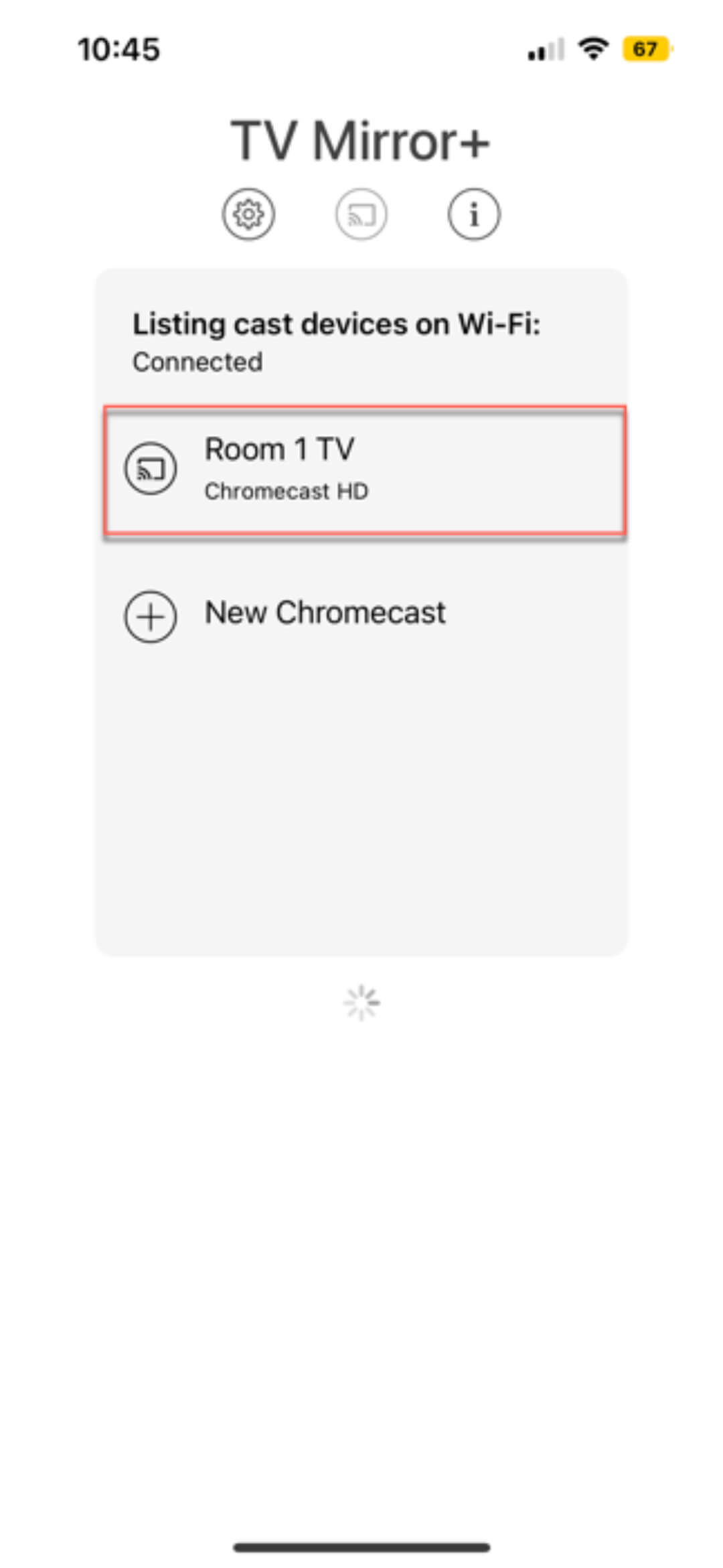 5. On the next screen, tap the TV Mirror button.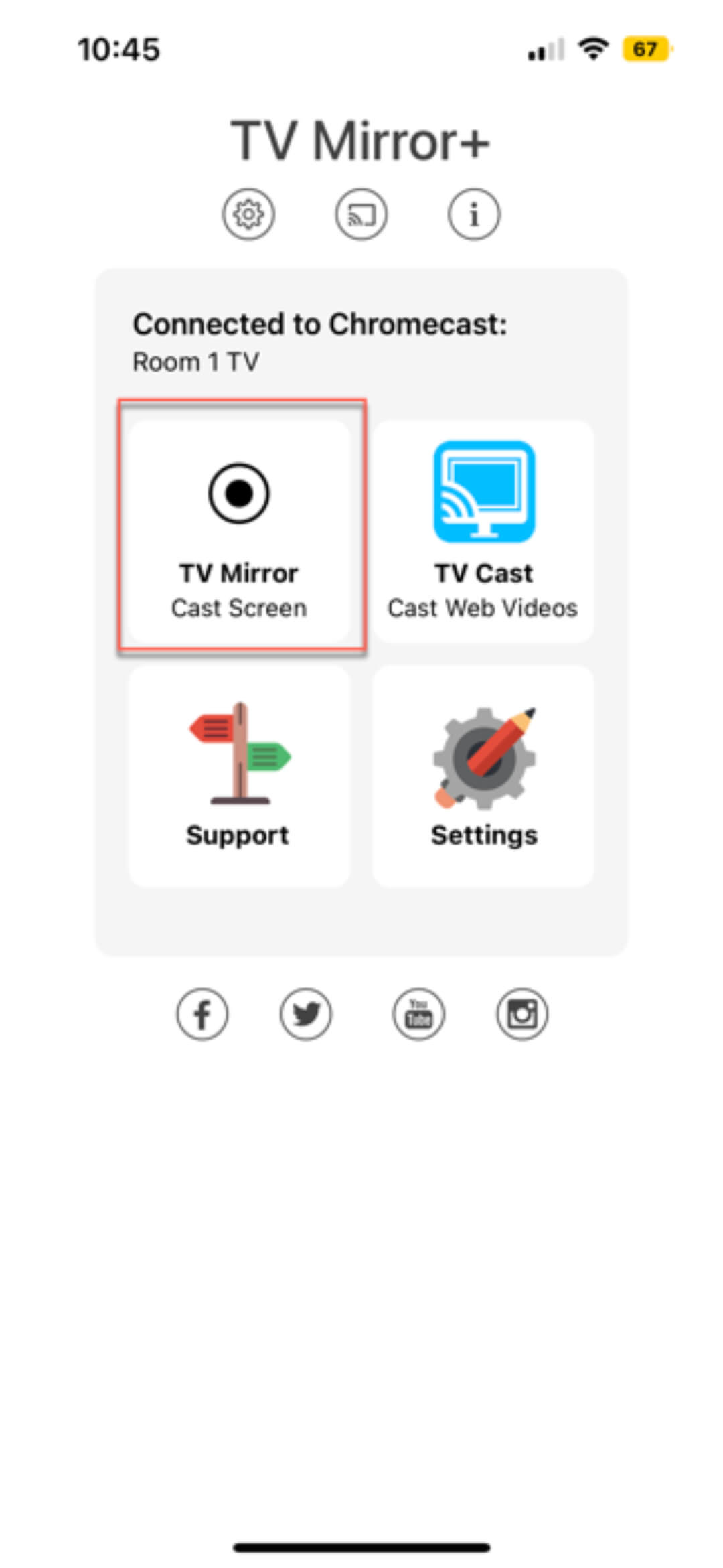 6. On the pop-up that appears, select the right application and tap Start Broadcast.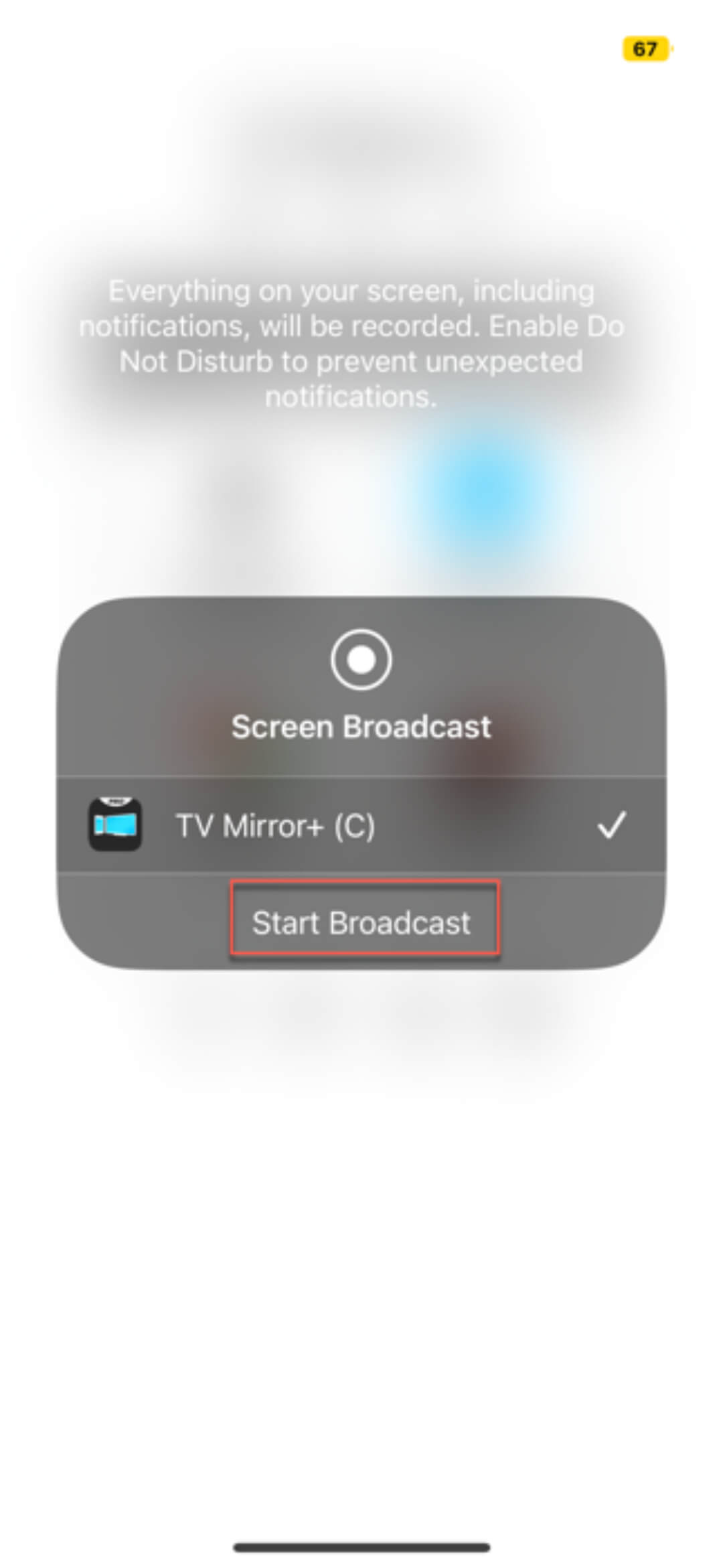 7. That's it! Now your iPhone's screen will be mirrored on your TV via Chromecast.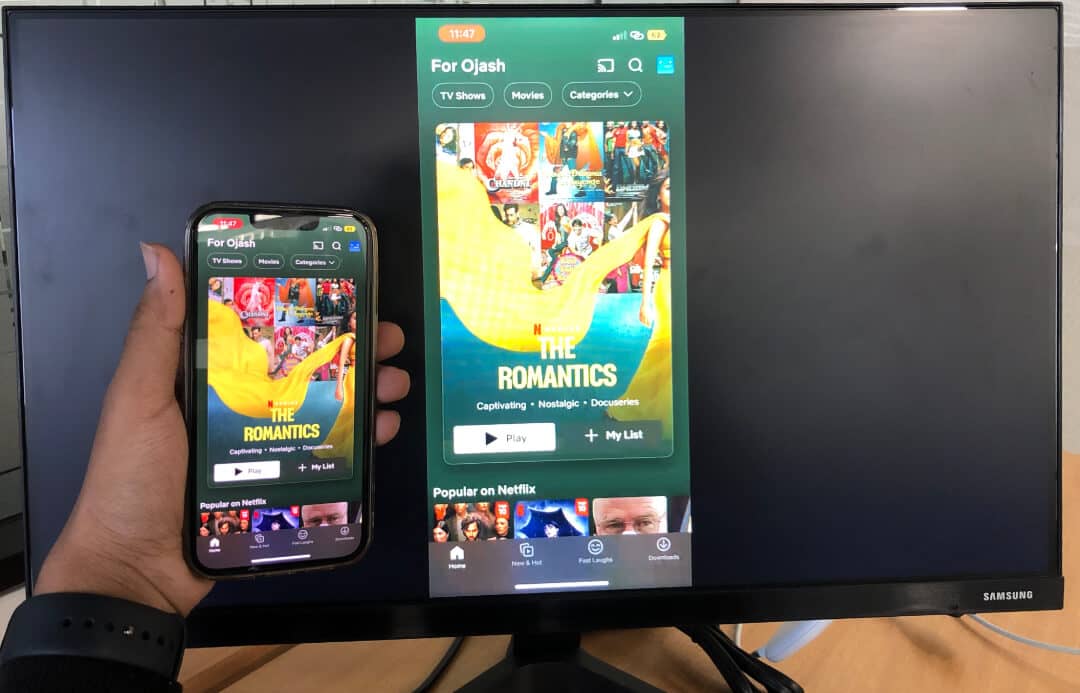 Even though setting up the app and mirroring your screen using TV Mirror+ Chromecast is easy, there is a noticeable delay in the stream. We also noticed that this delay also varies during the stream. For example, if you're streaming a video, there will be a delay of a second or two from the beginning. But sometimes, the video slows down, and the delay gap increases to four to five seconds. Other times, the video suddenly speeds up and covers the time gap in the streaming.
However, this delay can be reduced by lowering your screen resolution, choosing a lower refresh rate, or selecting a faster resampling filter.
⭐ Our rating: 5/5
2. Replica
Replica is another iPhone screen mirroring Chromecast application. Unlike TV Mirror+, Replica does not have a panel where you can select the screen resolution or frame rates. Instead, it simplifies things by giving you three presets to choose from.
Speed

– adjusts settings for the lowest delay;

Balanced

– balances the speed and the delay;

Quality

– focuses on the best image quality.
Based on your chosen mode, Replica will automatically adjust and fine-tune the screen resolution and frame rate settings in the background. Even though you cannot manually select a specific screen resolution, you can adjust the screen's aspect ratio and orientation from the settings menu.
💰 Replica is also a paid application, and after the initial three-day free trial, you need to subscribe to a paid plan at $2.99/month to access the screen mirroring feature.
To connect to a Chromecast device using the Replica app on your iPhone, follow these steps:
Download Replica from the Apple App Store.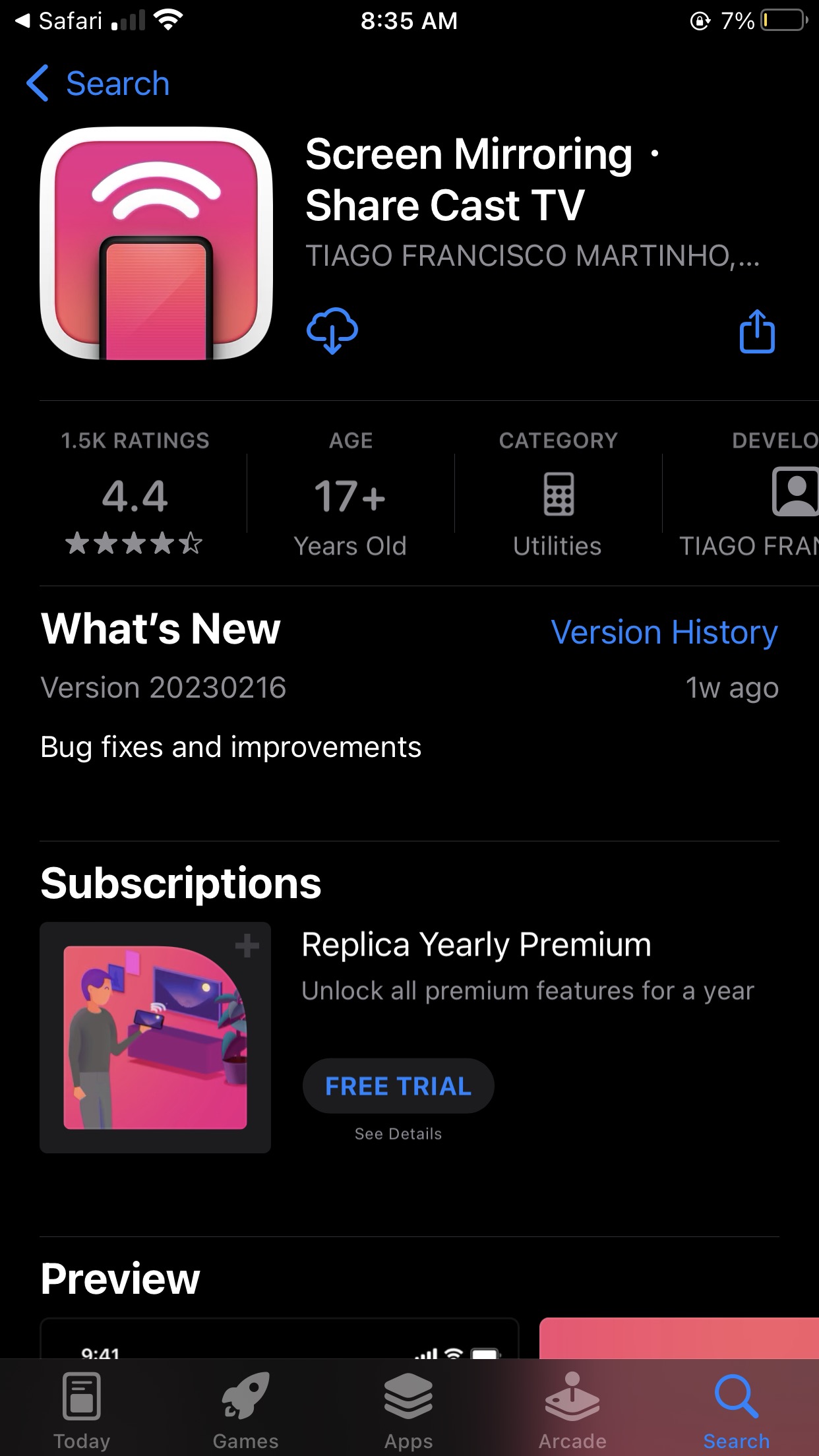 2. To search for casting devices, allow Replica to access your local network.
3. From the list of results under Connect, select your Chromecast device.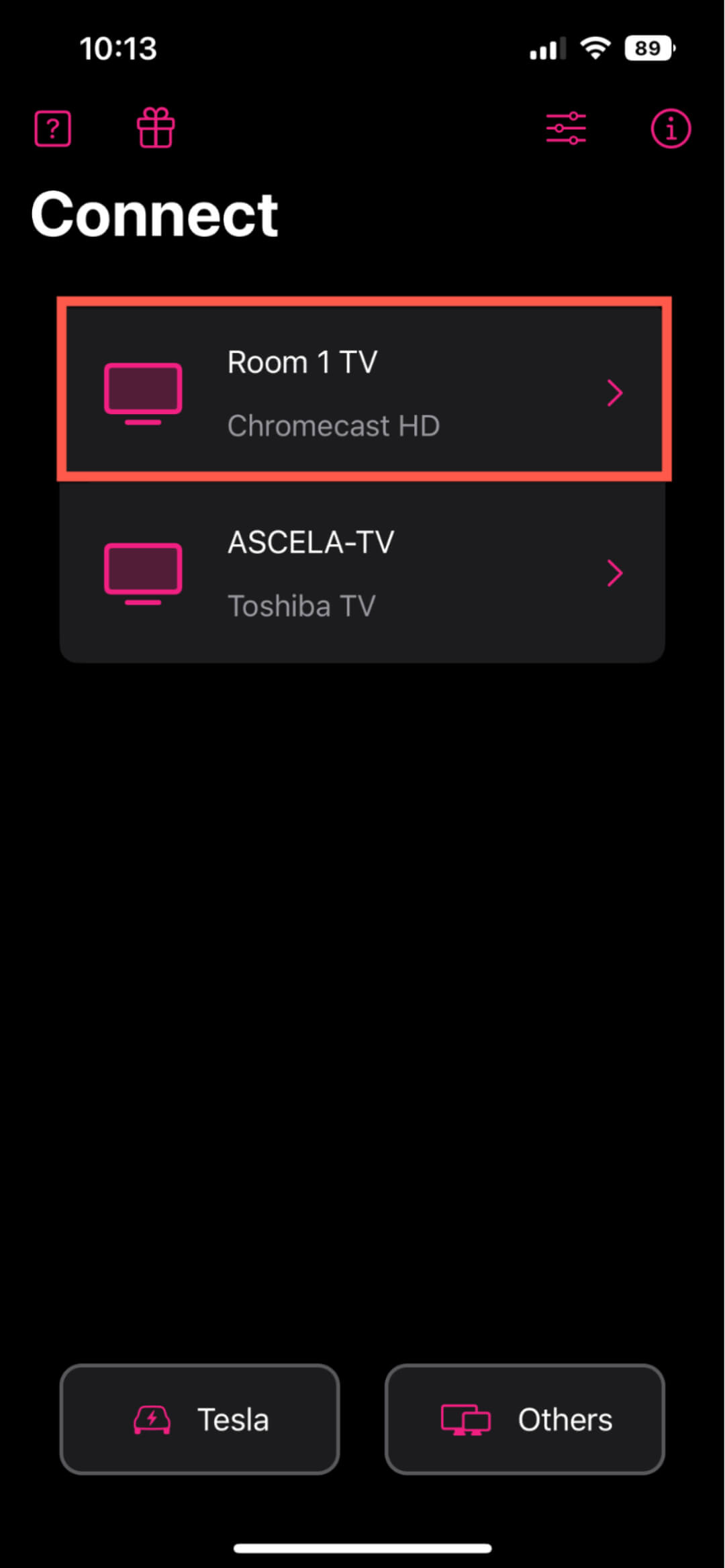 4. On the next screen, select the Screen Mirroring option.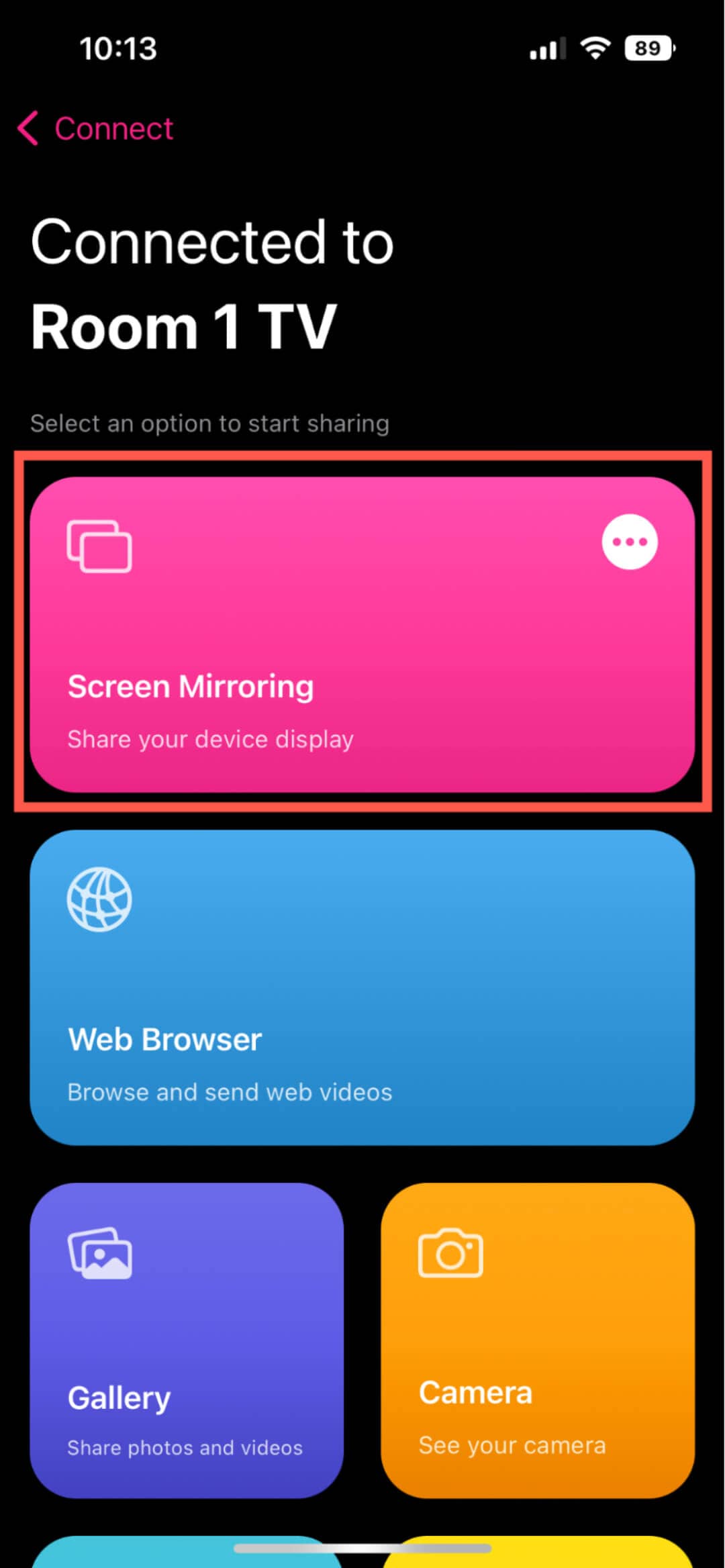 5. On the pop-up, tap Start Broadcast to begin mirroring your iPhone screen to the Chromecast device.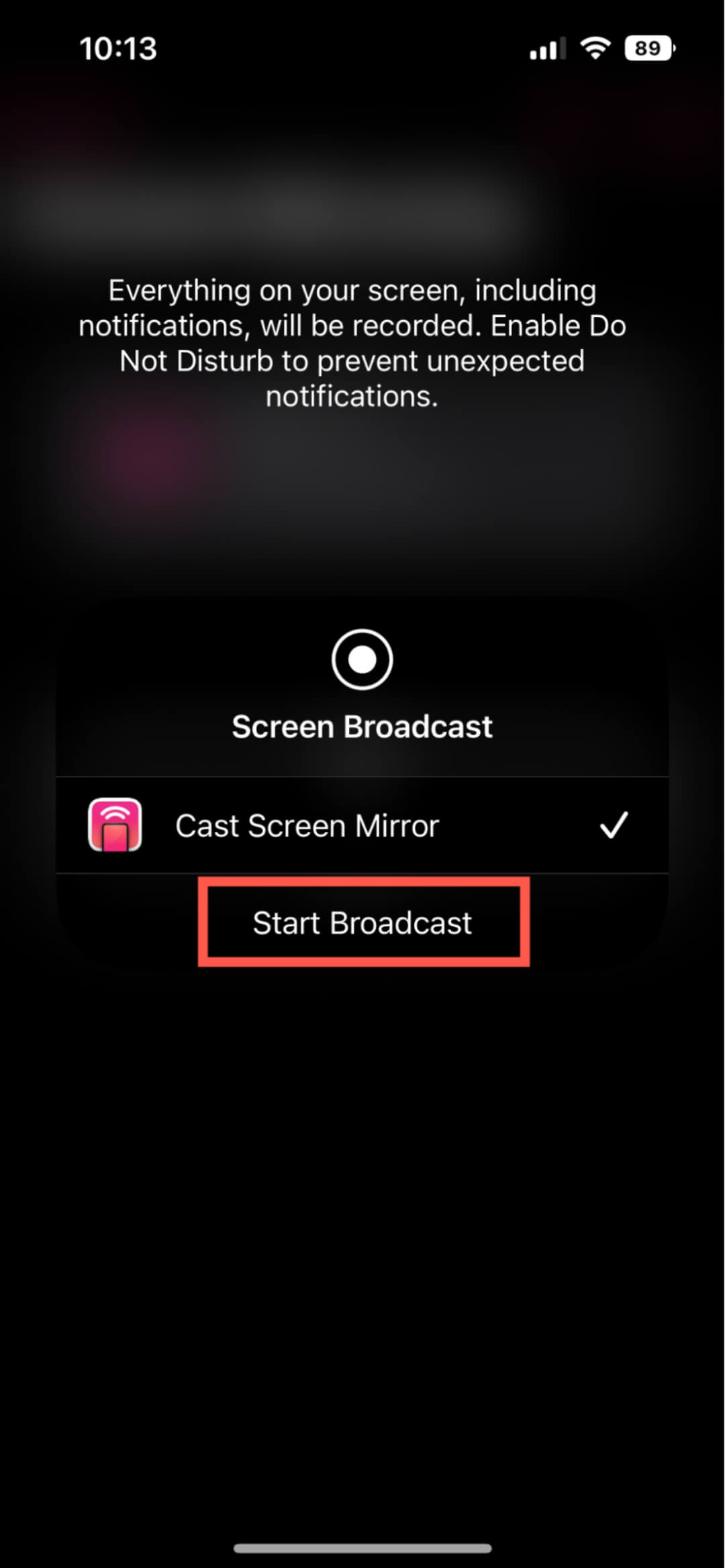 6. Now your iPhone's screen will be mirrored to the screen your Chromecast is connected to.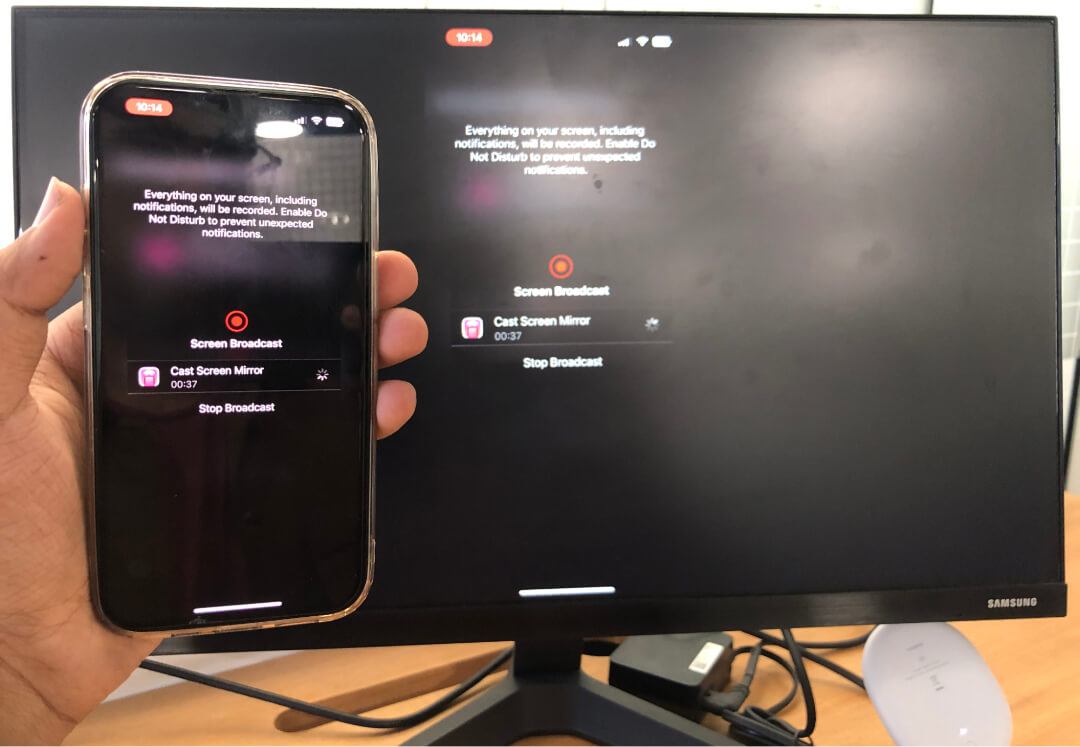 7. To stop broadcasting, tap the Stop button on the app.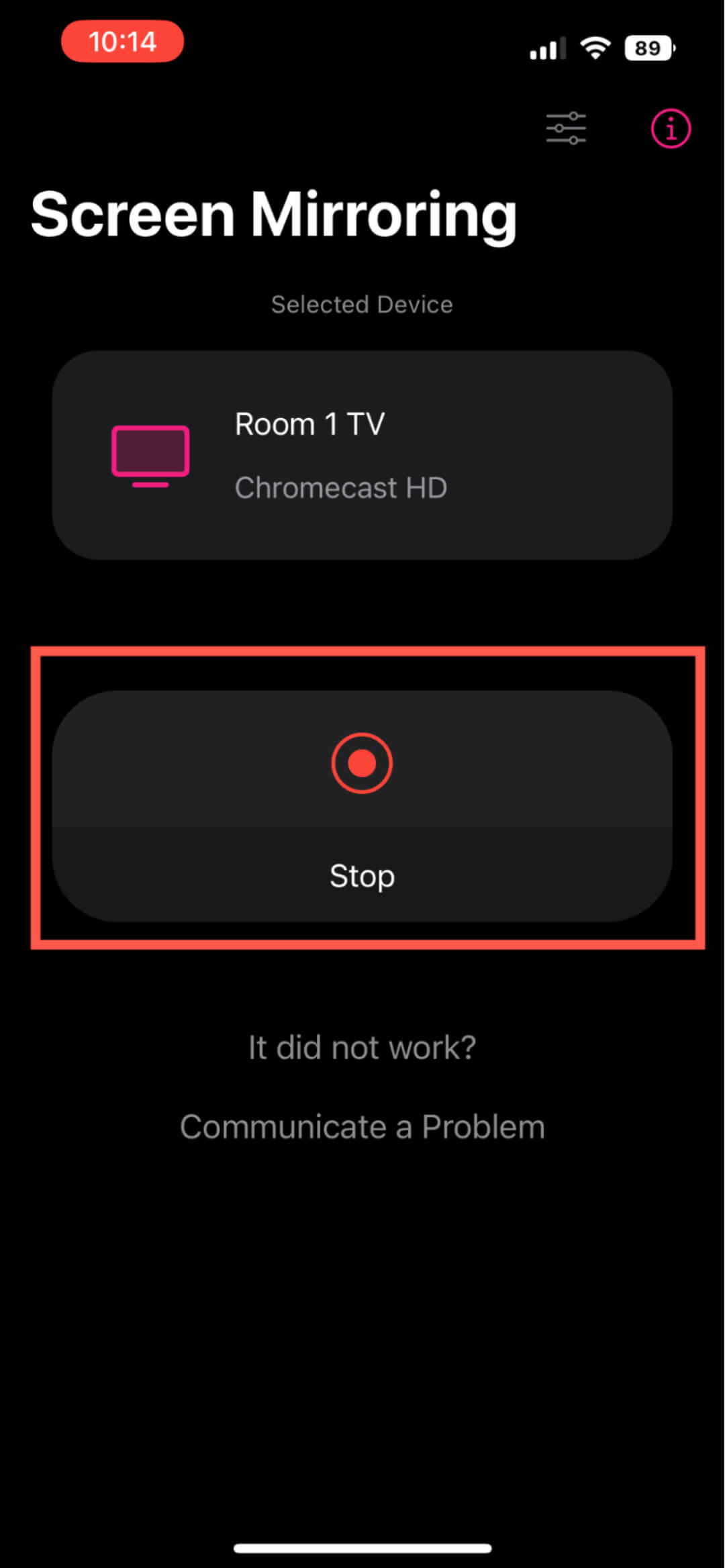 Alternatively, you can tap the red bar at the top of your screen, then on the pop-up that appears, tap the Stop button to end the broadcast.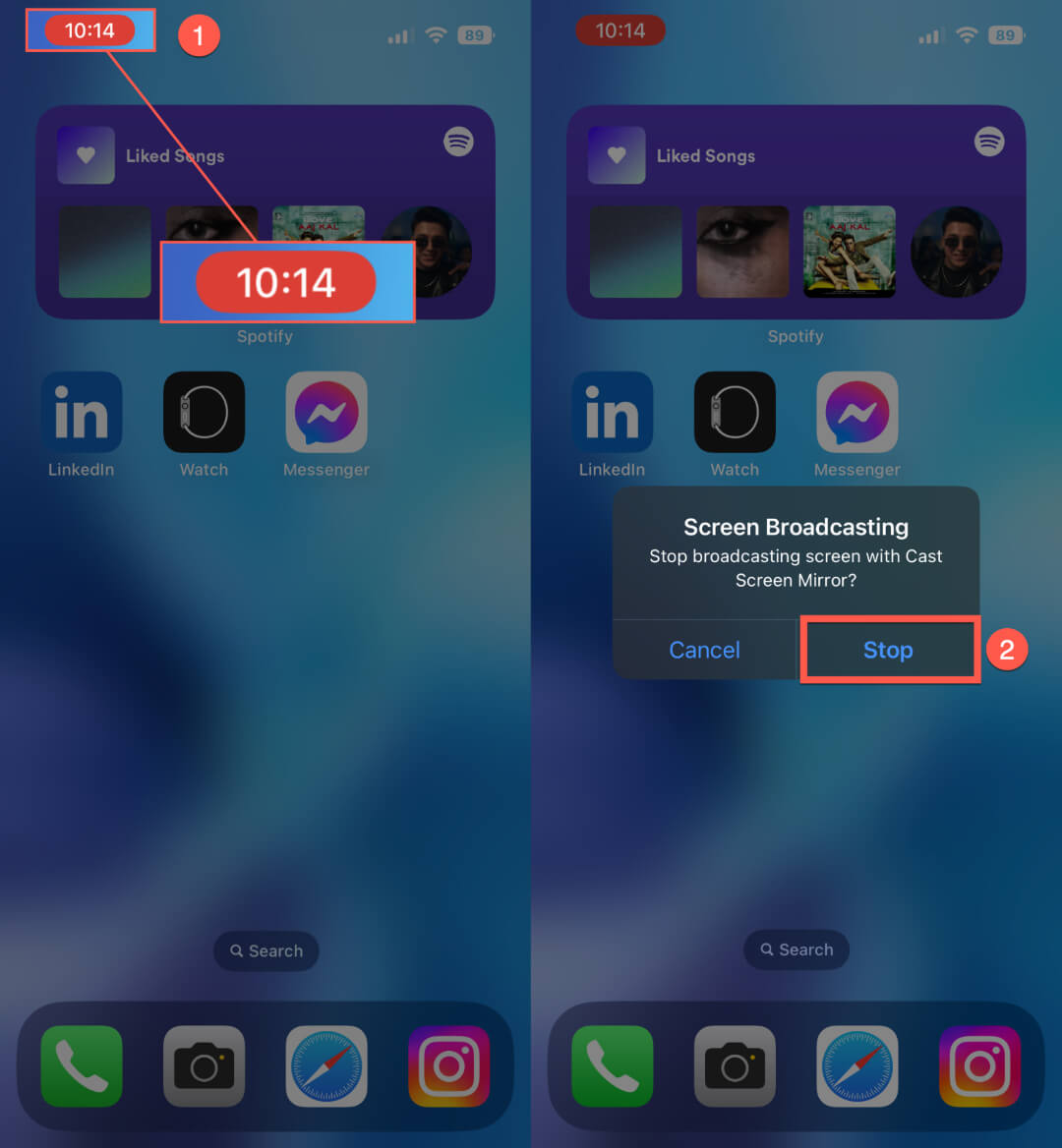 Based on our tests, we found Replica to be very beginner-friendly as it automatically adjusts all the settings instead of leaving it up to you to figure out. It also offers other features besides screen mirroring, like directly casting the photos and videos stored on your iPhone to Chromecast and playing videos from the Internet directly on the Chromecast.
⭐ Our rating: 4/5
3. Screen Mirroring on Chromecast by AirBeamTV
Screen Mirroring on Chromecast is the simplest app we've tried. It allows you to screen mirror Chromecast iPhone without AirPlay or Apple TV. 
You can download it for free, and it also allows you to mirror your screen free of cost. However, it does limit the streaming quality to 720p, and you'll need to subscribe to a paid plan to access streaming quality at 1080p. 
💰 The monthly subscription costs $2.49, and the yearly subscription costs $14.99. You can also get a lifetime subscription plan for $24.99. 
Here's how you can mirror iPhone screen to Chromecast using the AirBeamTV app:
1. Download Screen Mirroring on Chromecast from the App Store.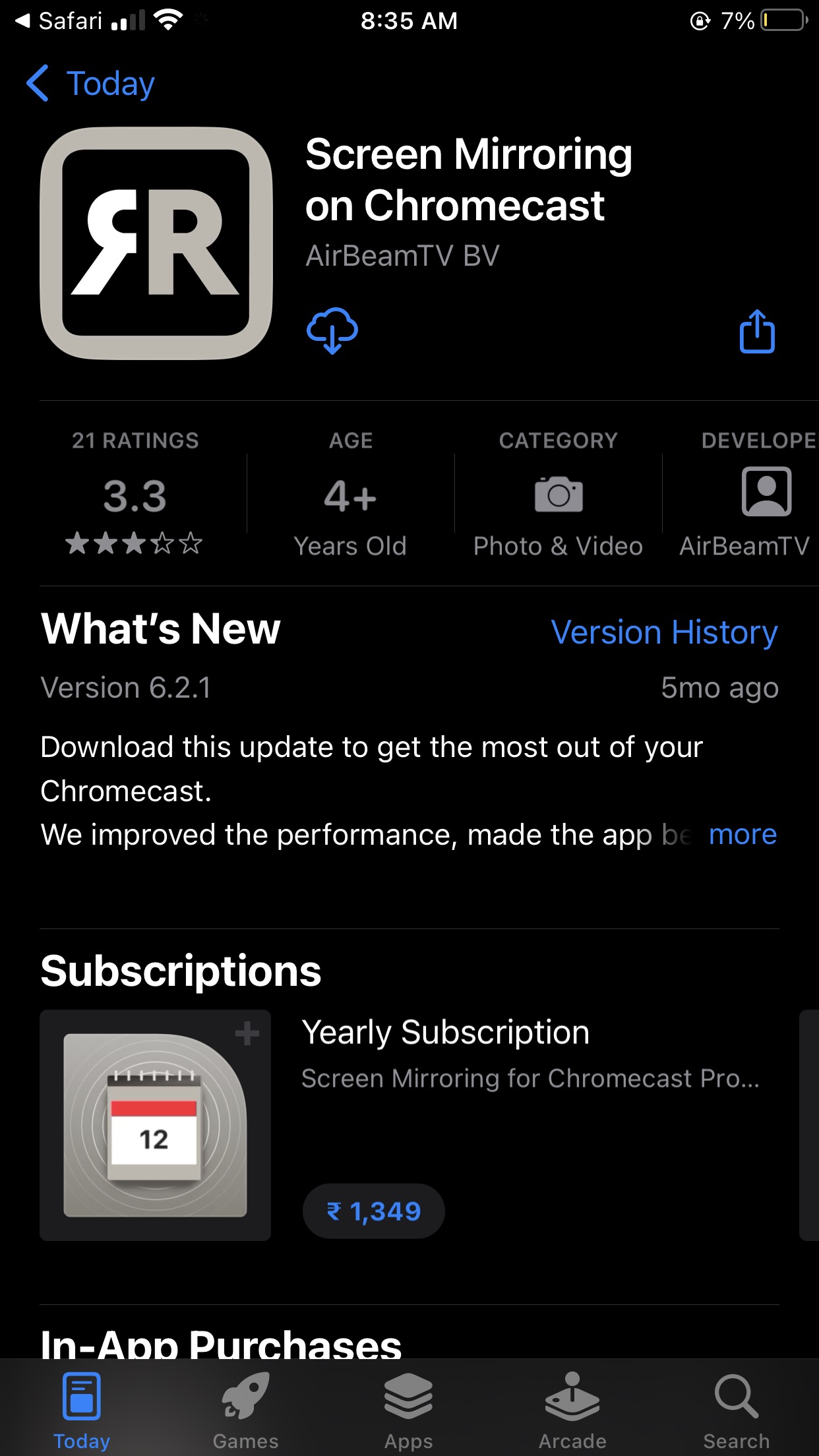 2. Make sure your iPhone and Chromecast are connected to the same Wi-Fi network.
3. Launch the mirroring app and tap the Cast icon in the top right corner.
4. Now from the menu that appears, select your Chromecast device, and the app will automatically connect with it.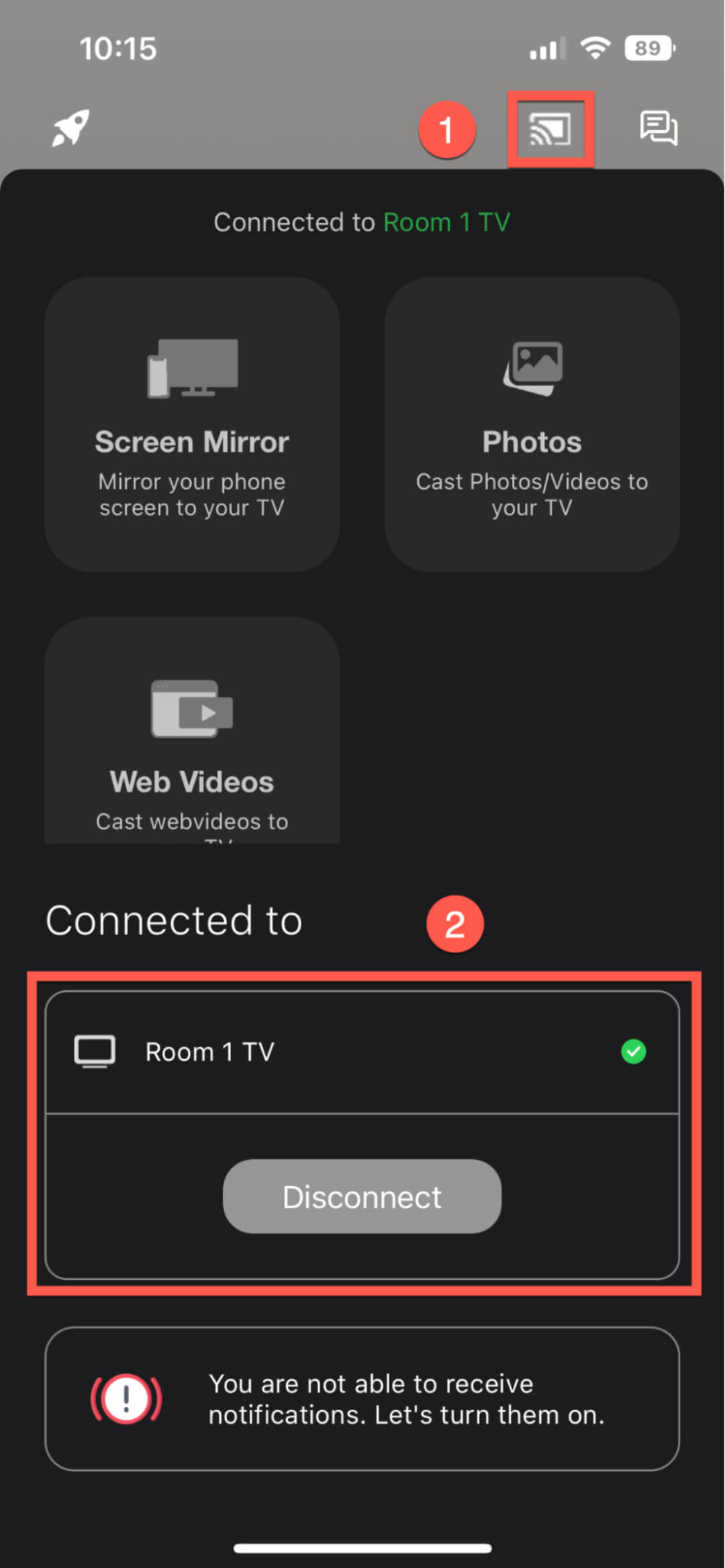 5. After establishing the connection, select the Screen Mirror option on the app's home screen.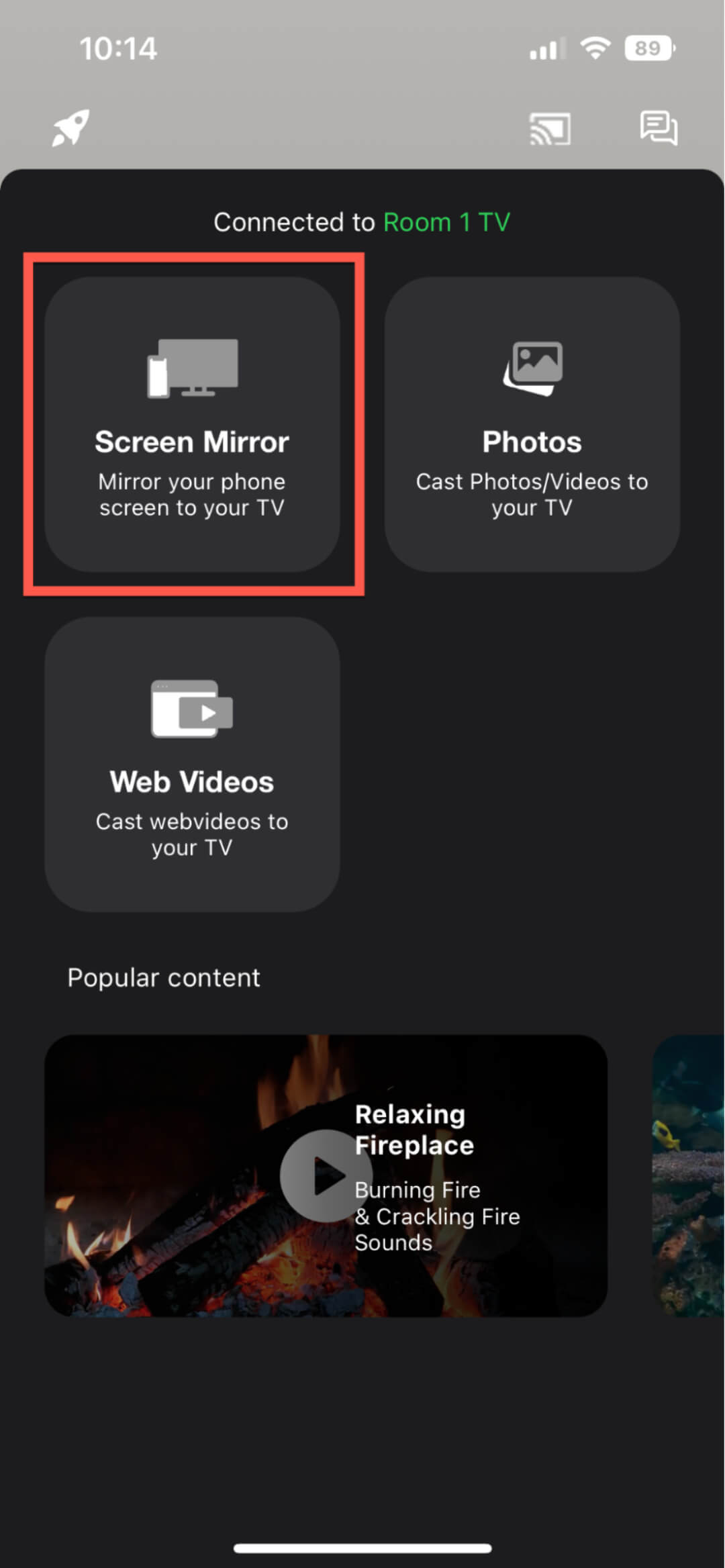 6. From the pop-up that appears, tap the Start Broadcast button.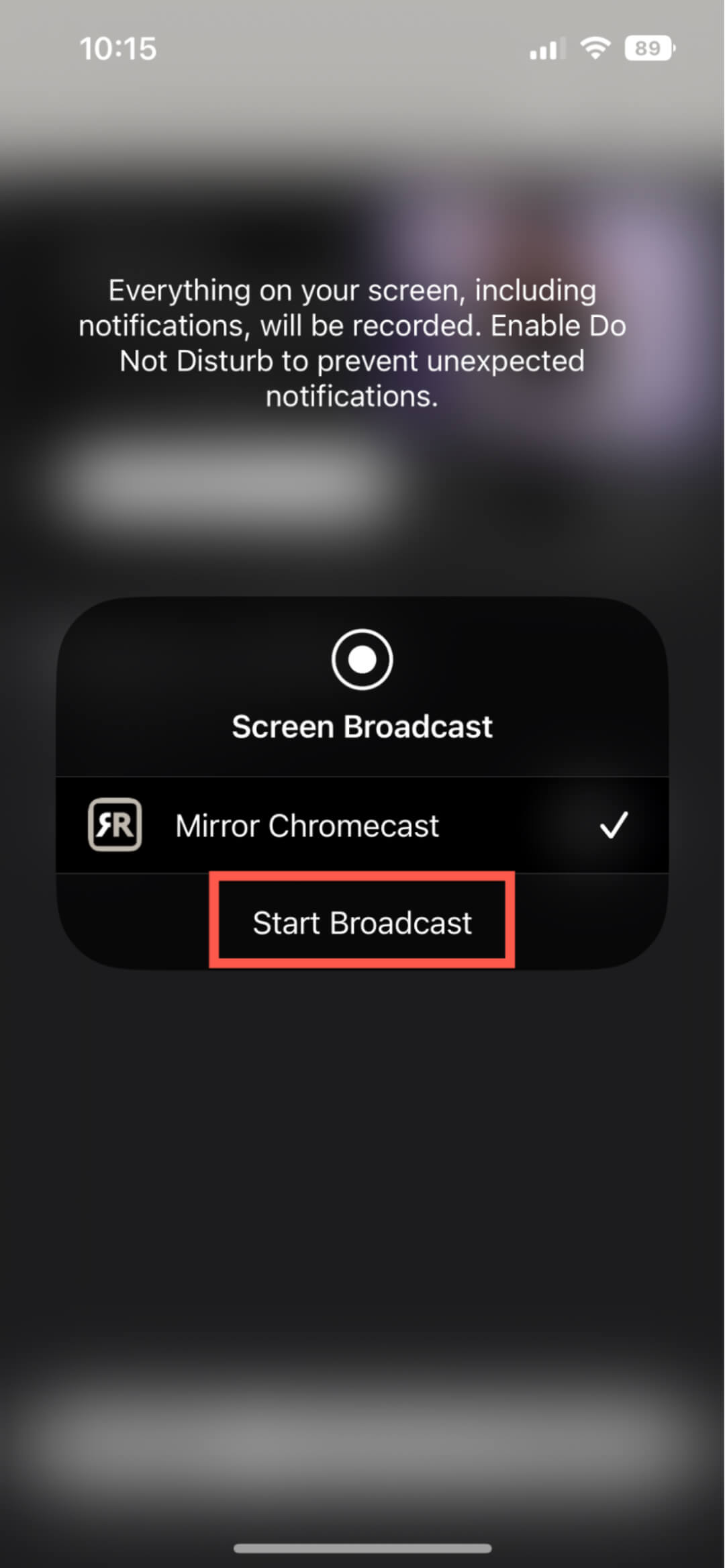 7. Now your iPhone should be mirrored to the screen connected to the Chromecast.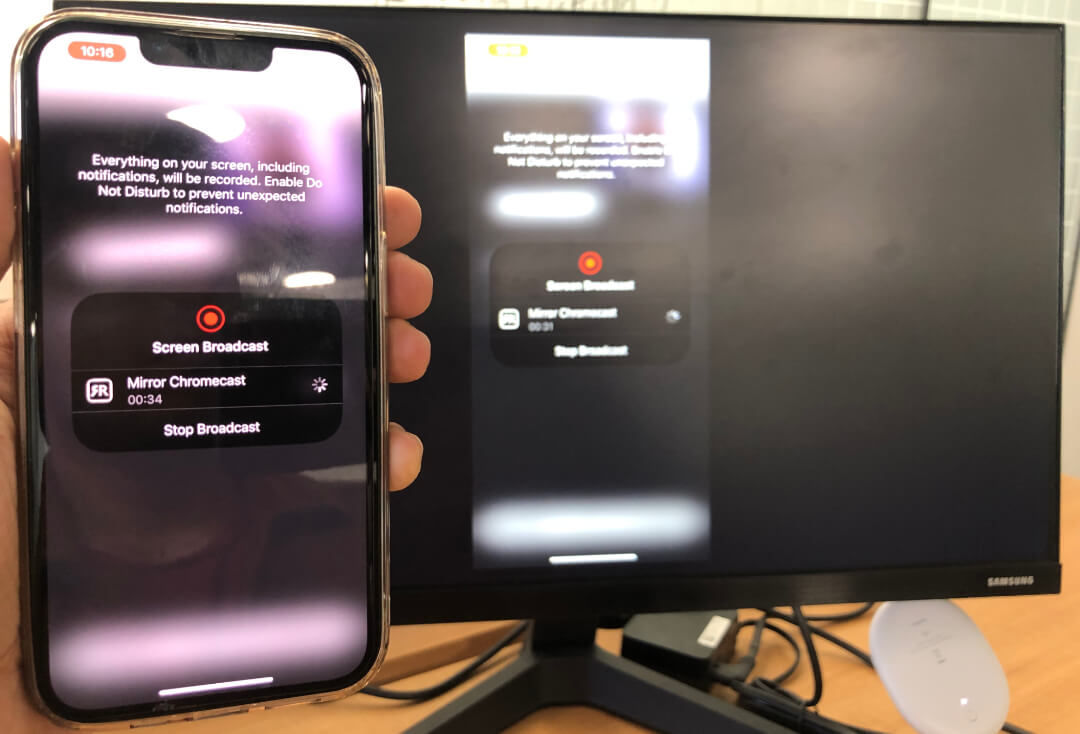 8. To stop mirroring your screen, simply tap the Stop Broadcast button.
While testing the app, we did find a slight delay in the stream. However, since the video quality is bottlenecked at 720p, it was much smoother than most other apps we tested. Of course, smoother streaming comes at the cost of picture quality.
This is not an issue if you use this app for streaming photos, documents, or presentations. It also works decently for videos with sound, but gaming is pretty tricky with such latency. Also, you cannot use Safari or Google Chrome to move the sound of videos from your iPhone to your TV. For that, you have to download the Puffin browser or use the "Web Videos" feature the app offers to directly cast videos from the Internet to your Chromecast.
⭐ Our rating: 4/5
How to Cast iPhone to Chromecast Using Chromecast Built-In Apps
Most media applications like OTT platforms and music players natively support casting your iPhone's screen to Chromecast. Here's an example of how to stream Netflix from an iPhone to a Chromecast using the built-in feature.
1. Launch Netflix, and tap on the Cast icon.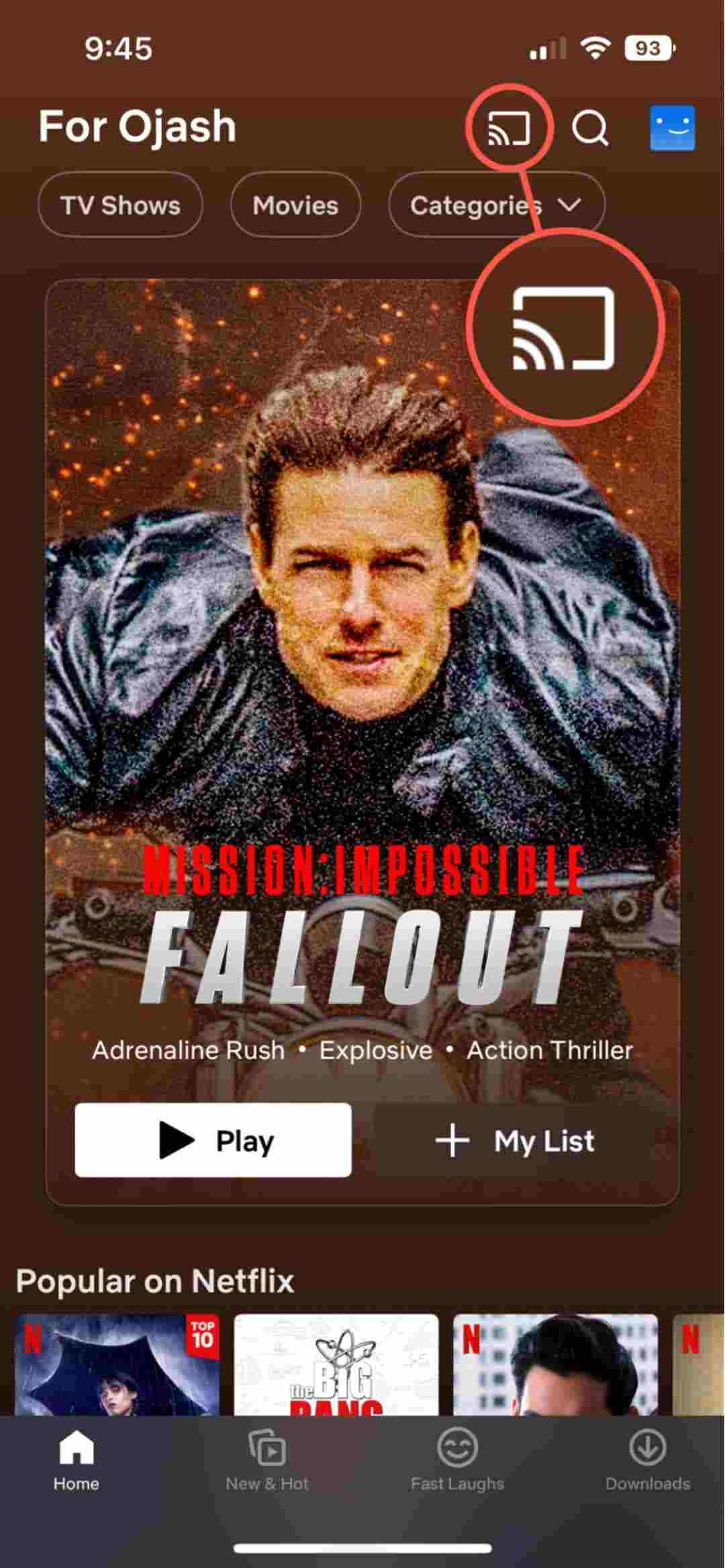 2. Now select the device you want to cast on. Make sure your Chromecast is on the same Wi-Fi network as your iPhone.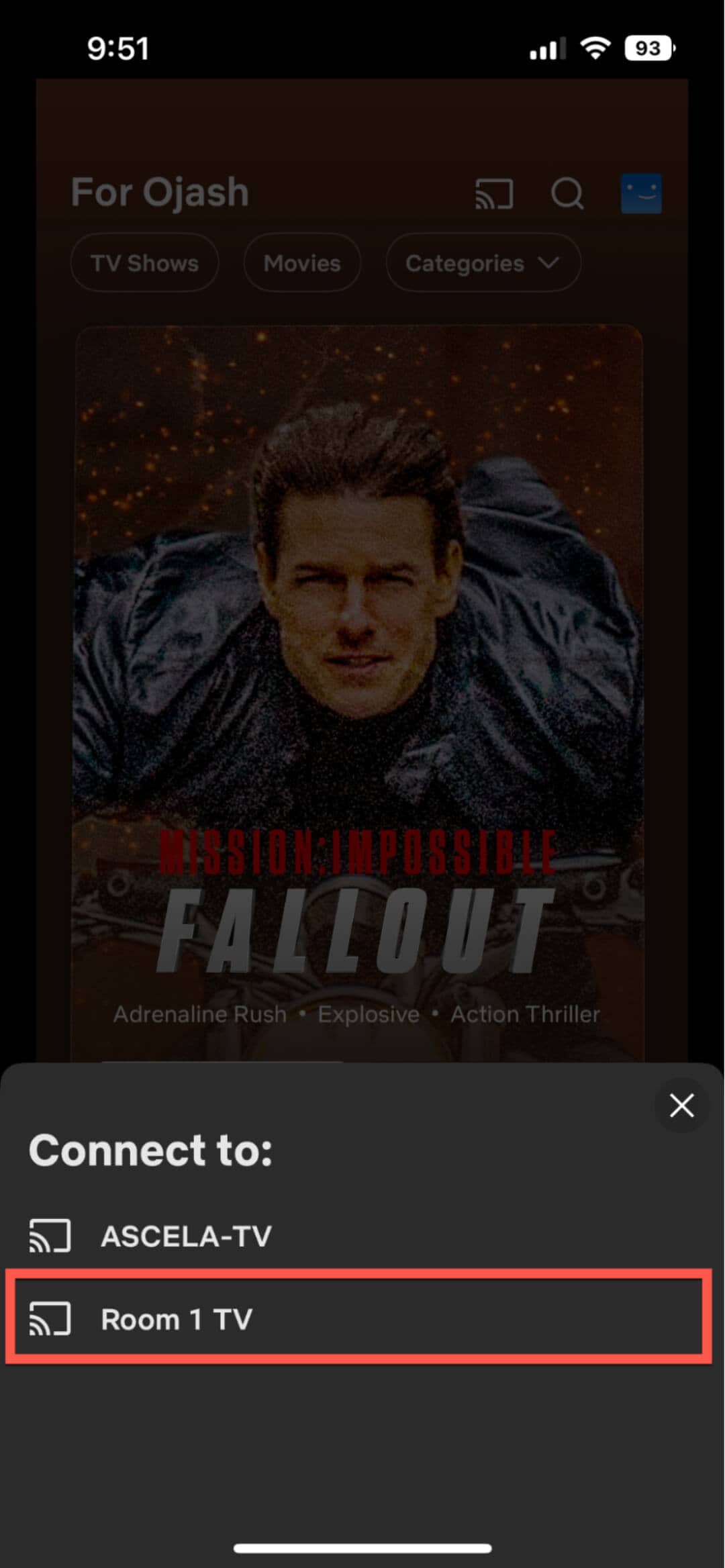 3. Wait until the connection is established.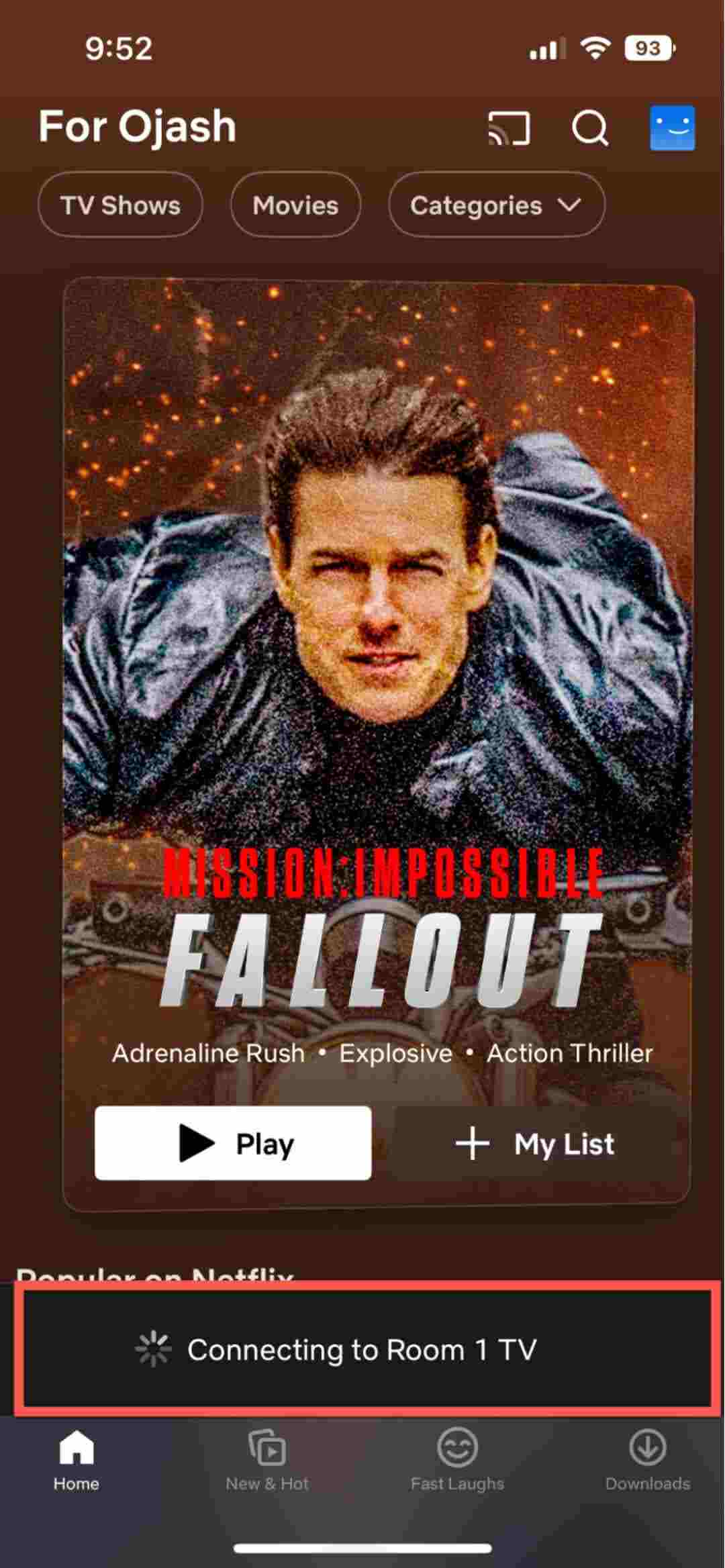 4. You'll see a confirmation dialogue when your iPhone and Chromecast are successfully connected.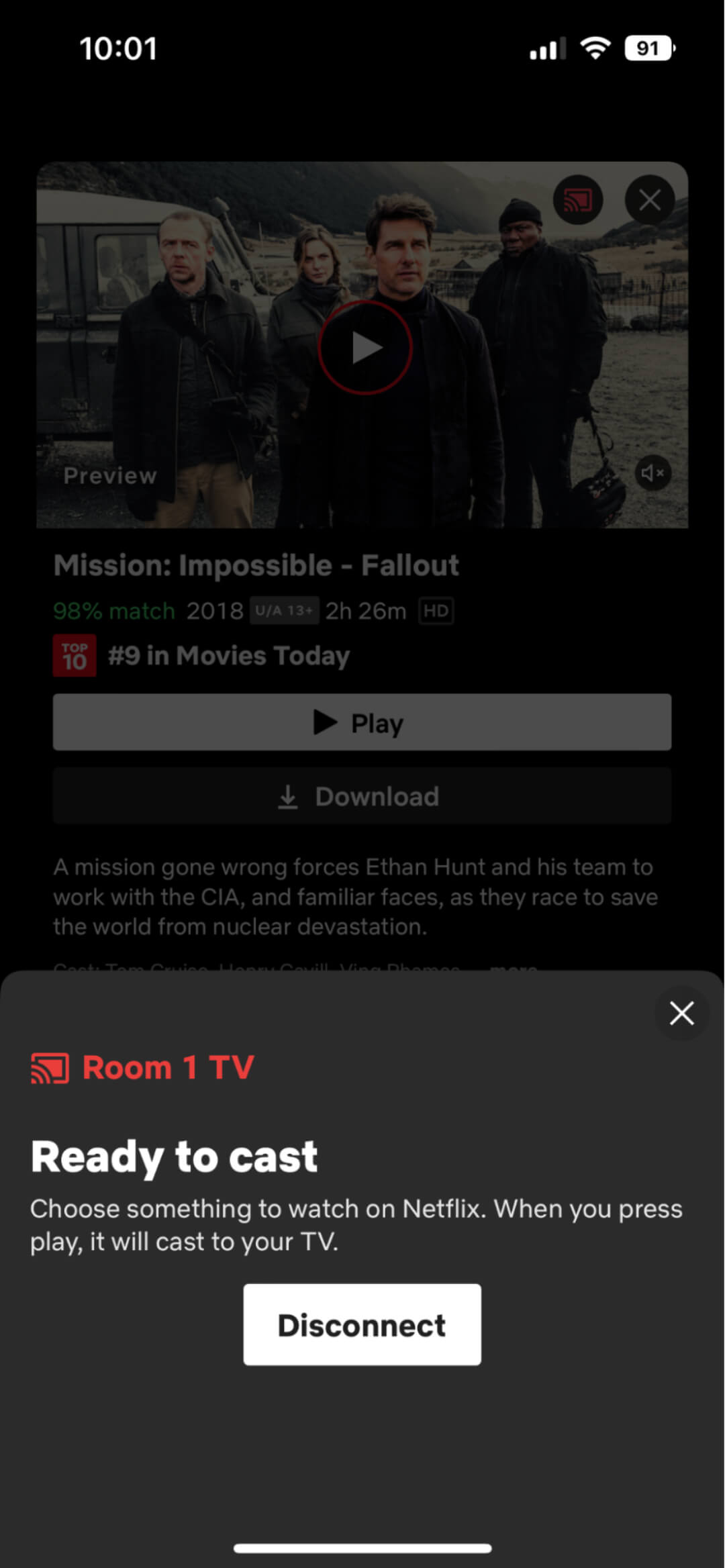 5. Now you can play anything you want on your iPhone, and it will be cast on the chosen screen. Meanwhile, you can use your phone for other activities, too, without disturbing your streaming session.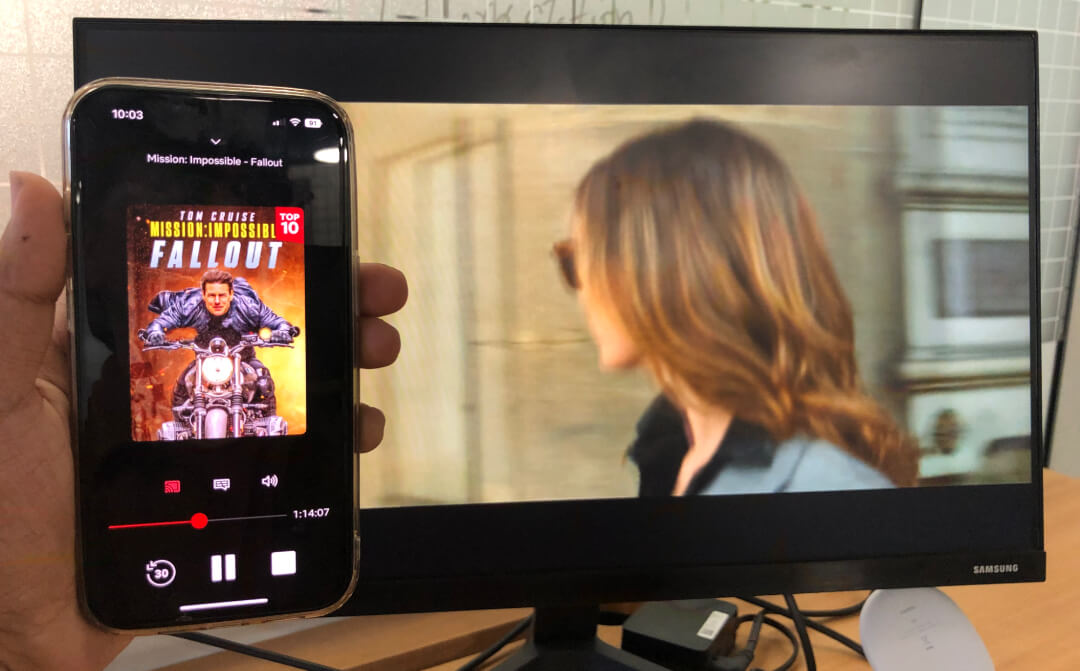 6. To disconnect, you can simply tap on the Cast icon again and select the Disconnect button.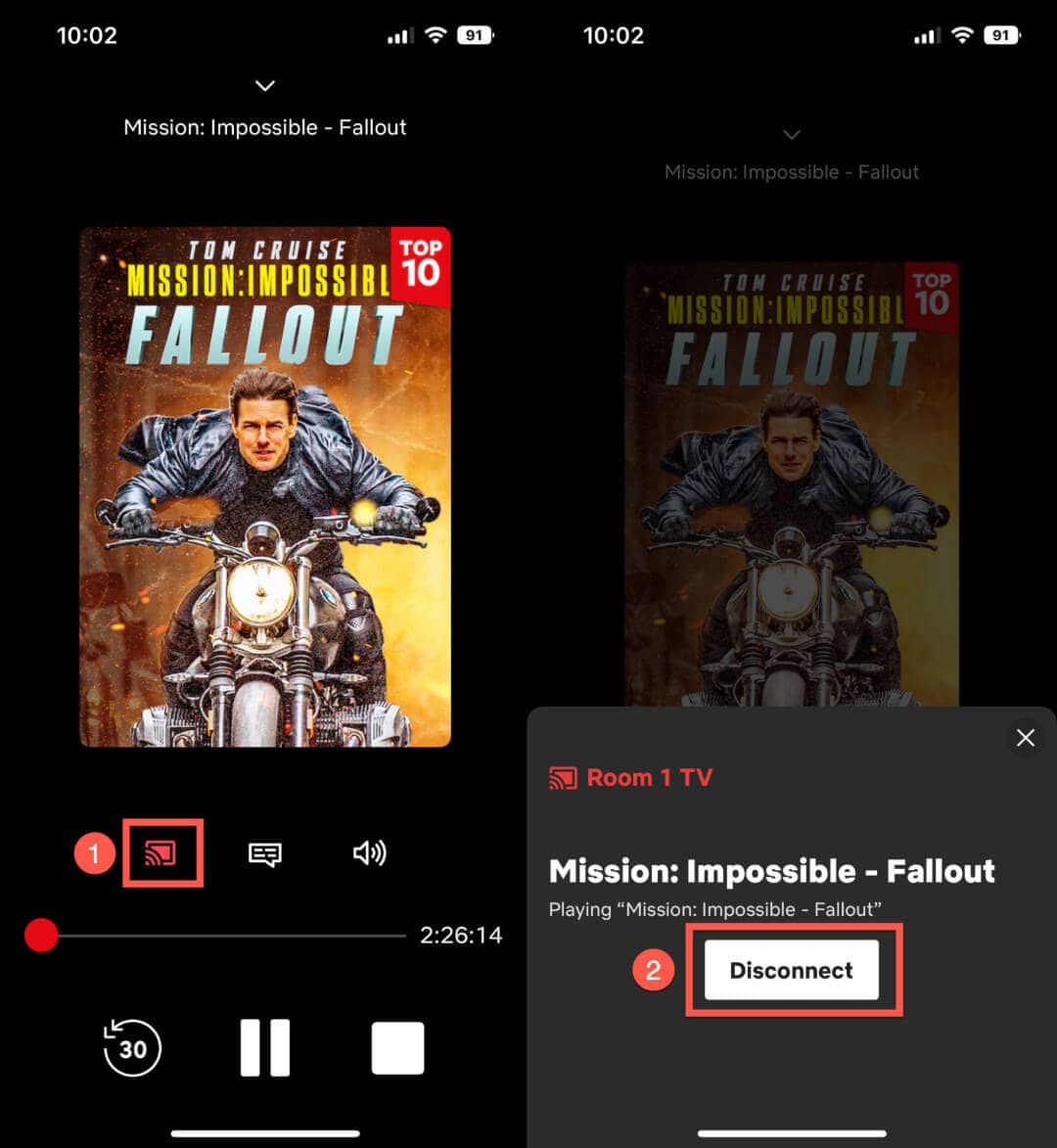 Casting or Mirroring? Which One Should You Choose?
Whether you should cast your iPhone or mirror depends entirely on your use case and preferences. In general, casting your screen is always the better option for many reasons. First of all, it results in smoother video quality compared to screen mirroring. Secondly, it does not prevent you from using your phone for other tasks as it streams the content independently. 
On the other hand, mirroring your screen has its own advantages too. Even though casting your screen is a faster, smoother, and more convenient option, it's only possible if the app you want to stream content from supports casting. That puts a limit on what you can do, as not all apps have casting support. Additionally, if you want to give a presentation that involves going through multiple applications, you'll need to mirror your entire screen instead of a single application. The only significant drawback of mirroring your iPhone screen is that there's usually a delay in the transmission and reception of the stream.
Overall, you should always prefer to cast your screen unless you need to stream content from an app that does not support casting or if you need to stream multiple applications at once. 
Conclusion
Both casting and mirroring can achieve similar outcomes, but the best option depends on your specific needs. Generally, casting is a smoother and more efficient option, although it may not always be feasible and you may need to use a Google Chromecast mirror iPhone application to mirror your entire screen. 
If you require advanced customization options while mirroring your iPhone or iPad's screen, you can opt for TV Mirror+ or Replica. However, if you're seeking a no-cost alternative and are willing to accept lower picture quality, Screen Mirroring on Chromecast by AirBeamTV is available, albeit with basic settings. Note that there may be slight delays when streaming video or audio, but this can be mitigated by adjusting the settings to a lower level.
Frequently Asked Questions
No, you cannot AirPlay to a Chromecast as AirPlay and Chromecast are not directly compatible with each other. AirPlay is an Apple product, whereas Chromecast is a part of the Google ecosystem.
Yes, there are several screen mirror apps for PC to Chromecast. The easiest and simplest one is Google Chrome. To use this, click the three dots in the top-right corner of Chrome and select Cast from the drop-down menu. Some other apps include VLC Media Player, AirDroid, AirParrot, and AllCast.
If you're having trouble casting your screen on Chromecast, there could be several possible reasons. Here are some steps you can take to troubleshoot the issue:
Ensure that your Chromecast device and casting device are connected to the same Wi-Fi network.
Check that your Chromecast is properly set up and connected to your TV.
Confirm that your casting app supports screen mirroring or casting, as some apps may not offer this feature.
Make sure there are no obstacles blocking the Wi-Fi signal between your casting device and Chromecast.