Nowadays the words Virtual reality and Augmented reality are on the tongues of men. The technological world is become totally hung up on VR and AR. Both these two technologies have their admirers and both are rather promising. Despite being on the market for not so long time these technologies immediately grabbed attention of the media and are being talked about by a lot of people. However, augmented reality definition and virtual reality definition are being confused and sometimes people think that they are the same and use them interchangeably.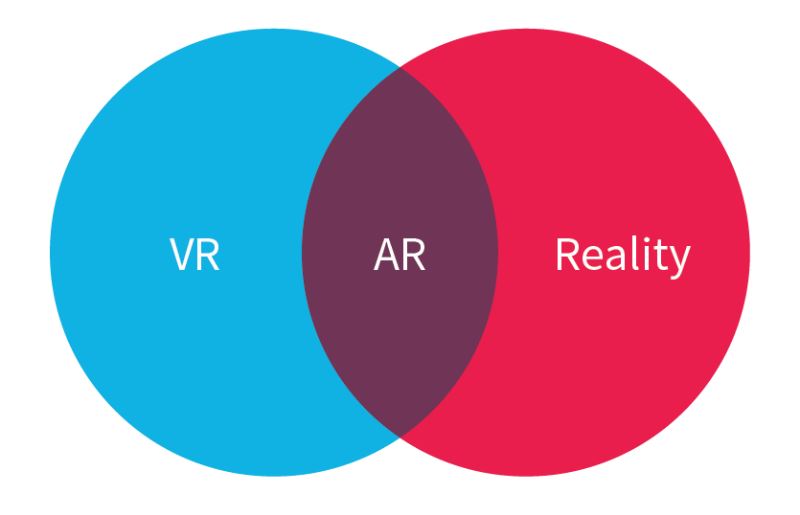 So, let's take a closer look at these two definitions
What is virtual reality?
VR or also known as virtual reality is an artificial world created around you with the help of computer technology. In other words, it is a simulated reality when a person entirely immerses into a virtual world. In order to immerse into this artificial environment, a person should wear a special VR headset that allows a person to experience the situation first hand. Virtual reality is possible thanks to VRML (a coding language).
What is augmented reality?
AR or as it is also known as augmented reality is an overlay of digital content onto the real world. In other words, AR combines together virtual and real components, but they can easily be told apart. Nowadays augmented reality is widely used in apps for smartphones and tablets. AR apps use a camera of a device to show the view of the real world in front of a person, then put a layer of digital information, on top of that view.
Augmented reality apps can bring much fun and be rather useful. For example, PinDrive. It is a handy app that can come to rescue when you desperately need to find your parked can among the dozens of vehicles. With the help of AR arrow on the screen of your device, you can easily find your parked vehicle.
Augmented reality vs Virtual reality
Augmented reality, as well as virtual reality have the same goal of immersing the user. They both use the same types of technology, and each of them exists to serve the benefit of users. Both technologies are now widely used for games and entertainment. Virtual reality and augmented reality affect our visual perception, giving us control over artificially created worlds and beings, no matter whether it is done completely or partially. Up to the present time, more and more games are created based on VR and AR.
However, augmented reality provides the interaction with virtual elements in the real world, whereas virtual reality isolates the user from a real world and immerse a user into an artificial world.
Virtual reality requires a VR headset, or hand-held controller in order to connect a user to the. In case of augmented reality, everything is not so complicated, as the latest requires a laptop or a tablet, or even smartphone.
As for the question which reality will conquer the market, there is no clear answer because both technologies are rather promising and have a great future ahead.
PinDrive
Requirements: iOS 11.0+, iPhone 6s and newer , 64.0Mb free space
Version
1.0.1
(
28 Nov, 2017
)
Release notes
Category:
Other solutions