These days there are many kinds of computing devices, desktops and laptops running various operating systems. We would like to think that it is us who after weighing pros and cons of each operating system make a decision on what phone, tablet or laptop to purchase. We hate to break the news, but in most cases it is big technology companies who decide for us. By making a dialogue between different operating systems difficult they push us to play safe and stick to one OS. Sure, it is much easier for devices running the same OS to talk to each other.
But, what if you are happy with your Mac but still want to use an Android phone or a tablet? Do you really have to follow the rules set by big corporates? How to access files on Android from your Mac if, as they say, Apple products and Android devices just do not get along. Do not worry, all you need is a third party solution – an Android file explorer Mac owners could make use of. Commander One is an excellent Android file explorer for your Mac, read on to find out more.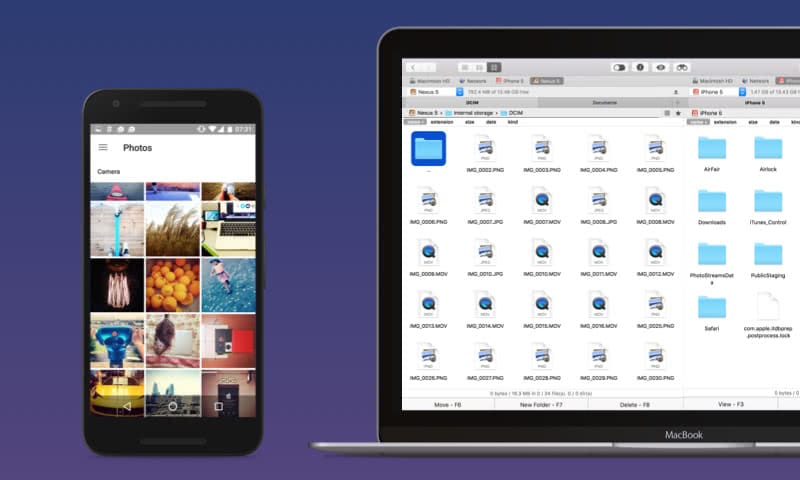 Meet Commander One
This Android file manager for Mac owners features a dual-pane interface that has become classic since the times of Norton Commander. File management operations such as creating, deleting, copying and moving files and folders are done in a very convenient way as two panes display two locations at a time. Apart from it the application enables exploring Android file system directly from your Mac.
Work with Commander One
This is what you have to do to see Android file structure and its contents – download and install the application on your Mac, connect Android to Mac – use a USB cable to do it – and you can view files on Android as if they were on your Mac's hard drive. Movies, pictures and other media, documents in various formats stored on your Android are now easily accessible to you. You can transfer them to your Mac if required.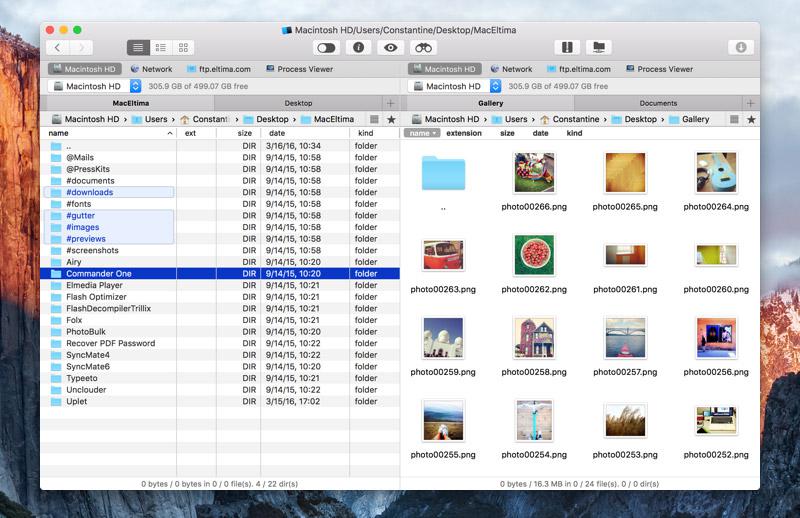 This Android file manager app has other handy features too:
Work with archived data in ZIP format – compress and extract files.
Preview files – multiple formats are supported, including Hex and Binary.
Locate computers and devices in the network.
Make most of root access – this Android root file manager gives you all the privileges to take full control over your Mac.
Customize hotkeys – this will save you a lot of time and effort.
Choose a Theme for your app to customize its looks.
Search files using advanced parameters, the search feature is capable of going through archived data.
History & Favorites will open recently visited and folders saved as favorites.
The above is available to users of this explorer for Android for free.
However there is more to Commander One, make sure to check the paid version – PRO Pack. This Android file browser features built-in FTP client to transfer data online and supports a larger number of archive formats. Apart from Android devices, Commander One can mount cloud storage services on your Mac and you can access their contents as if they were additional hard drives. Only if you choose to open a particular file it is copied on your Mac. Else, they remain where they are, without occupying your precious disk space. PRO Pack has a process viewer, i.e you can see what processes are currently running on your machine and end them, if necessary.
As you see Commander One's functionality is not restricted only to Android file management, there is so much this application can offer you.
This Android explorer works with OS X starting from version 10.10.
Commander One
Requirements: MacOS 10.10+ , 37.59MB free space
Version
2.5.2(3329)
(
25 Oct, 2020
)
Release notes
Category:
System Utilities