Top 7 Beamer Alternatives with the Best AirPlay Support on Mac
Beamer is the app for wireless streaming of videos directly to Apple TV and Chromecast. First of all you may want to find out more about Beamer AirPlay option. This app supports all common video file types, resolutions and codecs. Beamer also supports popular formats of subtitles either embedded or external. However sometimes you may need to look for a Beamer alternative. Why is it so? Because in reality Beamer has some limitations to its functionality:
needs Apple TV and OS X Yosemite (10.10) or later.
can only AirPlay in one direction: from Mac to Apple TV.
does not support online video or audio resources.
So an alternative to Beamer is much needed when you want to AirPlay from Mac to another Mac or Windows PC or from iOS devices (iPhone/iPad) to Mac or Windows PC. Same situation when you need to AirPlay YouTube videos. So if you found yourself looking for a Beamer app alternative, read about 7 apps that we list here.
Elmedia Player - best alternative to Beamer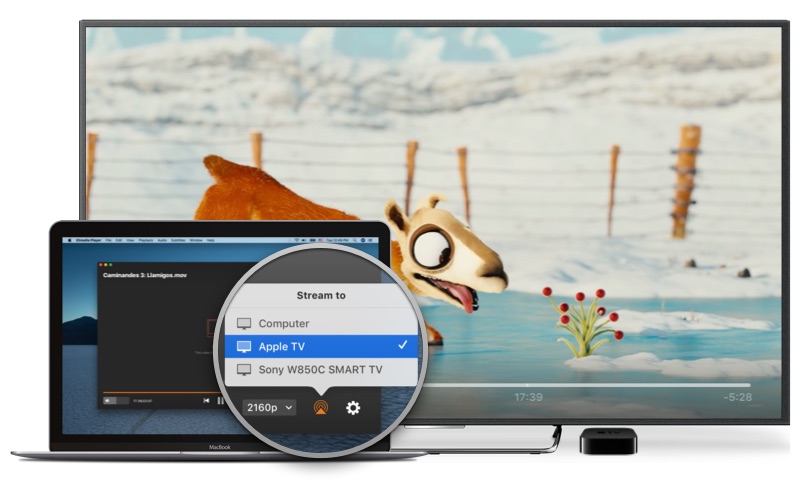 Elmedia Player PRO acts perfectly well as an AirPlay Sender and AirPlay Receiver that supports all common file types (except VIDEO_TS, .swf and .exe) and works with Mac, iOS, and Android devices. Elmedia supports all types of subtitles and external soundtracks. With Elmedia one can stream video and audio content as well as YouTube media from one Mac to another with Elmedia installed or to Apple TV and any other AirPlay device. Elmedia Player PRO will stream online videos to Apple TV (open videos with 'File > Open Online Video' option).
5KPlayer VS Beamer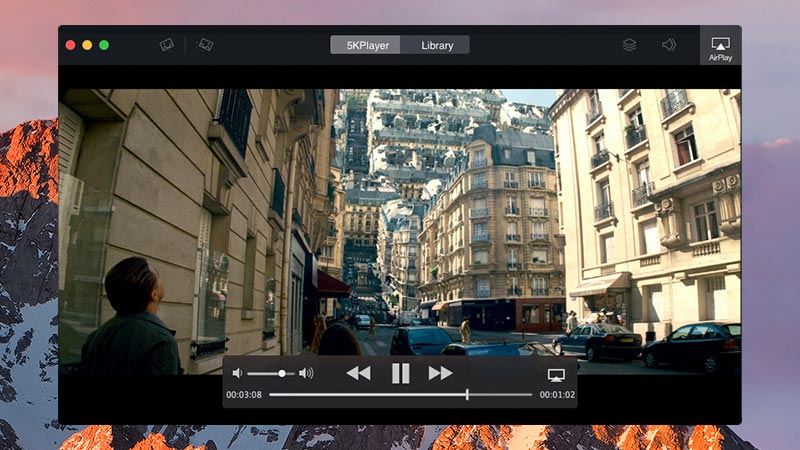 5KPlayer combines a lot of roles. It is an audio and video player, online video downloader, and an AirPlay server. The AirPlay options are somewhat limited in this app, it only supports MP4, MOV, M4V, MP3, M4A and AAC for streaming. If you want to stream other formats, the app will offer you to convert them in MacX Video Converter. 5KPlayer offers AirPlay mirroring as well as screen recording. As an example: you can record YouTube livestreaming. This player allows connecting iOS devices to Mac or Windows PC and Mac or Windows PC to Apple TV wirelessly. As an alternative to Beamer, 5KPlayer offers more options and can help you AirPlay from Windows 10/8/7, which is not possible with Beamer.
iTunes VS Beamer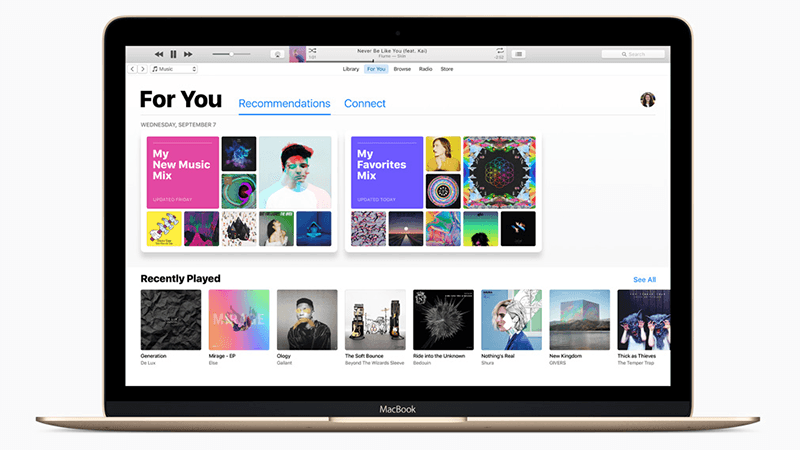 iTunes has all various Apple music, movies and TV shows. iTunes has AirPlay technology built into it that lets you stream content from Mac or Windows machine to Apple TV, AirPort Express or AirPlay-enabled speakers and receivers. If you have a premium version of iTunes, you will never run out of videos and music to AirPlay. However iTunes is limited to what formats it accepts, you'll have to convert videos you want to stream to MP4, MOV or another supported type.
AirServer VS Beamer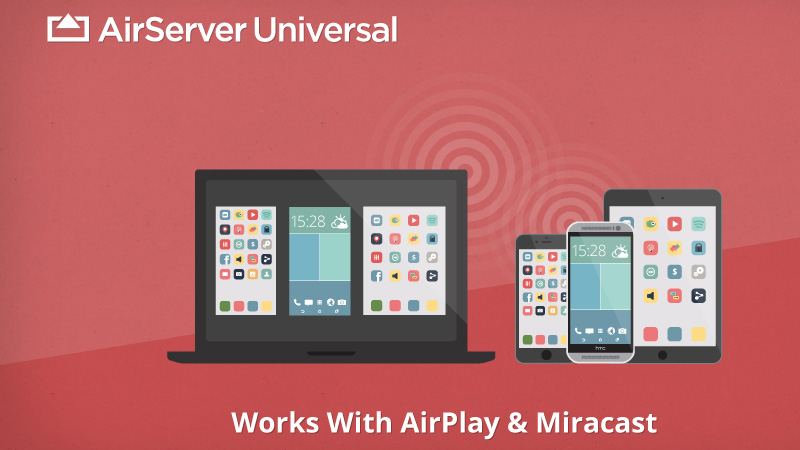 AirServer is an advanced screen mirroring solution for your computer or Xbox One making them a mirroring receiver like Apple TV/Chromecast device. With this Beamer AirPlay alternative you can wirelessly mirror latest iPhone devices, Windows and Android phones to computer. Also it allows recording Mac or Windows machine's screen with the audio. Multiple iOS devices and Android and Windows phones can be mirrored simultaneously to one computer. This tool can be irreplaceable for teachers showing something on their screens to their students.
Porthole VS Beamer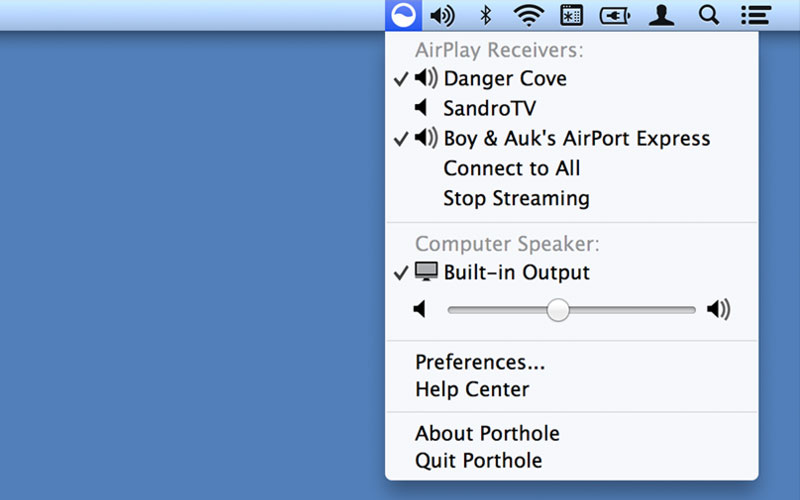 Porthole has a remote control and will stream to many AirPlay devices and Mac speakers at once, so you can enjoy same music in each room of the household. This app allows streaming within just a click, it is very simple to use and is set up in a matter of moments. Porthole works on Mac OS X 10.7 and newer and also offers a legacy release to work on your Snow Leopard.
AirParrot VS Beamer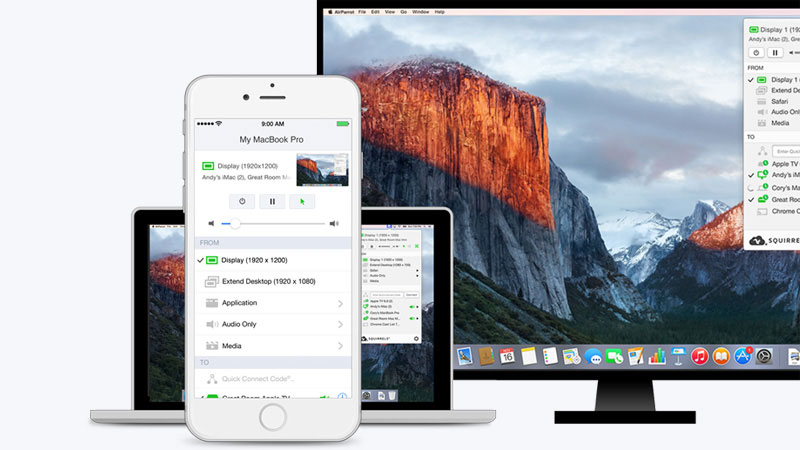 Without any adapter, AirParrot lets you mirror your screen or media to different media receivers. It works with media receivers like Apple TV and Chromecast, all at the same time. With AirParrot you can stream audio around the house with AirPlay-enabled speakers and enjoy great music wherever you go. It is easy to beam video games and movies to the big Apple TV screen and share presentations with everyone in the room.
Airfoil VS Beamer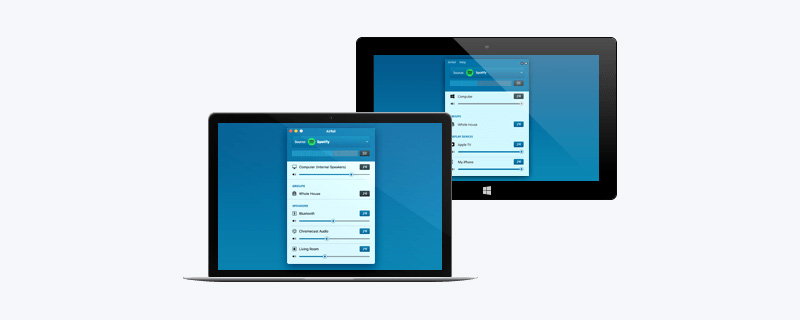 Airfoil will send audio to Apple TV, iOS devices and Mac and Windows computers! Airfoil reproduces the sound all over the space in the perfect sync. Airfoil speakers let any computer become a remote audio output device and Airfoil satellite makes Mac computers audio receivers. Airfoil works with music from online audio sharing services.
We hope this Beamer app alternative list will help you find your perfect solution and enjoy favorite stuff in every corner of your space.
Elmedia Player
Requirements: OS X 10.9+ ,
36.74MB
free space
Version
6.12(1435)
(
2nd Oct, 2018
)
Release notes
Category:
Video